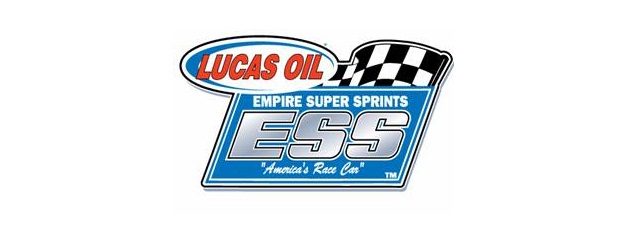 By Dean Reynolds
SYRACUSE, NY – In a very unique program, the Lucas Oil Empire Super Sprints (ESS) would like to announce the Finish Line Web Design Best Appearing Car Award. It will be a first of its kind where fans and race teams can vote on who has the best appearing car among the ESS tour travelers. The prize will be $500 in cash to the car that receives the most votes via on-line balloting.
The award will be handed out at the annual awards banquet in November and will join already firmed up $500 awards such as the Lane's Yamaha Rookie of the Year and the Brodix Cylinder Heads Hard Luck Award.
Finish Line Web Design is owned and operated by Craig Revelle of Gananoque, Ontario. Craig has been a big fan and supporter of ESS over the years and has been looking to help out the ESS teams in a sponsorship level. Finish Line designs websites, creates sponsorship proposals, posters, brochures, hero cars, photo cards and so much more. Please visit www.finishlinewebdesign.ca where the fans will be directed to, to do the voting,
"I am very excited to be part of the ESS family in 2011. I hope that this award is something that I can offer each year for many years to come", says Revelle. "There are a lot of very talented drivers in the series, and I look forward to seeing who the first annual winner is of this award".
Finish Line Web Designs is growing daily already providing the website for the Can-Am Motorsports Park (Where ESS will make two visits in 2011) as well as race teams such as Chris Raabe, Todd Stewart, Matt Billings, Danny O'Brien, Joey Ladouceur, Billy Dunn, female chauffeurs Christine Martin and Tabitha Murphy as well as many others.
"This will be a fun program within ESS and a great way for the fans to get involved" said ESS President Chuck Miller. "The teams do a great job in preparing and showcasing their equipment, they take a lot of pride in keeping their sprints as some of the best looking machines around. Last year we had 109 different teams run with ESS with 21 following the tour in getting point fund money. This year we are looking to have even more and the Best Appearing Car Award will add even more excitement to the season."
The 28th Anniversary season for the Lucas Oil Tour will kick off on Saturday April 30th at Can-Am and will visit some 16 different tracks along the way with a few more possibly added. For the latest up to date information, please log on to www.empiresupersprints.com where its always excitement guaranteed.
The Lucas Oil Empire Super Sprints are brought to you by: Lucas Oil, Northwood 2 Construction/LaSalle Motorsports, SUNY Canton, 730 Truck Stop, Hoosier Racing Tires, Les Constructions Ultra, Cooks Contracting Services, Fondations 4 Saisons, Car Mate Trailers, The National Parts Peddler Newspaper, WestFront Construction, Cobra Coaches, The Ohsweken Speedway, Mohawk Racing Parts, Engine Research, Brodix Cylinder Heads, Total Race Supply, Riverside Bar and Grill, Coffrage Daniel Lampron, Mohawk Valley Community College, FX Chevy and many, many associate sponsors.