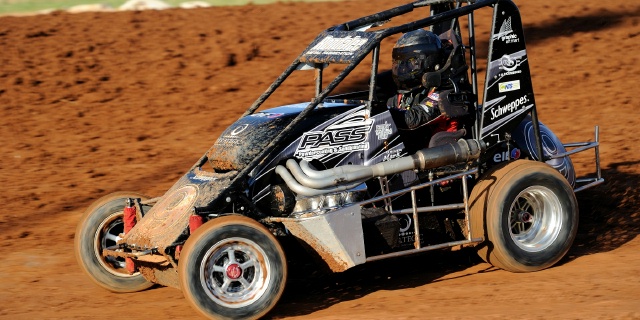 By Daniel Powell
Despite admitting after last Saturday night's Speedcar race meeting at Sydney Speedway that it wasn't his strongest night behind the wheel; Mark Brown was pleased with the debut performance of the brand-new Esslinger powerplant aboard the Team Fox Racing (TFR) NSW # 9 Spike machine.
A third place finish was where Brown ended up at the completion of the 20-lap feature race, but he certainly had to achieve that result the hard way. After he had started from position 16 in the field, Brown was on a charge early on only to become caught up in an incident further up in the field on the third lap. Due to this incident that resulted in him coming to a halt, Brown was forced to start at the back of the field for the restart. From the restart onwards Brown was forced to play catch up as the leaders extended their advantage out front and despite closing in on them as the laps wore down third place was the best that he could manage.
"I spent the first half of the feature race working away at the bottom line, but I only really started to get going in the second half when I went searching for more track and by then it was just too little, too late," admitted Brown, who during his charge through the field recorded the fastest lap that occurred on lap 14. "My guys gave me a great car and the new engine performed soundly, but on this occasion it was my decisions early on the feature race that prevented us from achieving a better result."
This Saturday night (February 12) the Brendon Fox owned team will contest the Queensland Speedcar Stampede event at Lismore Speedway in Northern NSW in readiness for the Australian Championship at the venue the following weekend and Brown and the team are going to make the most of the opportunity.
"This is a great chance to fine tune our car for the Australian Championship in race conditions and allow us to see where the other drivers are going to be at in terms of their preparation," Brown commented.
TFR are proudly supported in the 2010/11 season by Showpiece Signs and Designs, PASS Powder Coating & Sandblasting, Strategic Accounting Advisers Pty Ltd, Rondalee Metal Fabrication, Graphic Art Mart, Schweppes and C&C Combined.