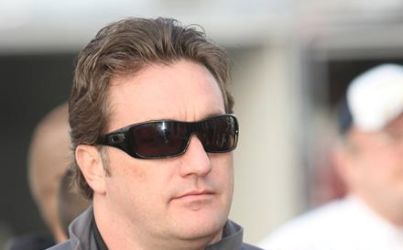 By Bill W
February 8, 2011 – The season got off to a rainy start last weekend for sprint car racer, Terry McCarl and the TMAC Motorsports team. After putting himself on row one for the feature event with the All Stars in Georgia, rain fell. A steering issue forced him to park it the following night in Ocala, Florida. The Altoona, Iowa driver has been fast though, and he looks forward to five nights of racing this week at Volusia Speedway Park.
Having spent much of the 2010 season on the shelf with a pair of injuries, it took TMAC little time to get back in the groove at Screven Motor Speedway in Sylvania, Georgia on Thursday. He registered the fifth quick time of the night amongst 24 stout competitors. "Really, I had only run about nine times since April 15 (2010), so I felt a little squirrelly the first few laps," he says. "After a while though…we were great. I just wanted to get in there and 'honk it'. It had been so long since I'd been in a sprint car."
After cruising to fifth in his heat, TMAC drew the pole for the dash. In 2011, the dash finish will determine the starting order for All Star features. Dale Blaney got the jump on the outside and TMAC followed him to the checkers in second. "I really felt great in the dash," he says. "It was starting to rain a little bit, and we were in the slick stuff down low for the start. Dale kind of had the cushion to lean on. I felt we were right there with him, but to be honest, it was pretty treacherous at that point."
The rain would not subside, and now the first race of the season will become one of the last. The event was rescheduled for the Wednesday before the Dirt Track Finals in Charlotte in November. TMAC will start outside row one for that one and another full show will be run. "The biggest thing was the car felt good, and I felt great," he says. "I felt competitive. The track was about the size of Huset's with a little more banking. It was a great place for me to come back and race at. We put ourselves in great position to win that thing in November when we come back."
TMAC took the Hungry Howie's Pizza/BubbaQue's/Frubob Fruit Floats #24 to Florida and the Ocala Speedway on Friday. He slipped to 13th in qualifying amongst 27 cars. "The track kind of threw me in qualifying, and I know better," he says. "We've won at Ocala, but we were just way too tight. I didn't have enough stagger on. It was greasy in hot laps, and I thought we would be right on, but we weren't."
After qualifying for the main event through his heat, the steering problem surfaced and TMAC pulled in after taking the green. "We were dealing with a steering issue, and I just didn't want to chance it the first night at Ocala there," he explains. "The second night at Ocala always pays more, but unfortunately, it rained on us."
The rainout sets up this week's action. After tonight's practice at Volusia Speedway Park in Barberville, Florida, the All Stars will compete on Wednesday and Thursday, before the World of Outlaws kick off their season Friday, Saturday and Sunday. "There were 24 cars in Georgia and 27 at Ocala, and just about every one of them came to win the feature," says TMAC. "You can't give away anything qualifying. At Ocala we were two-tenths off quick time and still down at 13th quick. The competition is only going to get tougher this week at Volusia."
TMAC is appreciative of the folks who made his Florida trip possible. That list includes Hungry Howie's Pizza, BubbaQue's, Frubob Fruit Floats and Kazbor's Grille, where he watched the Super Bowl on Sunday. Mark Burch Motorsports has also lent a big helping hand. "Mark Burch was nice enough to loan us a truck and trailer to get down here," says TMAC. "We were just throwing things together, and my crew is getting back from Australia one by one. We'll be better each night out."
The veteran is no stranger to Volusia's Victory Lane. "We're looking forward to trying some things in practice tonight," he says. "Volusia has always been good to me, so we're looking for a big week."
Hungry Howie's Pizza
Excellent product, superior customer service and the marketing savvy to compete with the big pizza chains has propelled Hungry Howie's Pizza from a single-store operation to 500 stores nationwide. To find the locations in Florida, visit www.FloridaHungryHowies.com!
BubbaQue's
At BubbaQue's, you can eat out, or cater in. Visit one of their eight Florida locations. Find them on the web at www.BubbaQuesBBQ.com!
Frubob Fruit Floats
This year an estimated 1.45 billion Fruit Floats will quench the world's thirst for something unique. And now it's America's turn to "Shake It Up!" Simply put, Frubob is the only 100% natural Fruit Float with real pieces of fruit bobbing in real fruit juice, each piece waiting to release a natural burst of flavor for a taste unlike anything else. Visit Frubob on the web at www.FrubobUSA.com!
Websites for the McCarl Gang!
Driverwebsites.com develops the websites for the McCarl boys. Check out www.TerryMcCarl.com, as well as www.AustinMcCarl.com and www.CarsonMcCarl.com!
In"Terry"gation
Scott Blum asks: Do you have to make any modifications to weigh at the new 1400 pound limit?
TMAC Answers: I don't (laughs). Austin and I like it. The way the formats are, we aren't like the late models and stock cars who get to start the fast guys on the pole. When I roll across the scales at Knoxville with three or four gallons of fuel in, I'm always at 1450. I know Donny Schatz and Steve Kinser are in that range too. I think Joey (Saldana) and a few may be light enough to have to add weight, but I think it is a great idea. One of the best things that ever happened has been the safety improvements like the new Butlerbuilt seats. Frankly, none of us would be running them without a weight rule. It's stupid, but true. Once qualifying is over, I don't think it's a big deal. I like it so much that I wish they'd add another 25 pounds. With our team, it's nice not to have to buy every single bit of titanium and that kind of stuff. It saves money. Back when we were all light, you saw a lot more blown engines. Two years ago, we had all the lightweight stuff and still weighed in at 1401 at the Nationals. Lance Dewease had the lightest car there at 1399. I actually timed in poorly that year!
Got a question for TMAC? Send it to us at sprntcar@iowatelecom.net, and we may answer it in this section! Put "? for TMAC" in your subject line.
This Day In TMAC History!
On this day in 2004, TMAC bested the All Star Circuit of Champions in their opener at Volusia Speedway Park. He used a late race restart to shoot by Jeff Shepard for the victory. Shepard was followed by Chad Kemenah, Danny Smith and Craig Dollansky. Forty-seven cars signed in.
"Tuesdays with TMAC"!
"Tuesdays with TMAC" is an up close and personal look at colorful sprint car veteran Terry McCarl. To receive "Tuesdays with TMAC", send an e-mail to sprntcar@iowatelecom.net with "TMAC" in the subject line.
TMAC Motorsports would like to thank sponsors Deanfield Farms, Eagle Chassis, DeBerg Concrete, AmeriCashAdvance.com, RFG, Phil and Vivian, Mark Burch Motorsports, Ryan Yager Trucking, Vortex Racing, Hoosier Tire, Schoenfeld Headers, K&N Filters, Don Ott Engines, HRP, All Pro Cylinder Heads, Bob and Beulah Elder, Country Builders Construction, Engler Injection, T&P Brothers, Winters, DriverWebsites.com, CM Rock, Jocko's Sprint Parts, Sander, Brown and Miller, Morris Automotive, Chase Graphics, Pro Shocks, Mac Tools, Ben Cook, Bell Helmets, Burnettt's Rock and Landscaping, Morgan Strawberry Farms, Bulldog Pest Control, Aurora Rod Ends, Crow Safety, Justice Brothers, KSE Steering, CIP Racing Hoods, Strange Performance, Saldana Racing Products, Scribner Plastics, Waterman Fuel Pumps, Weiland Racing, Butlerbuilt, PBS Bushings.