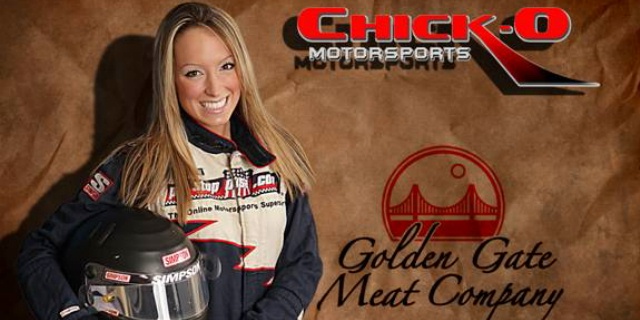 By Bill Sullivan for Chicko Motorsports
PENNGROVE, CA (2-3-11) – Alissa Geving and her Chicko Motorsports Sprint Car Team are proud to welcome new members to their family of proud sponsors for the 2011 racing season. The famed Golden Gate Meat Company is the newest marketing partner to show their support for the third generation lady driver of the North Bay.
"We have had a great group of sponsors over the past few seasons and the Golden Gate Meat Company is a perfect addition to our racing family as an associate sponsor," said Geving. "They are a very well respected, family owned company and I'm excited that they will be joining us for the upcoming racing season."
The Golden Gate Meat Company was established in 1977 by James and Patricia Offenbach as a continuation of the Offenbach's rich family history in the restaurant and food supply industry. The Golden Gate Meat Company has long been located in San Francisco and last year expanded with a brand new location in Santa Rosa. The company sells a variety of natural and organic beef, pork, lamb, veal, poultry, smoked meats, sausages, and game from top-quality sources, as well as the company's own gourmet products.
In addition to the Golden Gate Meat Company, the Offenbach family has a great love for the sport of auto racing of all levels. They own the successful Golden Gate Racing Team which is associated with the Richard Childress Racing Development program in the NASCAR West Series. They have also been longtime supporters of additional area drivers such as modified racer Gary Lowblad who competes at Lakeport and Ukiah Speedways.
"I really want to thank Jim and Patti Offenbach for their support this season," added Geving. "They're a great family with a great business and they love racing. When you have sponsors that truly love the sport it's a great relationship."
The Golden Gate Meat Company will join several of Geving's longtime supporters that will return in 2011 as she sets her sights on a full run at the Hoosier Tires Civil War Sprint Car Series and various events at her home track of Petaluma Speedway.
Topping the list of Geving's title sponsors will be Tillett Tool of Santa Rosa along with the well known online superstore Pit Stop USA that is based in Petaluma. Napa's Matt Cordeiro Enterprises will return as a lead sponsor as well as Auto Repairs Unlimited of Santa Rosa.
In 2008, Alissa Geving became the youngest female sprint car titlist in the nation when she claimed her first of two consecutive titles at her home track of Petaluma Speedway at just 16 years of age. After claiming her second title, Geving toured with the Golden State Challenge Sprint Car Series in 2010 for the entire campaign. The effort was Geving's first full season of 410 sprint car racing and she capped the season off with an impressive fourth place finish in the series standings and claimed the Rookie of the Year honors in the campaign.
The effort marked her third Rookie award of her career, adding to her Petaluma and Antioch Speedway awards earlier in her career. In addition to the championship titles Geving has garnered the Paul Tyler Rising Star Award from the Motoring Press Association, has participation in the NASCAR Drive for the Diversity and the nationally recognized Chili Bowl in Tulsa, Oklahoma.
In addition to her lead sponsors, Geving welcomes a number of associate sponsors including K&N Filters, Napa Auto Parts, Flowmaster Mufflers, Allstar Performance, Santa Rosa Auto Parts, Simpson Racing Products, 21st Century Health Club, , Pro Shocks, ALC Machine and JW Web Design.
To learn more about Alissa Geving and her Chicko Motorsports Team can learn more at their website at www.chick-o-motorsports.com. Alissa Geving and Chicko Motorsports welcome any sponsorship inquires for the year to come. Those interested in sponsorship opportunities can contact team owners Gary and Melissa Geving at: gary3x@yahoo.com. Chicko Motorsports can also be found on Facebook and various racing websites.