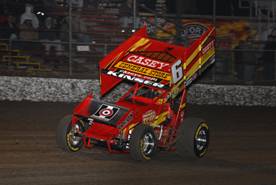 By Parsons Motorsports PR
Granger, IA—March 28, 2011—Competing on consecutive nights at different tracks is what has made the World of Outlaws Sprint Car Series one of the most challenging circuits in motorsports, with the drivers testing their mettle and versatility on countless nights over the course of the nearly 70-race campaign. Kraig Kinser will have the chance this week to compete at three vastly different tracks on three consecutive nights to wrap up the 2011 California Spring Break Tour aboard the Casey's General Store Maxim for the Parsons Motorsports team.
The tripleheader will kick off for Kinser on Thursday, March 31 with the 35-lap main event at Giant Chevrolet Kings Speedway in Hanford, which was originally scheduled for March 18, but postponed by rain just as the cars had lined up for the feature. Kraig will roll off the grid 21st after racing his way into the main event via The Last Chance Showdown. It will mark his first feature start at the 3/8-mile.
The ¼-mile bullring at Merced Speedway in Merced awaits the third generation driver on Friday, April 1 and will mark the eighth track in the Golden State that he has competed at during his career. Kinser looks to continue his past success in visiting tracks for the first time with the World of Outlaws, as he was victorious in 2008 at North Central Speedway in Minnesota when the series made their debut at that facility. He also won in his first start with the series at first start at Cottage Grove Speedway in Oregon in 2004 and Batesville Speedway in Arkansas in 2005.
The California Spring Break Tour will wrap up on Saturday, April 2 with the World of Outlaws return to Calistoga Speedway in the scenic wine country of the Napa Valley, for the first time since 2007. Kinser finished 10th in his last start at Calistoga in 2005. He has made five starts at the sprawling half-mile, scoring two Top-10 finishes, along with setting fast time in the opener in 2005 and qualifying 10th or better in all of the qualifying sessions he has competed in at the track. The native of Bloomington, Indiana finished a career-best seventh in the finale at Calistoga in 2004 after timing in third.
Kinser enters the three races this week just 10 markers out of the Top-10 in the World of Outlaws standings, on the strength of three Top-10 finishes and seven finishes of 15th or better.
Kraig on Kings Speedway:
"I'm certainly looking forward to going back to Hanford and finishing the event. Hopefully we'll have a little bit wetter of a track than we did last time and that would definitely help us to be able to come from the back to the front. We got a little behind early in the night there and obviously that hurt, so we'll go back and see and give it all we have and hopefully be quick for the feature."
Kraig on Merced Speedway:
"It's always neat to go to new tracks that we have never been to before. The first thing you do is look around at the track and then kind of ask around and see what gear people are running and things like that. You kind of use a basic set up and take a swing at it. Hot laps are always important and you hope that you hit on something early in the night before everyone else and carry that through the night into the feature and be fast and run up front."
Kraig on Calistoga Speedway:
"I always like going to Calistoga and have run well there in the past. After running on the smaller tracks the last few weeks, you do have to do things different at a place like Calistoga. You change your mind set for every track you go to. The cars have changed from when we were last there. The tires have changed and the bodies and the wings, so you still go off your notes to some extent, but have to compensate for the changes. You at least have a place to start with the base set up from last time. Calistoga has always treated me well and I look forward to going back there."
Kraig Kinser By the Numbers: Kings Speedway, Merced Speedway & Calistoga Speedway:
0.25-Miles around Merced Speedway
0.375-Miles around Kings Speedway
0.5- Miles around Calistoga Speedway
1- Fast time award at Calistoga Speedway
2- Career Top-10 finishes at Calistoga Speedway
5- Career starts at Calistoga Speedway
6- Average qualifying spot at Calistoga
7-Best career finish at the half-mile in 2004
8- Tracks in the state of California competed on after the event at Merced Speedway
15.8- Average finish at Calistoga Speedway
21- Starting position in the main event at Kings Speedway
23-Miles from Thunderbowl Raceway in Tulare, where the World of Outlaws competed on March 19 to Kings Speedway in Hanford
88-Miles from Kings Speedway in Hanford to Merced Speedway in Merced
167-Miles from Merced Speedway to Calistoga Speedway in Calistoga
2004- Year that Kraig first race at Calistoga Speedway
2007- Year the World of Outlaws last competed at Calistoga Speedway
1125-Points earned through March 19
11,850-Dollars earned through the first nine races in 2011
Tune in: Listen live this weekend to all three races beginning on Thursday, March 31 at Giant Chevrolet Kings Speedway, continuing on Friday, April 1 at Merced Speedway and wrapping up on Saturday, April 2 at Calistoga Speedway on DIRTVision.com with "The Voice of the Outlaws" Johnny Gibson on the call. Visit www.DIRTVision.com for live audio of each and every World of Outlaws Sprint Car Series event.