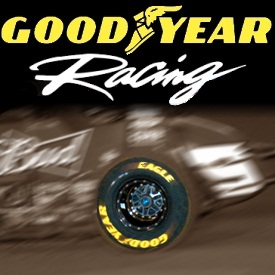 By Lee Elder
TULSA, OK. (APRIL 18, 2011) – Racers will search high and low to create a competitive advantage for themselves. Oil Capitol Racing Series sprint car driver Kyle Cobb found his advantage with a set of Goodyear tires.
Cobb won the 2011 OCRS season opener at Lawton Speedway, besting a 20-car starting field in a 25-lap feature.
The 2011 season is Goodyear's first as the official tire of the series and competitors have been given a grace period to use up their tires left over from last season before they are required to use four Goodyear tires. But Cobb wanted to get ahead of the crowd and started the opener on four Goodyears.
"I really have to thank these Goodyear tires," Cob said. "This is the first time I've tried them and they did the job tonight…Because this is our first time to be able to use Goodyear tires, we didn't want to wait for later (to get accustomed to them). We wanted to get ahead of everyone else, so we decided to run them now and, boy, am I glad we did."
Danny Smith finished second, followed by Jamie Passmore, Rafe Essary and Sean McClelland.
The tires Goodyear provides for the OCRS are the same codes as those the tiremaker supplies the World of Outlaws Sprint Car Series and weekly sprint car programs at tracks around the country.
More information about Goodyear Racing is available at www.racegoodyear.com. More information about the OCRS is available at www.ocrsracing.com.