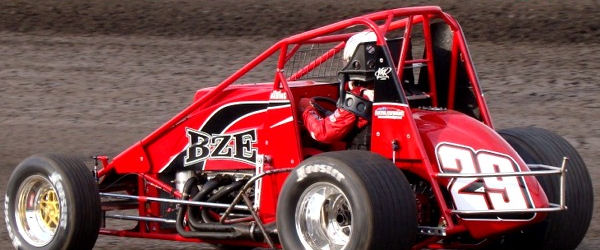 By Lance Jennings
HANFORD, CA – MAY 9, 2011… Last Saturday night, Campbell's Bud Kaeding scored the Amsoil USAC/CRA Sprint Car feature win at Hanford's Giant Chevrolet Kings Speedway. It was a dramatic victory for Kaeding, restarting at the rear of the field after a second lap tangle with Yorba Linda's Blake Miller. From there, the veteran driver sliced his way to the front and overtook teammate "Hollywood" Danny Faria Jr. to claim the 30-lap main event triumph. In victory lane, Kaeding remarked "We had a really good car and you don't want to waste much time with these guys out here. My guys had a great car underneath me and that allowed me to put on a show for the fans."
With twenty-four cars signed in the pit area, the clay oval faced warm temperatures and constant winds throughout the day. As the main event cars rolled onto the slick surface, "The Ripper" Rip Williams of Yorba Linda and Visalia's Greg Bragg would share the front row. Driving Tom and Laurie Sertich's #92 Huntington Beach Glass & Mirror Buckley, Bragg got the jump and grabbed the early lead. Williams fell back to fifth as Blake Miller, Bud Kaeding, and Cory Kruseman settled behind the leader.
Action has halted on the second lap, as brothers Cody and Austin Williams came to a stop in the second turn. Cody rejoined the field and Austin was left in the work area. On the restart, Bragg hit the throttle at the back straightaway cone. Heading into turn one, third place Bud Kaeding climbed the back of Blake Miller, tangling both cars, and sliding to a stop. Once again, another yellow flag was brought out and the field lined up in single file. Bragg was out front, followed by Cory Kruseman, Rip Williams, Danny Faria Jr., and Mike Spencer. Still on the lead lap, Austin Williams rejoined the field at the back along with Miller and Kaeding.
"The Kruser" Cory Kruseman seized the opportunity and powered past Bragg for the lead. Kruseman, who won USAC/CRA's last Hanford appearance in March 2007, quickly looked to put some distance between himself and the pack. The tricky surface saw drivers searching high and low for traction and by the tenth circuit, Bragg dropped back to sixth. Faria was now in second, with point leader Spencer in third, followed by Williams and nineteenth starting Nic Faas. A yellow flag was displayed on lap thirteen for Jeff Gardner, who suffered front end damage, and a stalled David Cardey.
With Kruseman's lead now erased, "Hollywood" Danny Faria Jr. was on his rear bumper and Faas sat in third. Racing with failed brakes, Faria shot by Kruseman on the next lap. Faas began to apply pressure for the runner up spot and Bud Kaeding had raced his way back to fourth. The laps were counting down and Faas was able to take second from Kruseman. Kaeding had found his rhythm and soon dropped Kruseman to fourth. With Faria out front, Faas and Kaeding were tucked in close behind. Kaeding put Faas to third and gave chase after the leader.
Racing in close quarters, the two teammates battled hard for the top spot and Faria spun his car to a stop on lap twenty-six. Kaeding was the new leader as Faas battled with thirteenth starting Matt Mitchell for second. At the checkered flag, it was Bud Kaeding's night, followed by Nic Faas, Matt Mitchell, Cory Kruseman, and Rip Williams rounding out the top five.
Driving Junior Bowman's #29 Buster & Ziggy Enterprises Maxim, Bud Kaeding had a memorable weekend. After winning the previous night at Watsonville in a winged 360 feature, Kaeding was sixth quick in time trials and second in his heat race. Restarting at the back after a lap two tangle, the 3-time USAC Silver Crown Champion delighted his fans by driving to the 30-lap feature win.
Nic Faas of Huntington Beach claimed second in the 30-lap feature. Piloting Mark Alexander's #4 Spike, backed by Scott Sales Company and VP Racing Fuels, Faas qualified nineteenth and won the Extreme Mufflers / Huntington Beach Glass & Mirror Heat Race #1. The former USAC Western States Midget Champion earned the Keizer Wheels "Hard Charger / Best Passing Job" honors on the night and is now sixth in the points.
Yorba Linda's Matt Mitchell scored a third place finish at the Hanford oval. Driving the J.W. Mitchell Motorsports #37 Maxim sponsored by Mancha Realtors and Sierra Springs, Mitchell was thirteenth quick in time trials and second in his heat race. The USAC Western Midget Series graduate sits third in the point chase, eighteen points behind point leader Mike Spencer.
Piloting his #21K Lucas Oil / Sander Engineering Eagle, Ventura's Cory Kruseman scored fourth in the 30-lap feature. Earlier in the program, "The Kruser" qualified fourth and finished third in his heat race. Cory looked strong in the early going, leading eleven laps of the main event before settling into fourth. In limited action, the 2006 Champion is thirteenth in the point standings.
"The Ripper" Rip Williams claimed fifth at the checkered flags. Driving the Jack Jory owned #3 Viper sponsored by John Jory Corporation and AMA Plastics, Williams was twelfth quick in time trials and third in his heat race. The Hall of Fame driver battled hard to stay near the front of the main event and sits twelfth in the championship points.
Temecula's Mike Spencer earned his first Sander Engineering Fast Time Award of the year. Piloting Ron Chaffin's famed #50 Madera Produce / Grubstake Mini Storage Maxim, Spencer was fourth in his heat race. Starting eighth in the main event, the point leader had raced his way up to third before having mechanical issues. Scoring eighteenth, the 3-time champion now holds a six point advantage over the competition heading to Perris on May 28th.
In his first start with USAC/CRA in 2011, Marty Hawkins of Santa Rosa won the Saldana Racing Products / Keizer Wheels Heat Race #2. Driving the family's 360 powered #3M Schnee, with backing from The Toiyabe Group and Blakeley Landscaping, Hawkins was twentieth quick and fourteenth in the feature. Marty currently sits twenty-seventh in the point chase.
Riverside's "Dynamite" David Cardey won the DJ Safety Heat Race #3. Driving his own #59 Circle Track Performance / Pick's Racing Engines Viper, Cardey was third fast on the night and finished eighth in the main event. Sitting second in the points, the former California Lightning Sprint Champion made some gains on Spencer heading to Perris.
"Hollywood" Danny Faria Jr. of Tipton won the 12- Competition Suspension Inc. Semi-Main. Driving Junior Bowman's #2X Buster & Ziggy Enterprises Bullet, Danny was followed by Rickie Gaunt, Richard VanderWeerd, Jace VanderWeerd, Cody Williams, Jeff Gardner, Cody Kershaw, and Rodney Argo. Faria led thirteen laps before scoring seventeenth in the feature. Gaunt was seventh and Richard VanderWeerd was twentieth. Jace VanderWeerd took sixth, Williams claimed thirteenth, and Gardner scored nineteenth. Kershaw finished tenth and Argo was fifteenth.
The Amsoil USAC/CRA Sprint Car Series would like to thank Hoosier Tire, Circle Track Performance, Competition Suspension Inc., DJ Safety, Donovan Engineering, Electro Tech Powder Coating, Extreme Mufflers, Hilborn Fuel Injection, Huntington Beach Glass & Mirror, Keizer Wheels, Saldana Racing Products, and Sander Engineering for their support. For more information, visit usacracing.com/cra or follow the series on facebook.
The fifth round of competition for the Amsoil USAC/CRA Sprint Car Series will be held Saturday, May 28th, at Perris Auto Speedway for the annual "Salute To Indy." Located on the Lake Perris Fairgrounds, more event information can be found at www.perrisautospeedway.com or calling (951) 940-0134.
——————————————————–
AMSOIL USAC/CRA SPRINT RACE RESULTS:
May 7, 2011 – Hanford, California – Giant Chevrolet Kings Speedway
SANDER ENGINEERING TIME TRIALS:
1. Mike Spencer, 50, Chaffin-15.800; 2. Austin Williams, 2, Jory-15.895; 3. David Cardey, 59, Cardey-15.978; 4. Cory Kruseman, 21K, 16.019; 5. Rickie Gaunt, 66, Miller-16.141; 6. Bud Kaeding, 29, Bowman-16.262; 7. Danny Faria Jr., 2X, Bowman-16.337; 8. Blake Miller, 7, Priestley-16.373, 9. Richard VanderWeerd, 10, VanderWeerd-16.435; 10. Jace VanderWeerd, 88, VanderWeerd-16.442; 11. Greg Bragg, 92, Setrich-16.491; 12. Rip Williams, 3, Jory-16.511; 13. Matt Mitchell, 37, Mitchell-16.515; 14. Cody Williams, 44, Jory-16.580; 15. Rusty Carlile, 51, Carlile-16.667; 16. Jeff Gardner, 51T, Revcon-16.861; 17. Cody Kershaw, 27, KMS-16.918; 18. Rodney Argo, 19, Argo-17.173; 19. Nic Faas, 4, Alexander-17.232; 20. Marty Hawkins, 3M, Hawkins-17.324; 21. David Bezio, 37X, Bezio-17.491; 22. A.J. Bender, 11B, Bender-17.523; 23. Dakota Kershaw, 20, KMS-17.926; 24. Tom Grunkemeyer, 36, Springstead-18.082.
EXTREME MUFFLERS / HUNTINGTON BEACH GLASS & MIRROR HEAT RACE 1: (10 laps)
1. Nic Faas, 2. Matt Mitchell, 3. Cory Kruseman, 4. Mike Spencer, 5. Danny Faria Jr., 6. Jace VanderWeerd, 7. Jeff Gardner, 8. A.J. Bender. 2:55.82
SALDANA RACING PRODUCTS / KEIZER WHEELS HEAT RACE 2: (10 laps)
1. Marty Hawkins, 2. Blake Miller, 3. Greg Bragg, 4. Austin Williams, 5. Rickie Gaunt, 6. Cody Kershaw, 7. Cody Williams, 8. Dakota Kershaw. 2:58.46
DJ SAFETY HEAT RACE 3: (10 laps)
1. David Cardey, 2. Bud Kaeding, 3. Rip Williams, 4. Rusty Carlile, 5. Richard VanderWeerd, 6. Rodney Argo, 7. David Bezio, 8. Tom Grunkemeyer. NT.
COMPETITION SUSPENSION INC. SEMI-MAIN: (12 laps)
1. Danny Faria Jr., 2. Rickie Gaunt, 3. Richard VanderWeerd, 4. Jace VanderWeerd, 5. Cody Williams, 6. Jeff Gardner, 7. Cody Kershaw, 8. Rodney Argo, 9. A.J. Bender, 10. Tom Grunkemeyer, 11. Dakota Kershaw. NT.
FEATURE: (30 laps – With Starting Positions)
1. Bud Kaeding (4th), 2. Nic Faas (19th), 3. Matt Mitchell (13th), 4. Cory Kruseman (5th), 5. Rip Williams (1st), 6. Jace VanderWeerd (12th), 7. Rickie Gaunt (9th), 8. David Cardey (6th), 9. Greg Bragg (2nd), 10. Cody Kershaw (17th), 11. Blake Miller (3rd), 12. Rusty Carlile (15th), 13. Cody Williams (14th), 14. Marty Hawkins (20th), 15. Rodney Argo (18th), 16. Austin Williams (7th), 17. Danny Faria Jr. (10th), 18. Mike Spencer (8th), 19. Jeff Gardner (16th), 20. Richard VanderWeerd (11th). NT.
—————————-
**A.J. Bender flipped during the semi-main.
FEATURE LAP LEADERS:
Laps 1-2 Greg Bragg, Laps 3-13 Cory Kruseman, Laps 14-26 Danny Faria Jr., Laps 27-30 Bud Kaeding.
KEIZER WHEELS HARD CHARGER: Nic Faas (19th to 2nd)
NEW AMSOIL USAC/CRA SPRINT POINTS:
1. Mike Spencer 242; 2. David Cardey 236; 3. Matt Mitchell 224; 4. Blake Miller 222; 5. Greg Bragg 181; 6. Nic Faas 163; 7. Rickie Gaunt 163; 8. Cody Williams 130; 9. Jace VanderWeerd 125; 10. Austin Williams 124; 11. David Bezio 117; 12. Rip Williams 114; 13. Cory Kruseman 112; 14. Richard VanderWeerd 104; 15. Danny Sheridan 94; 16. Greg Alexander 84; 17. Ronnie Gardner 83; 18. Bud Kaeding 68; 19. Damion Gardner 62; 20. Bill Rose 54.
NEXT AMSOIL USAC/CRA SPRINT RACE:
May 28th – Perris, CA – Perris Auto Speedway