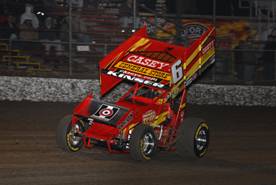 By Parsons Motorsports PR
Granger, IA—May 18, 2011—It's hard to believe that it has been over a month and a half since Kraig Kinser and the World of Outlaws were able to get two consecutive events in on a weekend, with Mother Nature continually wreaking havoc this spring. That streak looks to be broken this weekend as the series has two full racing programs on the docket, first on Friday, May 20 at Attica Raceway Park in Ohio and then Saturday, May 21 at I-96 Speedway in Michigan. For Kinser he continues to get into a rhythm and build momentum in his first season aboard the Casey's General Store Maxim for Parsons Motorsports team.
Kinser has made a total of eight combined starts with the World of Outlaws at Attica Raceway Park and I-96 Speedway, picking up four Top-10 finishes along the way.
The third generation driver competed at Attica for the first time 2005, before returning to the high-banked 1/3-mile bullring in 2008. Kraig scored a career-best ninth-place finish in the World of Outlaws last visit to the track in 2009. Last year's event was rained out.
Kinser made his debut at sprawling half-mile at I-96 Speedway in Lake Odessa, Mich. in 2004. He finished fourth at the track in 2005 in just his second start at the facility. Returning to I-96 in 2008, the native of Bloomington, Ind. finished ninth. Kraig made his way onto the podium in 2009 at I-96. The event will mark one of two stops this season for the series in the Great Lakes State.
Kinser enters the two events this weekend just 14 points of the Top-10 in the series standings, having picked up six Top-10 and two Top-Five finishes through the first 14 events of the season.
Kraig on Attica Raceway Park:
"Attica is a very racy track. Things happen quick there so you have to always be ready. I've had a couple of ok runs there in the past and I am just anxious to get back on the track. We were rained out there last year, so it's been a couple of years since most of us have raced there. They always have a big crowd and a good car count. That's a track that you can race on all over on, from the top to the bottom and in the middle."
Kraig on I-96 Speedway:
"At I-96 you definitely have to have the horsepower and track position is very important as well. That's a place where you want to qualify in the right spot and finish first or second in the heat race to make the dash, so you can start up front in the feature. We finished third there a few years ago and we would like nothing more than to improve on that a few positions. We're just excited to get two races in this weekend. With it being my first year with the Casey's General Store team, we are all still trying to get used to everything and the more we race, hopefully the more comfortable we will all feel and the more we will gel."
Kraig Kinser By the Numbers: Attica Raceway Park & I-96 Speedway:
0.33- Miles around Attica Raceway Park
0.5-Miles around I-96 Speedway
1- Top-10 finish at Attica
2- Top-Five finishes at I-96; Races this season in the state of Michigan
3- Top-10 finishes at the half-mile; Career starts at Attica
4- Tracks in Ohio that the World of Outlaws will visit in 2011
5- Career starts at I-96 Speedway
7- Races in the state of Ohio this season
11.4- Average finish at I-96 Speedway
12.7- Average finish at Attica Raceway Park
218- Miles from Attica Raceway Park in Ohio to I-96 Speedway in Michigan
1836- Points earned this season through May 13
2004-Year of first start at I-96 Speedway
2005- Year of first start at Attica Raceway Park
20,300- Dollars earned through May 13
Keep up with all the action: Follow Kraig Kinser on Twitter at http://twitter.com/kraigkinser6 and receive live updates from the track each and every race night. Also keep up with Kraig online at the recently redesigned www.KraigKinser.com.
Tune in: Listen live to each and every World of Outlaws event on DIRTVision.com with "The Voice of the Outlaws" Johnny Gibson on the call. Visit www.DIRTVision.com for live audio of each and every World of Outlaws Sprint Car Series event.