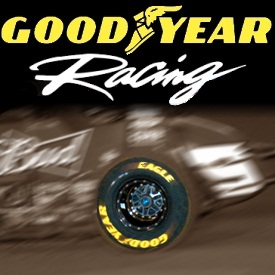 By Lee Elder
TULARE, Calif. (May 18, 2011) – Tommy Tarlton won the Pombo/Sargent Classic King of the West Sprint Car Series race at Thunderbowl Raceway, besting a large field in the process.
Goodyear is the exclusive rear tire provider for the series, supplying tires from the same line the company produces for the World of Outlaws Sprint Car Series and other touring programs. The same line of Goodyear Eagles is also supplied to weekly racing programs at tracks around the country.
The Classic attracted a field of 30 entrants. The King of the West tour races around the far westerns states.
Tarlton was followed across the finish line by Brent Kaeding, Evan Suggs, Ian Madsen and Craig Stidham. Madsen posted the quickest time during time trials.
Kaeding now leads the standings with 742 points. Evan Suggs is next with 720 and Jonathan Allard is third with 712.
More information about Goodyear Racing is available at www.racegoodyear.com. More information about the King of the West Series is available at www.kingofthewestsprintcarseries.com.