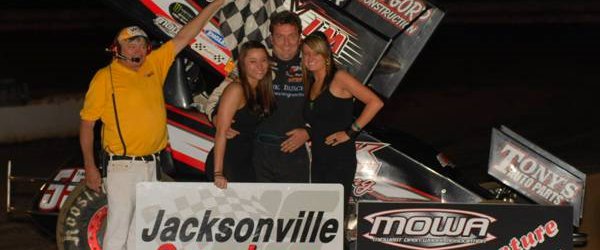 From Bill W.
May 24, 2011 – Terry McCarl scored his first win of 2011 last Friday night at the Jacksonville Speedway in Jacksonville, Illinois with the Monster Energy™ Sprint Car Series. The win aboard the VerMeer Motorsports #55 marked the Altoona, Iowa driver's first since mid-summer 2010 between a pair of serious injuries that sidelined him most of the season. The team is set for four races this weekend, starting Friday at Rock Rapids, Iowa and continuing Saturday at the Knoxville Raceway, and Sunday and Monday at Huset's Speedway in South Dakota.
The draw for Friday night's race was not a good one, but three cars were eliminated before a lap could be completed. On the score sheet, it was a run from 7th to 4th and it gave TMAC enough passing points to qualify for the dash. "Heats like that can be survival of the fittest," he says. "We drew kind of a tough spot on the inside of row four. The track was a little choppy, but pretty good. We were all over second and Donnie Beechler in third, we just couldn't get around them. It's tough early on. Guys slide out and go back to the bottom, which makes it difficult to pass."
When he drew last for the dash, TMAC had a little fun with the crowd turning his six upside down. "Making the dash redraw was important," he says. "I know I got the hometown treatment when there were only six numbers possible and I got the nine! I was able to get by Kaley Gharst. I got by Jeremy Standridge, but I made a mistake. The flagman waved the flag with two to go and I thought it was the white. We were battling, and I kind of let off on the white. It all worked out in the end."
The fifth place finish set him up inside row three. "The track was a guessing game," says TMAC. "Sometimes the support classes can dig the track up, and sometimes they will slick it off. They were apologizing for it being rough, but I kind of liked the way it was. It made it tricky. Going into turn one was tacky with a ledge, and coming off of two was slick. That made it tough to run the cushion."
TMAC found himself running fourth behind leader, Jimmy Hurley, Brian Brown and Robbie Standridge early. "The bottom was the place to be, but it was rough," he relates. "When I was coming up through there, Brown and Standridge both hit the rut in three and four at the same time. I thought I had a shot at them both, but the yellow came out."
After disposing of Standridge, he found a new line in one and two. He worked under Brown for second and set his sights on running down Hurley. "Hurley was getting away in traffic, and I was hoping for a yellow," he says. "Out in the open, he was fast. I just had to figure something out running back in third. I had to change my line and I started rolling into one high and coming down low exiting turn two."
The tactic worked, and on lap 16 of 25 he made the winning pass. "This new Eagle (chassis) we have…I just couldn't be happier with it," says TMAC. "I think they've been fast at Knoxville, and the car was really good again at Jacksonville. I could ride hard through the ruts or on the cushion. The car was really drivable, and I was super happy with it. It was good to have both Bill Mann and Jerry Russell there from Eagle."
Although, he will be unable to make all of the Monster Series shows, TMAC is really excited about the new Illinois based series. "M.O.W.A. is doing an outstanding job," he says. "I don't know why anyone wouldn't buy a membership with them who is running the series' races. Already, we've got our membership money back in contingencies, and it comes with some insurance. They are handed to you right after the race. They are doing everything the right way."
The Jacksonville stands were full as well. "The crowd was as big as I've ever seen it there," says TMAC. "(Promoter) Bobby Hawks is a great guy, and was always great to race with. He's doing a great job promoting down there. You want to win and put on a show, and the best place to do it is in front of a crowd like that."
Rapid Speedway in Rock Rapids is up next Friday. After two rainouts in a row, Knoxville Raceway will try it Saturday. With NOSA in town, Huset's will be hopping on Sunday night in Brandon, South Dakota, and follow that up with Monday's Memorial Day Special. "I'm really looking forward to more racing," says TMAC. "All the rainouts have been really unfortunate."
To check out opportunities to partner with TMAC Motorsports on a nightly basis, visit www.TerryMcCarl.com or call 515 957-0020!
Front Row Challenge/Ultimate Challenge
The 16th Annual Front Row Challenge and the 10th Annual Ultimate Challenge will be held Monday and Tuesday, August 8 and 9, 2010 at the Southern Iowa Speedway in Oskaloosa, Iowa. Order your seats NOW by calling McTwo Promotions, Inc. at 515 957-0020. Visit www.OskyChallenges.com for further details.
Websites for the McCarl Gang!
Driverwebsites.com develops the websites for the McCarl boys. Check out www.TerryMcCarl.com, as well as www.AustinMcCarl.com and www.CarsonMcCarl.com!
In"Terry"gation
Sean Craig asks: I'm curious about the first time you raced competitively. What kind of race was it, and what happened?
TMAC Answers: The first two years I raced, I was only able to run at Knoxville, and at the Jackson Nationals. Daryl and Gloria Arend were the owners. We had a nine-year old McCarl chassis with a 383 iron chassis. Daryl had his own business to run, and his son Chris had been a big part of his race team before he passed the year prior. He didn't have a lot of help. We slowed the steering down the first night we ran, because I had been running go-karts. I didn't qualify well, and we started in the back of stuff. The second week, we sped the steering up, and I ended up making every feature that year, including the prelim at the Knoxville Nationals. I actually bought that car from Daryl a couple of years ago.
Got a question for TMAC? Send it to us at sprntcar@iowatelecom.net, and we may answer it in this section! Put "? for TMAC" in your subject line.
This Month in TMAC History!
TMAC won May 27, 2001 at the Huset's Speedway. He topped Dennis Moore Jr., Don Droud Jr., Mark Toews and Skip Jackson. The field was a solid one assembled over the Memorial Day Weekend. He won his fifth of a record six Huset's track championships that season.
"Tuesdays with TMAC"!
"Tuesdays with TMAC" is an up close and personal look at colorful sprint car veteran Terry McCarl. To receive "Tuesdays with TMAC", send an e-mail to sprntcar@iowatelecom.net with "TMAC" in the subject line.
VerMeer Motorsports would like to thank TK Concrete, Maxim Trucking & Concrete Pumping, Tulip City Agency, Logan Contractors Supply, Van Maanen Electric, Tony's Auto Parts, Monarch's Restaurant & Lounge, Skyline Ready Mix, QTC (Quality Traffic Control), DPLM (Dennis Parking Lot Maintenance), Van Gorp Construction, Don Ott Racing Engines and Ulrich Motor.
TMAC Motorsports would like to thank sponsors Deanfield Farms, Eagle Chassis, DeBerg Concrete, AmeriCashAdvance.com, RFG, Phil and Vivian, Mark Burch Motorsports, Ryan Yager Trucking, Vortex Racing, Hoosier Tire, Chris Spaulding – Attorney at Law, Schoenfeld Headers, K&N Filters, Don Ott Engines, HRP, All Pro Cylinder Heads, Bob and Beulah Elder, Country Builders Construction, Engler Injection, T&P Brothers, Winters, DriverWebsites.com, CM Rock, Jocko's Sprint Parts, Sander, Brown and Miller, Morris Automotive, Chase Graphics, Pro Shocks, Mac Tools, Ben Cook, Bell Helmets, Burnettt's Rock and Landscaping, Morgan Strawberry Farms, Bulldog Pest Control, Aurora Rod Ends, Crow Safety, Justice Brothers, KSE Steering, CIP Racing Hoods, Strange Performance, Saldana Racing Products, Scribner Plastics, Waterman Fuel Pumps, Weiland Racing, Butlerbuilt, PBS Bushings.