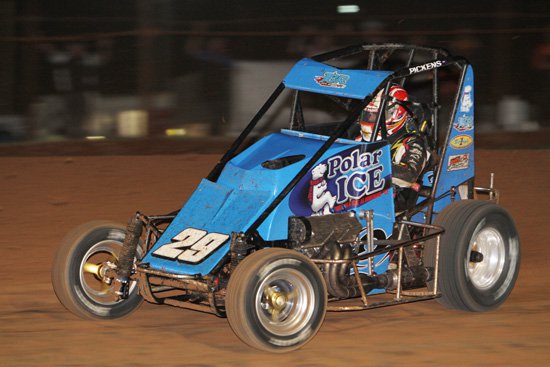 From Tim Tuttle
Brownstown, IL — (June 3, 2011) — New Zealand's Michael Pickens led all 30 laps en route to a runaway feature victory Friday in a POWRi Lucas Oil National Midget Series/Badger Midget Auto Racing Assocation co-sanctioned event at Fayette County Speedway.
Pickens, a three-time New Zealand and two-time Australian Speedcar Super Series champion, started on pole next to two-time POWRi champion Brad Loyet. Pickens ran the inside line in his Essingler-powered Breka, which was shipped from Australia, for the first 1 ½ laps, then went to the outside and began pulling away from Loyet, who also was running on the top of the quarter-mile track.
"I knew I wasn't gong to clear Brad off the start, but (Turns) One and Two were pretty good on the bottom," Pickens said. "After a lap and a half, I was able to move to the top."
Pickens had one anxious moment, regaining control on the eighth lap after coming off the top. His lead over Loyet allowed him to gather the Midget up and stay in the lead.
"I tagged the guard rail," Pickens said.
The 30-lap feature had one caution, on the 10th lap. Pickens steadily pulled away from Loyet for 15 laps after the restart.
"We had our car set up right," Pickens said. "I brought my crew chief from New Zealand, Tim Clark, and he did his job. All I had to do was keep it off the fence."
Pickens says he's won about 10 races in the USA and had one previously, in 2007, in POWRi. His triumph over Friday's outstanding field was impressive. There were 44 entries and 23 made the feature. Loyet, of Sunset Hills, Mo., finished second, Austin Brown, of Millstadt, Ill., was third, 2008 POWRi champion Brett Anderson was fourth and USAC star Jerry Coons Jr. was fifth.
"That's (winning) what it's about," Pickens said. "These guys are the best there are and it's a privilege to race with them."
Loyet, who had won the previous two POWRi races this season, was gaining on Pickens in the final five laps.
"We had a pretty good car," Loyet said. "He (Pickens) got in the lead and he was quicker, but the last five to 10 laps, I reeled him in. I'd liked to have had some more laps. It was a pretty good night. If I had to finish second to somebody, at least it's a guy working out of our shop."
Brown's third was a season best. He did it driving a new car, built this week.
"It was loose at the beginning, but the track came to us," Brown said. "With that many cars, the track started to lay rubber at the top and we were set up for it."
Trent Beckinger, of Evansville, Ind., won the POWRi Speedway Motors 600cc Outlaw Micro Series feature. He started on the inside of the third row and passed polesitter Dereck King, of Vienna, Ill., following the second restart on the third lap and led the final 18 laps. It was his second POWRi victory.
"It's only about our seventh race with this car and with the exception of an DNF, our worst finish is sixth," Beckinger said. "It feels really good. The track was changing throughout the race. For about the first half, the car was perfect, but with all the rubber that got layed down, it got slick up top. This car could run down low. I liked how we could pass in the first five laps."
Joe B. Miller, of Millersville, Mo., finished second, a season best.
"We started ninth and the track was rubbered in," Miller said. "We were able to dial the car in. With a caution, I might have had something for Brent."
Jordan Campbell, of Bloomington, Ill., finished a career-best third. Ryan Guyett, of Springfield, Ill., was fourth and Jacob Patton, of Bethalto, Ill., was fifth.
The POWRi National Midgets and 600cc Micros race tonight at Peoria (Ill.) in a co-sanctioned event with BMARA. Pickens is also entered.
POWRi Lucas Oil National Midget results (30 laps): 1. Michael Pickens, 2. Brad Loyet, 3. Austin Brown, 4. Brett Anderson, 5. Jerry Coons Jr., 6. Mike Hess, 7. Chett Gehrke, 8. Nick Knepper, 9. Travis Berryhill, 10. Matt Smith, 11. Scott Hatton, 12. Seth Motsinger, 13. Tim Siner, 14. Chris Bell, 15. Bubba Altig, 16. Daniel Adler, 17. Kyle Neal, 18. David Budres, 19. Brandon Waelti, 20. Dereck King, 21. Derrick Myers, 22. Dave Camfield Jr., 23. Andrew Felker.
POWRi Speedway Motors 600cc Outlaw Micro results (20 laps): 1. Trent Beckinger, 2. Joe B. Miller, 3. Jordan Campbell, 4. Ryan Guyett, 5. Jacob Patton, 6. J.B. Gilbert, 7. Dereck King, 8. Billy Lawhead, 9. Spencer Montgomery, 10. Natasha Cox, 11. Brad McDaniel, 12. Jake Neuman, 13. Aaron Andruskevitch, 14. Derek Le Master, 15. Alec Long, 16. Andrew Felker, 17. Ethan Fleetwood, 18. Cameron King, 19. Luke Verardi, 20. Kurt Westerfield, 21. Brandon Schneider, 22. Mike Hudson.
For more information on POWRi Racing, go to www.POWRi.com.