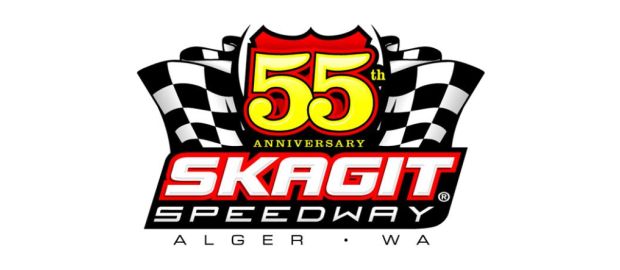 From Kelly Hart
Skagit, WA — (June 4, 2011) — Under the split yellow scoring format which gave him back the lead as scoring reverted back to the last completed lap. Jacobson was good though as he took the lead from Josh DeWitt on the fourteenth lap of the 25-lap feature. Jacobson backed up his fast time of 11.839 with a fast lap of 12.059 in the win. Jesse Whitney charged to second ahead of DeWitt in third. Heat race wins went to Trey Starks and Kevin Smith.
Jared Peterson found victory lane with a torrid green to checkered charge to win the Budweiser 360 Main Event. Alan Munn took off to the early lead before Peterson slid by in traffic then skillfully sliced and diced through the field for his first win in 2011. Travis Jacobson brought home second and Munn finished third. Heat race wins were picked up by Peterson and Kelsey Carpenter. Jacobson set fast time at 12.216.
Leading every lap of the Cook Road Shell Sportsman Sprint main event was Justin Youngquist winning his first Main Event of the year. Youngquist survived a 6 yellow and one red evening to pick up the win. Youngquist, Jeff Johnson and Clayton Sibley were the heat race winners.
Freddy Vela was the Outlaw Hornet winner tonite with a lap 14 pass of Rick Young on a late race restart to pick up the cars second win in a row. Thomas Warner and Jon Gunderson won the heat races.
RESULTS
410 Sprints
Fast time Travis Jacobson 11.839
Heat 1 Trey Starks, Jayme Barnes, Jacobson, Josh DeWitt, Colton Heath
Heat 2 Kevin Smith, Eric Fisher, Chad Hillier, Jesse Whitney, Otto Jorgenson
Main Travis Jacobson, Whitney, DeWitt, Barnes, Hillier, Smith, Barry Martinez, Toni Lutar, Dean Brindle, Jason Scott, Jorgenson, Heath, Kelleigh Johnson, Alec Covert, Fisher, Starks, Daniel Anderson
360 Sprints
Fast time Travis Jacobson 12.216
Heat 1 Kelsey Carpenter, Rod Perkins, Jacobson, Munn, Brown
Heat 2 Jared Peterson, Devin Madonia, Danielle Huson, Danny Kirkpatrick, Randy Price
Main Jared Peterson, Jacobson, Munn, Huson, Perkins, Brian Kirkpatrick, Brown, Jonathon Jorgenson, Madonia, D. Kirkpatrick, Carpenter, Price, Bud Ashe, Michael Harris
Sportsman Sprints
Heat 1 Justin Youngquist, Bill Rude, James Bundy, Paul Burdick, Michael Ballenger
Heat 2 Jeff Johnson, Michael Hodel, Curtis Clark, Cale Brooke, Cory Swatzina
Heat 3 Clayton Sibley, Derek Roberts, Rob Schroder, Brandon Harkness, Dave Mead
Main Justin Youngquist, Rude, Bundy, Roberts, Sibley, Burdick, Swatzina, Schroder, Johnson, Hodel, Bollinger, Brooke, Glenn Reinstra, Luke Didiuk, Clark, Ashley Lewellen, Mead, Eric Thibert, Ben Gunderson
Outlaw Hornets
Heat 1 Thomas Warner, Rick Young, Ken Higby, Jesse Swint, Jon Edwards
Heat 2 Jon Gunderson, Tyler Ketchum, Freddy Vela, Tony Mascio, Jeff Ploeg
Main Freddy Vela, Young, Higby, Ketchum, Matt Powers, Edwards, Terry Graul, Matt Ploeg, James Sims, Howard Vos, Adam Nelson, TJ Campbell, Bren Futrelle, Tom Warner, Gunderson, Cliff Ballenger, Swint, Clint Meins, Mascio