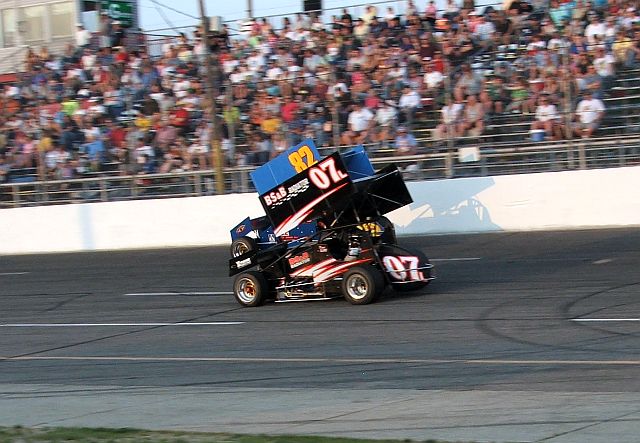 From Bristol Motor Speedway
BRISTOL, Tenn. (Saturday, June 18, 2011) – When Jason Blonde arrived at Bristol Motor Speedway last March, it was the first time he had laid eyes on the imposing facility.
When he left, Blonde was the proud owner of the fastest lap officially recorded in the 50-year history of Bristol Motor Speedway.
Blonde returns to the legendary high-banked Bristol Motor Speedway with 30 or so of his friends as the BioBased.US MustSeeRacing Xtreme Sprint Series (MSRXSS) presents the TruFuel "Xtreme Speed Classic" October 1.
The Xtreme Sprint Series features the fastest short track cars in the world, established March 19 during the World's Fastest Half-Mile Speed Trials which assembled a lineup of several types of racing cars. As the closing bell chimed Blonde bested all comers, getting around BMS in 13.245 seconds for a blistering average speed of 144.871 mph in the BioBased.US sprint car setting a half-mile world speed record.
"As soon as we heard the reaction from our fans at how breathtaking it was to see these cars around Bristol Motor Speedway, we started talking about trying to find a way to have an event," said Jerry Caldwell, BMS Executive Vice President and General Manager.
Featuring a $10,000-payday to the winner, as well as a $1,000 bonus to the day's top qualifier, entrants will compete for a spot in the feature lineup of The "Xtreme Speed Classic," which pays a minimum of $1,000 to each starter.
"This is an exciting day for Must See Racing, and an exciting day for short track racing," said series founder Jim Hanks. "Over the past several years everyone associated with the series—that includes competitors, sponsors, and series officials—has worked to present marquee events, and any event at Bristol certainly is a marquee event. The world's fastest short track cars, on the world's fastest short track, that's a dynamic combination. This certainly is a "must see" event that's going have wheel to wheel action at unprecedented speeds and lot of fun wrapping up our season."
The event is sure to attract the top echelon of winged sprint car talent in the U.S. and Canada, led by a growing contingent of Xtreme Sprint Series regulars. Defending series champion Troy DeCaire will face a stout field of challengers that will include Blonde, Aaron Pierce, Jason Cox, Ryan Litt, Jeff Bloom, Jacob Wilson, Jimmy McCune, Dave Baumgartner, Travis Miniea, Hank Lower, Mike Larrison and JoJo Helberg.
The "Xtreme Speed Classic" will be broadcast on a tape-delayed basis through Comcast Sports and a variety of networks across the U.S., reaching over 90 million American households.
The Xtreme Sprint Series features powerful winged sprint cars with 800-plus horsepower, racing at a variety of prestigious venues including Salem Speedway, Anderson Speedway, Berlin Raceway Park, Winchester Speedway, Auto City Speedway, Dells Motorsports Park, Rockford Speedway, and Kalamazoo Speedway. Based in Holly, Michigan, the series is amidst their third season of competition in 2011.
Visit www.bristolmotorspeedway.com or mustseeracing.com for event and ticket information.
For more information concerning tickets, please call the BMS ticket office at 423-BRISTOL (274-7865) or toll free at 1-866-415-4158.