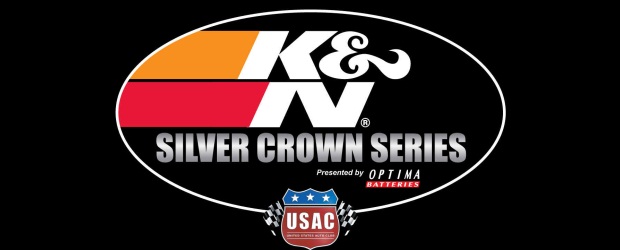 By Dick Jordan
Jerry Coons Jr. of Tucson, Ariz. leads the Traxxas USAC Silver Crown Championship Series to Iowa Speedway in Newton, Iowa this Friday for the "Casey's General Stores USAC Triple Crown 100" presented by Pioneer Hi-Bred First Class Credit Union & Boyer Petroleum.
Coons emerged as the series point leader after finishing second to Bobby East in last Saturday's 100-miler at the Milwaukee Mile at Wisconsin State Fair Park. He is 21 points ahead of three drivers tied for second in the standings, Tanner Swanson, Bud Kaeding and defending series champ Levi Jones.
East, of Brownsburg, Ind., left fans with a memorable performance Saturday after coming from the back of the field on a restart at lap 35 to mow down the field in the Milwaukee 100 and claim the victory in his Joe Gibbs Racing Oil Beast/Ford. East led the first 20 laps but was moved back two positions for jumping the original start. Shortly thereafter he was moved to the rear of the field for another infraction and then the fireworks started in the form of his charge to the front.
Tanner Swanson led the restart at lap 21 but East climbed to the "top-10" by lap 38. He was ninth on lap 39, eighth on lap 41, seventh on lap 43 and sixth on lap 46. At half-way he moved to fifth, then took fourth one lap later. He passed Jerry Coons Jr. for third on lap 56 and caught runner-up Kyle Larson on lap 68 for second.
Pole winner Larson spun bringing out the yellow flag for a restart and on lap 75 East passed Swanson for the lead. At the checkered flag he was nearly a half-lap ahead of Coons, who passed Swanson on lap 98. Swanson was third, ahead of Bobby Santos III and Jacob Wilson.
A.J. Fike of Galesburg, Ill., who was 19th at Milwaukee after a tangle with Tracy Hines on the 25th lap of that race, is the defending Iowa Speedway Silver Crown race winner, but Kaeding has proven that he enjoys the Hawkeye state as well, winning a pair of AMSOIL USAC Sprint races at Knoxville and Oskaloosa last year.
Bobby Santos III, who finished second in both the Milwaukee Mopar National Midget and Traxxas Silver Crown races Saturday, won last year's Iowa Speedway Midget race. The Mopar National Midgets are again on this Friday's schedule at the 7/8-mile paved oval.
East holds the one-lap Iowa Speedway Silver Crown qualifying record at 143.000 mph, set last year, while Dave Steele, who has returned to the series for this year's pavement races and will compete Friday, holds the 100-mile Iowa race record of 104.223 mph set in 2006.
Friday's Iowa Speedway races are being held in conjunction with this weekend's Iowa Corn Indy 250 IZOD Indycar Series race, scheduled for 8 pm Saturday. The USAC feature events are slated to begin at 8:30 pm Friday. Two 25-lap segments will comprise the 50-lap Mopar USAC National Midget race.
USAC TRAXXAS SILVER CROWN POINT STANDINGS
1-Jerry Coons Jr.-117; 2-Tanner Swanson-96; 3-Bud Kaeding-96; 4-Levi Jones-96; 5-Brian Tyler-90; 6-Bobby East-85; 7-Kyle Larson-71; 8-Derek Hagar-68; 9-Tracy Hines-67; 10-Todd Kane-61.