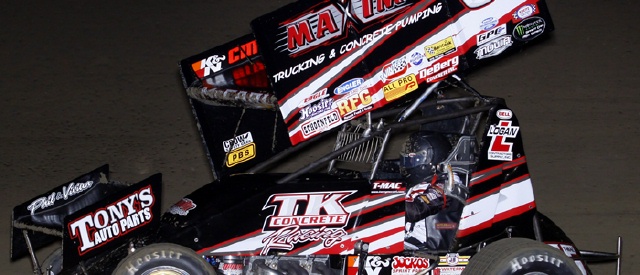 By Bill W
June 21, 2011 – Things are going well for a team when a fourth place run at Knoxville Raceway doesn't feel good. That was the case for Terry McCarl and the VerMeer Motorsports team. A tangle at Huset's on Sunday night didn't help things, but the team is ready to run this weekend in Kankakee, Illinois and at Knoxville.
TMAC posted the second quick time of the night at Knoxville. "Out in clean air, we have been really good," he says. "Our Don Ott engine is running really well. We've been struggling a little bit with tires or something. I haven't been really comfortable yet."
The Altoona, Iowa driver struggled a bit in his heat finishing fifth, and ran steadily in the top five after a "revenge draw" saw him handed the six pill. "We're trying some different things," he says of the #55 Eagle chassis machine. "We've been up and down a little bit to start the year. I can't say enough about how great our team is, and how awesome Tony VerMeer has been to drive for. We believe in each other. I'm excited about our future."
In the end, TMAC would settle for a fourth place finish. "I don't know if Goodyear changed their left rear tires, or what," he says. "I think they have, because I've only seen two of them blow this year. I didn't feel real well, and we got a fourth place finish. That shows you where we're at."
The all-time leading feature winner at Huset's Speedway in Brandon, South Dakota set quick time over the field Sunday night. "My old setups haven't worked well for me this year up there," he says. "They've worked great for Austin, but not for me. Gary (Isom), Matt (Barbara) and I tried something different up there on Sunday, and the car felt great in qualifying. It was as good as it's been all year up there."
A melee to start the first heat race ended the night for all practical purposes. "I started the heat sixth and Austin was in front of me," says TMAC. "I just told him to do his best and don't do anything crazy on the start. Sure enough, we went into turn three and some guys got together. That got me into Austin's left rear tire. That blew his tire, and I got upside down. It was mostly bolt on stuff. It was a racing deal."
While Austin surged from 16th to 5th in the main event, TMAC had suffered too much damage to be a factor. "I didn't have a good feeling about it," he says of rolling out scratch for the feature. "(The wreck) bent the draglink and bent the pitman arm on it. The steering took a heck of a hit. We started last and when I got to the corner it locked up and I spun out. I went back out for a few laps, but we must have broken something in the steering. I pulled off before we crashed someone."
Another busy weekend is in store. The team heads to the Kankakee County Speedway in Kankakee, Illinois on Friday night to race with the IRA, they'll be back at Knoxville on Saturday, and will take on the World of Outlaws at Huset's Sunday. "We'll come back next week and hopefully finish up front up there with the Outlaws."
To check out opportunities to partner with TMAC Motorsports on a nightly basis, visit www.TerryMcCarl.com or call 515 957-0020!
Front Row Challenge/Ultimate Challenge
The 16th Annual Front Row Challenge and the 10th Annual Ultimate Challenge will be held Monday and Tuesday, August 8 and 9, 2010 at the Southern Iowa Speedway in Oskaloosa, Iowa. Order your seats NOW by calling McTwo Promotions, Inc. at 515 957-0020. Visit www.OskyChallenges.com for further details.
Websites for the McCarl Gang!
Driverwebsites.com develops the websites for the McCarl boys. Check out www.TerryMcCarl.com, as well as www.AustinMcCarl.com and www.CarsonMcCarl.com!
In"Terry"gation
Eric Givan asks: You can't see very well from the pits in Knoxville, so where do you watch Carson from?
TMAC Answers: I've always watched the races from turn three. I was down there when my dad was racing, but now with the video screen there, it shows quite a bit. Last Saturday, it was one of the best races I've ever seen. Carson, Tasker Phillips and Jamie Ball are three awesome young talents. What a great race. It was worth the price of admission in itself. It did scare the heck out of me. Knoxville has a great future with these young guns, and I'm hoping they can promote them and capitalize on it.
Got a question for TMAC? Send it to us at sprntcar@iowatelecom.net, and we may answer it in this section! Put "? for TMAC" in your subject line.
This Month in TMAC History!
June 21, 2004 was a tough trip to Kankakee for TMAC. After dominating the first 13 laps of the IRA show that night, he dropped out with mechanical problems. After new track record holder, Wayne Johnson, inherited the lead and tangled with a lapped car, Jason Johnson made an exciting last corner pass of Danny Smith for the win.
"Tuesdays with TMAC"!
"Tuesdays with TMAC" is an up close and personal look at colorful sprint car veteran Terry McCarl. To receive "Tuesdays with TMAC", send an e-mail to sprntcar@iowatelecom.net with "TMAC" in the subject line.
VerMeer Motorsports would like to thank TK Concrete, Maxim Trucking & Concrete Pumping, Tulip City Agency, Logan Contractors Supply, Van Maanen Electric, Tony's Auto Parts, Monarch's Restaurant & Lounge, Skyline Ready Mix, QTC (Quality Traffic Control), DPLM (Dennis Parking Lot Maintenance), Van Gorp Construction, Don Ott Racing Engines and Ulrich Motor.
TMAC Motorsports would like to thank sponsors Deanfield Farms, Eagle Chassis, DeBerg Concrete, AmeriCashAdvance.com, RFG, Phil and Vivian, Mark Burch Motorsports, Ryan Yager Trucking, 212 The Boiling Point Bar & Grill, Vortex Racing, Hoosier Tire, Chris Spaulding – Attorney at Law, Schoenfeld Headers, K&N Filters, Don Ott Engines, HRP, All Pro Cylinder Heads, Bob and Beulah Elder, Country Builders Construction, Engler Injection, T&P Brothers, Winters, DriverWebsites.com, CM Rock, Jocko's Sprint Parts, Sander, Brown and Miller, Morris Automotive, Chase Graphics, Pro Shocks, Mac Tools, Ben Cook, Bell Helmets, Burnettt's Rock and Landscaping, Morgan Strawberry Farms, Bulldog Pest Control, Aurora Rod Ends, Crow Safety, Justice Brothers, KSE Steering, CIP Racing Hoods, Strange Performance, Saldana Racing Products, Scribner Plastics, Waterman Fuel Pumps, Weiland Racing, Butlerbuilt, PBS Bushings.