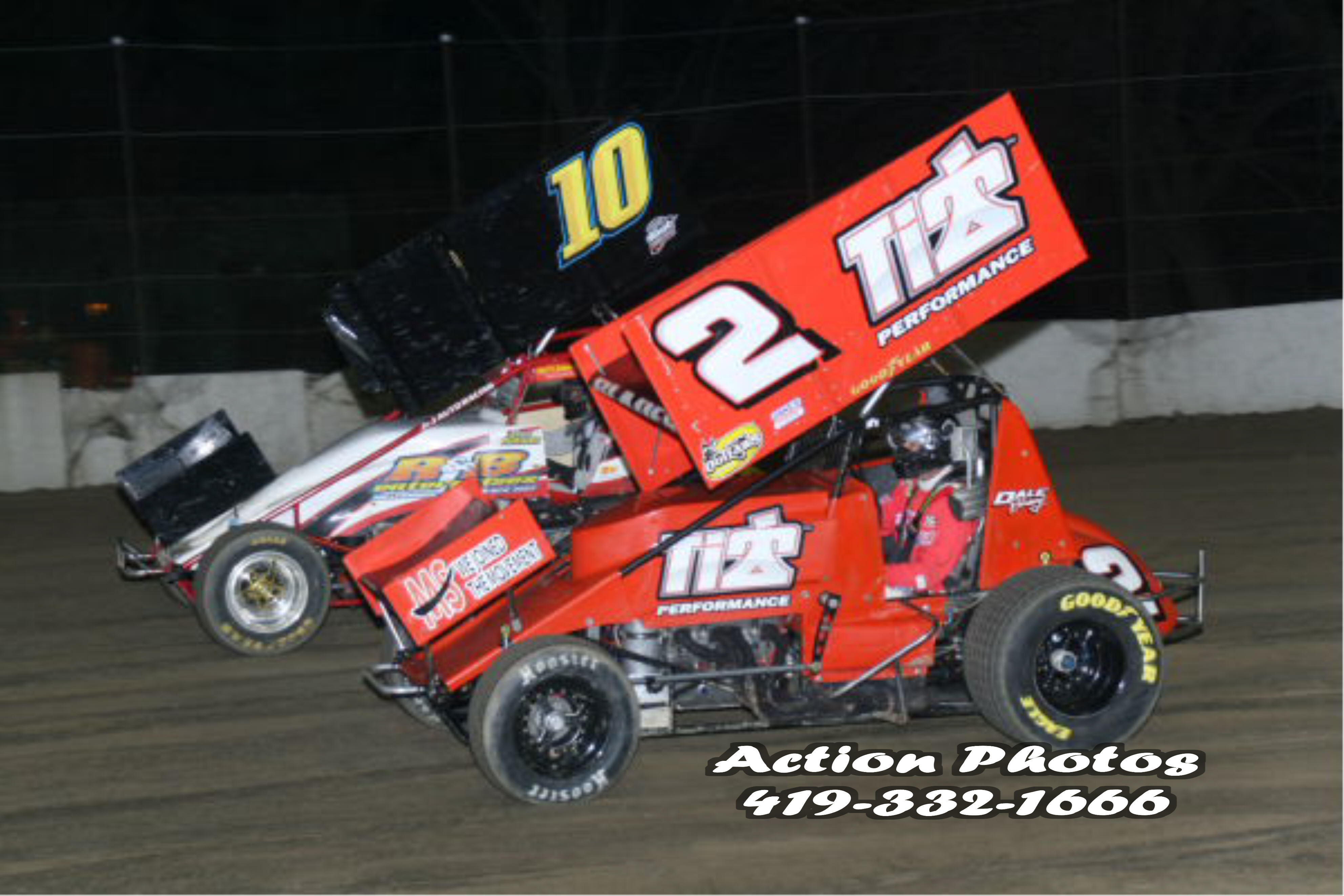 By Brian Liskai
HARTFORD, OH (6-22-11) – If it weren't for some mechanical
woes during the opening night of the 29th Annual Ohio Sprint Speedweek,
Dale Blaney would be looking for his fifth speedweek title. The Hartford,
Ohio resident scored his second straight speedweek feature Wednesday,
taking the checkered flat at Sharon Speedway for his 80th career victory
with the O'Reilly Auto Parts All Star Circuit of Champions.
Even with two speedweek victories, it will be hard for Blaney to catch
two-time and defending All Star champion Tim Shaffer as the Aliquippa,
Pennsylvania has not finished out of the top three in each of the speedweek
events.
Blaney, a three time All Star champion, passed Shaffer on lap 14 and held
off a hard-charging Sam Hafertepe Jr. to capture the 30-lap $5,000 prize in
front of a large, partisan crowd.
"It was really hard to pass lapped cars. You got to their dust and spun a
little bit," said Blaney beside his George Fisher Racing, Ti22 Performance
backed #2. "Tim (Shaffer) and I talked before the race and I don't think he
wanted to lead and I didn't want to lead. It was a good race, but it kind
of slipped our way. I started running the bottom where he wasn't and it
worked out. To pas shim you have to be awfully good."
Hafertepe, who joined speedweek for the first time Tuesday at Fremont,
which was rained out following heat race action, would come up just short
at the finish.
"We kind of knew what it was going to be when we got here. It looked pretty
hard and slick," said Hafertepe beside his Plumbfast Racing, Lone Star
Speedway backed #15h. "We just kept tuning on it all night. All I can say
is my one guy I've got working on this thing is just awesome. He prepares
this car pretty much by himself every night. I've been kind of under the
weather and it's been putting some extra pressure on him lately. I'll be
ready for a break here at the end of the week so I can get a little bit
better. I have to give it to my guy…he's the most dedicated guy out here
and works harder than anyone else. To pull this off coming up through there
when there wasn't a lot of passing is a good run for us."
For Shaffer, who was a Sharon Speedway runner back in the 1980s and 1990s,
another podium finish not only kept him atop the speedweek points, but
keeps him within striking distance of Blaney for the Ohio region and
national All Star points championship.
"It really was a good run…it actually was a little too good too early,"
said Shaffer beside his Aaron Call/Janet Holbrook owned machine which
carries sponsorship by Kistler Racing Products and Kistler Engines. "Hats
off to Dale (Blaney) and George (Fisher)….their team did a great job.
Sometimes running second is better. Dale and I were teasing each other
earlier who was going to get the lead first. We're happy to run third, but
just didn't quite have enough. Sometimes you try a little too hard when you
run at home because you want to do well, but that's just part of racing."
Blaney and Shaffer would lead the field to the green with Shaffer – who won
the Sharon speedweek show last year – taking the lead. Brad Bowman, a
rookie to 410 sprint racing, would pass two-time All Star champion Greg
Wilson fro third with Daryn Pittman slipping by Tyler Walker for fifth.
While Shaffer, Blaney and Bowman separating themselves from the field in
the early laps, Wilson was trying to fend off Pittman and ninth starting
Hafertepe by lap four. With seven laps in the books, Blaney began to reel
in Shaffer as they raced into lapped traffic. Meanwhile, Wilson and Pittman
had caught Bowman and it was three wide for the third spot.
In heavy traffic by the 11th circuit, Shaffer was trying to fend off Blaney
as Hafertepe worked his way past Wilson to crack into the top five. Three
laps later, Hafertepe would steal fourth from Pittman. Back up front,
Blaney would get a great run in turn one and made the pass for the lead
stick coming off the bottom of turn two just before the first caution would
fly when defending speedweek champion David Gravel did a 360 spin in turn
two.
When the green came back out, Hafertepe would pressure Bowman for third.
The caution would fly for the second and final time when Jared Ridge
slapped the turn four fence with 17 laps scored. On the ensuing restart
Hafertepe would finally take third using the bottom of turns one and two.
This got the attention of the crowd as the Sunnydale, Texas driver quickly
closed on Shaffer for the runner-up spot with 10 laps to go. Hafertepe ran
the bottom of the track to perfection as he and Shaffer ran side-by-side on
lap 23.
As Shaffer and Hafertepe battled for second, it allowed Blaney to open up a
little breathing room. Bowman would rally to make it a three car battle for
second with five laps to go. Blaney was in lapped traffic by lap 27,
allowing Shaffer, Hafertepe and Bowman to close up the gap, making it a
four car race for the win.
Finally on lap 28, Hafertepe made the pass stick on Shaffer in turns one
and two, but Blaney was able to once again gain some ground on his
pursuers. Blaney would drive away to his 13th career Sharon Speedway
victory.
"I saw the 15 on the board and I was trying to think what other 15 was in
the field other than Sam because I knew he started way in the back. I
thought 'boy he's coming really good.' I saw lap 28 and came to the white
flag and figured I better keep it down one more lap if I could. George and
Troy (Psurney) have had the car really, really good the last two nights and
we have a little confidence now so hopefully we can keep on rolling," said
the 47-year-old Blaney.
"It's always fun to come here. I've had a lot of good memories here. This
is the first race I've won here in awhile, but hopefully we can win another
one in a couple weeks (the Lou Blaney Memorial on July 12 that honors
Dale's father) – that would be real special," added Blaney.
Bowman, who hails from Shelby, Ohio, would come home a career best fourth
with Pittman rounding out the top five.
Sharon Speedway – 6/22/2011
All Star Circuit of Champions
Qualifying – Kistler Engines
1. 2-Dale Blaney, 14.120
2. 53-Phil Gressman, 14.290
3. 12-Jared Ridge, 14.378
4. 97-Dean Jacobs, 14.382
5. 83-Tim Shaffer, 14.388
6. 22-Cole Duncan, 14.457
7. 17-Tyler Walker, 14.466
8. W20-Greg Wilson, 14.514
9. 51-Brad Bowman, 14.561
10. 27-Pittman Daryn, 14.566
11. D4-Danny Holtgraver, 14.575
12. O-Chris Andrews, 14.578
13. 97S-Aaron Shaffer, 14.584
14. 15H-Sam Hafertepe Jr., 14.594
15. 89G-David Gravel, 14.597
16. 4X-Kasey Kahne, 14.636
17. 22E-Brian Ellenberger, 14.648
18. 5-Byron Reed, 14.712
19. 71-Damion Gardner, 14.716
20. 41-Jason Johnson, 14.750
21. 7K-Kyler Sauder, 14.790
22. 49-Brad Sweet, 14.794
23. 45-Rob Chaney, 14.859
24. 2L-Ed Lynch Jr., 14.874
25. 3J-Kevin Lee, 14.920
26. 1-Stevie Smith, 14.931
27. 3-Pete Miller III, 14.978
28. 7X-Andew Albrecht, 14.988
29. 23JR-Jack Sodeman Jr., 15.003
30. 8-Mike Lutz, 15.027
31. 4-Danny Smith, 15.094
32. 16-Danny Mumaw, 15.114
33. 5k-Adam Kekich, 15.136
34. 13-Brandon Matus, 15.197
35. O9-Craig Mintz, 15.227
36. O4-Cap Henry, 15.239
37. 1Z-Jessica Zemken, 15.312
38. 24S-Brian Steinman, 15.370
39. 60-Jody Keegan, 15.381
40. 33-Brent Matus, 15.587
41. 35-Wes McGlumphy, 15.741
42. 34-Luke Hall, 15.810
43. 5B-Adam Anderson, 16.165
44. 96-Lindsey Enscoe, 16.499
Heat 1 – Kears Speed Shop (8 Laps – Top 5 Transfer)
1. 83-Tim Shaffer
2. 7K-Kyler Sauder
3. 51-Brad Bowman
4. 2-Dale Blaney
5. 22E-Brian Ellenberger
6. 23JR-Jack Sodeman Jr.
7. 97S-Aaron Shaffer
8. 3J-Kevin Lee
9. 1Z-Jessica Zemken
10. 5K-Adam Kekich
11. 35-Wes McGlumphy
Heat 2 – All Pro Heads (8 Laps – Top 5 Transfer)
1. 5-Byron Reed
2. 49-Brad Sweet
3. 27-Pittman Daryn
4. 15H-Sam Hafertepe Jr.
5. 1-Stevie Smith
6. 53-Phil Gressman
7. 22-Cole Duncan
8. 8-Mike Lutz
9. 13-Brandon Matus
10. 24S-Brian Steinman
11. 34-Luke Hall
Heat 3 – MSD Ignition (8 Laps – Top 5 Transfer)
1. 89G-David Gravel
2. 45-Rob Chaney
3. D4-Danny Holtgraver
4. 4-Danny Smith
5. 17-Tyler Walker
6. 12-Jared Ridge
7. 71-Damion Gardner
8. 60-Jody Keegan
9. O9-Craig Mintz
10. 3-Pete Miller III
11. 5B-Adam Anderson
Heat 4 – Kinsler Fuel Injection (8 Laps – Top 5 Transfer)
1. 41-Jason Johnson
2. 2L-Ed Lynch Jr.
3. W20-Greg Wilson
4. 4X-Kasey Kahne
5. O-Chris Andrews
6. 16-Danny Mumaw
7. 97-Dean Jacobs
8. O4-Cap Henry
9. 7X-Andew Albrecht
10. 96-Lindsey Enscoe
11. 33-Brent Matus
Dash – Rubbn' Repair (6 Laps – Top – Transfer)
1. 2-Dale Blaney
2. 83-Tim Shaffer
3. W20-Greg Wilson
4. 51-Brad Bowman
5. 17-Tyler Walker
6. 27-Pittman Daryn
C-Main – C Sponsor (10 Laps – Top 2 Transfer)
1. 60-Jody Keegan
2. 35-Wes McGlumphy
3. 5B-Adam Anderson
4. 96-Lindsey Enscoe
5. 33-Brent Matus
6. 34-Luke Hall
B-Main –
University of Northwestern Ohio (12 Laps – Top 4 Transfer)
1. 12-Jared Ridge
2. 22-Cole Duncan
3. 97-Dean Jacobs
4. 53-Phil Gressman
5. 23JR-Jack Sodeman Jr.
6. 97S-Aaron Shaffer
7. 3J-Kevin Lee
8. O4-Cap Henry
9. 1Z-Jessica Zemken
10. 71-Damion Gardner
11. 16-Danny Mumaw
12. 3-Pete Miller III
13. O9-Craig Mintz
14. 13-Brandon Matus
15. 5K-Adam Kekich
16. 24S-Brian Steinman
17. 60-Jody Keegan
18. 35-Wes McGlumphy
19. 8-Mike Lutz
20. 7X-Andew Albrecht
A-Main – O'Reilly Auto Parts (30 Laps) [#]-Starting Position
1. 2-Dale Blaney[1]
2. 15H-Sam Hafertepe Jr.[9]
3. 83-Tim Shaffer[2]
4. 51-Brad Bowman[4]
5. 27-Pittman Daryn[6]
6. W20-Greg Wilson[3]
7. 17-Tyler Walker[5]
8. 53-Phil Gressman[11]
9. 41-Jason Johnson[18]
10. D4-Danny Holtgraver[7]
11. 49-Brad Sweet[20]
12. 22-Cole Duncan[14]
13. 4-Danny Smith[24]
14. 5-Byron Reed[17]
15. 1-Stevie Smith[23]
16. 97-Dean Jacobs[13]
17. 4X-Kasey Kahne[15]
18. 89G-David Gravel[10]
19. 22E-Brian Ellenberger[16]
20. O-Chris Andrews[8]
21. 7K-Kyler Sauder[19]
22. 2L-Ed Lynch Jr.[22]
23. 45-Rob Chaney[21]
24. 12-Jared Ridge[12]
©2010 – Results Provided by: Computer Man Inc. Fremont, OH