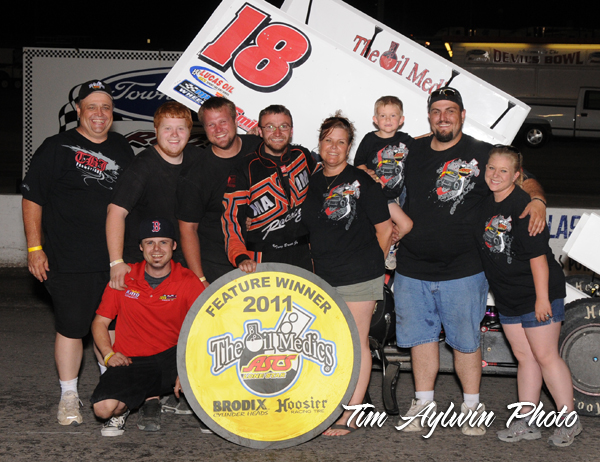 Inside Line Promotions

– ELMA, Wash. (July 19) – It's always a long trip to the Northwest every summer for Tony Bruce Jr., but this year is another story.
The Liberal, Kan., native turned Tulsa, Okla., transplant arrived in the Northwest last Wednesday night to begin the ASCS National Tour's West Coast swing.
"And it has pretty much rained almost every single day we've been here," he said.
After a day of sightseeing around Seattle, including visits to the famous Space Needle and the Pike Place Market, the team arrived in Elma, Wash., on Thursday. And then the rain really started. It was so intense that both of the ASCS National Tour events at Grays Harbor Raceway near the coast of Washington were washed out.
"We've pretty much been on standby," Bruce Jr. said. "The car was ready to go when we got out here, so there hasn't been much to do."
Not only did the rainout make the team sit around for another week without a race, but it also cut out two of the six events on the West Coast during the three-week swing. Next up, Bruce Jr. and the ASCS National Tour are scheduled to race this Friday and Saturday at the Cottage Grove Speedway in Cottage Grove, Ore. Both races will be taped for a delayed television broadcast by the VERSUS network.
Bruce Jr. finished sixth and 11th in the two races at Cottage Grove at the high-banked, ¼-mile dirt oval last year.
"We did well there last year and I enjoy that track," he said. "But I'm really ready to go after sitting around for the last week."
For live updates of Bruce Jr. and the rest of the races, visit www.insidelinepromotions.com.
SEASON STATS –
28 races, 25 features, 1 win, 4 top fives, 13 top 10s, 20 top 15s, 25 top 20s
UP NEXT –
Friday and Saturday at Cottage Grove Speedway in Cottage Grove, Ore., with the ASCS National Tour
FAVORITE NUMBER –
11: Average finish at last year's ASCS National Tour doubleheader at the Cottage Grove Speedway in Cottage Grove, Ore., including a best of sixth place in the opener.
SOCIAL MEDIA LINKS –
Website: www.tonybrucejr.com
Twitter: www.twitter.com/tonybrucejr
ON THE AIR –
Bruce Jr. was a featured guest on the ASCS Show by Racinboys on May 24. Check out the link below for his interview, which starts at approximately 44:20 into the show.
http://www.meridix.com/mbp/general/index.php?liveid=Racinboys&recordid=19159
He was also on the April 26 edition. Click on the link below to listen to Bruce Jr.'s interview, which begins around the 52:25 mark.
http://www.meridix.com/mbp/general/index.php?liveid=Racinboys&recordid=18733
SPONSOR SPOTLIGHT – Travelwizer.com
Travelwizer.com was established in 2010 as a full-service destination for various travel-related needs. Travelwizer.com is a one-stop website to book everything from a hotel to an entire vacation package. For more information, visit www.travelwizer.com.
"You can purchase entire vacation packages, from the flight, hotel, rental cars, cruises to the entire package," Bruce Jr. said. "Travelwizer.com is the wizer way to travel."
Bruce Jr. would like to thank his sponsors, including The Oil Medics, TBJ Promotions, Ticketmob.com, LRB Manufacturing, Hoosier and Smiley's Racing Products for their continued support.