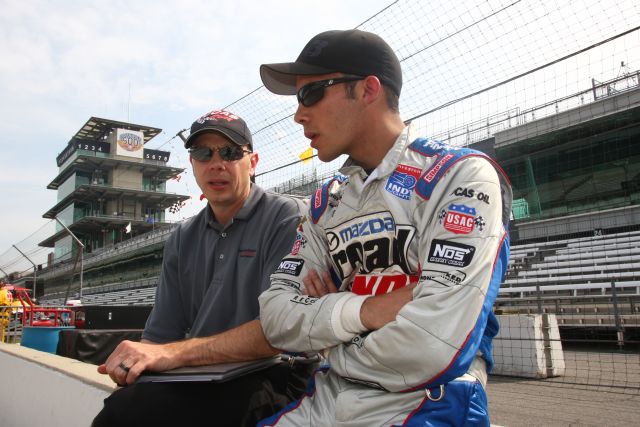 From Bryant Heating and Cooling Indianapolis Speedrome®
The Bryant Heating and Cooling Indianapolis Speedrome® is a very familiar place for USAC Mopar National Midget point leader Bryan Clauson. He returns home this Friday night July 29th for the Pure Power Technologies & UAW 100 Mel Kenyon Classic. The Speedrome is proud to welcome back Bryan and the entire talented USAC Mopar National Midget Series roster. For the first-time in over 6 years, the best and brightest open wheel stars from around the country will compete on the famous fifth-mile. This will be the National Midgets 43rd appearance at the historic eastside speed palace dating back to the inaugural event on August 3, 1958.
Bryan Clauson has been a star on every level of motorsports in his relatively short 22-years on earth. The current USAC Mopar National Midget Series point leader and defending champion is the all-time feature wins leader at the Speedrome in USAC Kenyon Midget competition with 7. He also has a Speedrome INEX Bandolero main event triumph under his belt back in 2000. These early efforts in his racing career were joined by an amazing amount of success in Go-Carts, Quarter Midgets, and Mini Sprints. A wide array of championships, rookie-of-the-year titles, and a treasure chest of feature trophies fill his resume from this period.
Bryan's USAC Mopar National Midget list of big event victories includes the Belleville Midget Nationals, Hall of Fame Classic, Turkey Night Grand Prix, and Glenn Howard Memorial just to name a few. On the stockcar side, he has a victory in the ARCA Series and was Rookie-of-the-Year runner-up in the NASCAR Nationwide Series in 2008. Clauson was the 2010 overall USAC National Driving Champion earning him a ride in the Firestone Indy Lights Freedom 100 at the Indianapolis Motor Speedway just this past May. He picked up a top five finish on that special day. Bryan is a name that fans will be privy to for many years. He is successful in anything he drives. Make it a point to see him at the Speedrome on July 29th.
Tickets are on sale now for this tremendous event. Adult general admission tickets are just $15 with children ages 6-11 just $6 while kids 5 & under are free. You can charge by phone at (317) 353-8206 or stop in the Speedrome pit office on the night of any racing event. This ticket price is the best price in the country to see these USAC Mopar National Midget series speedsters in action. We are very excited to have them here. The Speedrome has hosted nearly 500 USAC sanctioned events which is far and away more than any other track in the world.
Friday July 29, 2011
Pure Power Technologies & UAW present the UAW 100 Mel Kenyon Classic plus
USAC Pit Gates Open at 1pm
USAC Practice Begins at 3pm with Qualifications to follow
Racing Start at 7pm
For a full agenda, log on to http://www.speedrome.com/
The Bryant Heating and Cooling Indianapolis Speedrome® is located at 802 South Kitley Avenue in Indianapolis, Indiana 46219 and proudly in the community and the historical district of Irvington. The world famous fifth-mile asphalt short track has been featured in the New York Times as well as SPEED, Spike, and ESPN television in addition to racing publications around the country. We proudly celebrate our 70th anniversary season in 2011. Please join us for the best in short track motorsports entertainment every weekend from March through November featuring a wealth of talented racing stars. To view more, log on to our web site http://www.speedrome.com/ or follow us on Facebook and Twitter. The track hotline is (317) 353-8206 or you can e-mail us at info@speedrome.com