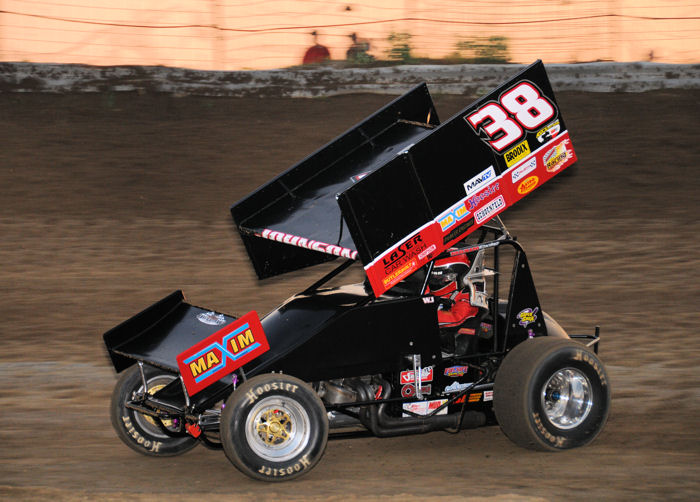 By Bill W
August 3, 2011 – The hottest driver in the country just got hotter, and that spells trouble for competitors in the Knoxville 360 Nationals this week. Wayne Johnson swept the Lucas Oil ASCS National Bullring Nationals at the Placerville Speedway in California last weekend, and the Knoxville, Iowa driver shows no signs of stopping.
Wayne's weekend on the El Dorado County Fairgrounds almost began in disaster, but he was able to roll from the pole to a heat win. "I ran it into the cushion hard and bent in the wheel cover," he says. "That broke off the bleeder, so our tire was going down the rest of the way. I had a heck of a time with it; it had a big vibration. We were lucky to finish, or we would have been done."
Lately, the luck with the draw has been on Wayne's side, but it hasn't been his own doing. He would start outside row one for the main event. "Luckily, they've gone to bringing the kids down to draw," he says. "If it was me, I would have been back in row four."
Even though it was Wayne's first trip to the ¼-mile in Placerville, he took to it quickly, as it reminded him of a familiar haunt. "It felt a lot like Little Rock to be honest," he says. "It was slick to a curb up top, and it had a good bottom too. (Owner/Crew Chief) Bryan (Sunby) had the car on cruise control. We were good anywhere we went on the track."
Pressure from young Aaron Reutzel was not enough to deter the veteran, who cruised to the win in the 30-lapper. "We ran the bottom of one and two, and the top of three and four," says Wayne. "That worked both nights really."
As competitors scrambled in their heat races (sometimes upside down), Wayne had the comfort of being locked into Saturday's finale. He would start on the pole. "Shane (Stewart) actually got the jump on me on the start," he says. "He never tested the bottom, and I checked it out early in the race. He was getting away from me a little bit, so I had to go up top to catch him."
As traffic neared, Wayne saw his chance to get by Stewart. His win was worth $6,000. "We were getting to lapped traffic, and he stayed up top," he says. "I was able to drive by him on the bottom around lap eleven. Once I got the lead, there was never really a challenge from anyone after that."
The weekend, paired with two podium finishes in Cottage Grove, Oregon with ASCS has given the BDS Motorsports #38 team momentum heading into this week's 360 Nationals. "Our goal is definitely to win it," says Wayne. "We've been fortunate enough to win a couple, but we've also had some close calls. We're definitely aiming for the top of the podium come Saturday night."
The team will qualify on Friday night, and will be welcoming a new partner on board. "We'd like to welcome Western Dedicated onboard as a sponsor," says Wayne. "They have a high quality transportation service out in California and we are tickled to have them with us."
Big Sale on T-Shirts!
Wayne Johnson Racing has a variety of 2010 apparel and it is ALL on sale! $10 for t-shirts, hats, women and kids' shirts and more! E-mail WayneJohnsonRacing@yahoo.com to place your order!
Buy Your Outlaw Wings from Wayne
Wayne is an Outlaw Wings dealer located in the Knoxville, Iowa area. Wayne credits the new Outlaw top wing for his 2009 wins at Little Rock and Cowtown. Contact Wayne for your Outlaw Wing, as he has some special Holiday deals going! Outlaw Wings – "When Downforce Matters"!
Wayne's Website
To learn more about Wayne and the team, log on to www.WayneJohnsonRacing.com!
Wayne's World
Bill W asks: What do you think of your chances of winning a third 360 Nationals?
Wayne answers: You know I'm really looking forward to it. We always seem to get up for it, and I'd like to win this one. You can't be the first to win four, unless you win the third one! We've got the motor freshened and ready to go from Parker, so we're excited.
Got a question for Wayne? Each week, Wayne will answer your questions about "Tech Tips", or anything that's on your mind. If you ever wondered what a part on a sprint car is all about, send an e-mail to us at sprntcar@iowatelecom.net, and we may answer it in this section! Put "? for Wayne" in your subject line. He'll try to keep it clean if you do!
Wayne's Fast Facts
In addition to Wayne's two wins (2000, 2008), he is fourth all-time in laps led (44), tied with Garry Lee Maier for first in top five finishes (6), tied for fourth in top ten finishes (6), and is tied for fifth in A main appearances (8). He has accomplished all that in just ten appearances in the event.
"Wednesday's with Wayne"
"Wednesday's With Wayne" is an up close look at the past, present and future of colorful and talented sprint car driver Wayne Johnson. You'll never know what to expect next with Wayne, so don't miss us on Wednesdays!
To receive "Wednesday's with Wayne", send an e-mail to sprntcar@iowatelecom.net with "Wayne" in the subject line.
Wayne would like to thank the following for making this possible: BDS Motorsports, Parker Machine, Champion Oil, BMRS Brown and Miller Racing Solutions, Max Muscle, Butlerbuilt, Hinchman, Schoenfeld Headers, Super Shox, Hoosier Racing Midwest, Rod End Supply, Fuel Safe, Simpson, Conroy Pneu Controls, KSE, Maxim Chassis, RJR Components, Kinsler Fuel Injection, Astro Titanium, ITI Lubricants, DMI, Laser Carwash and Speedway Motors.