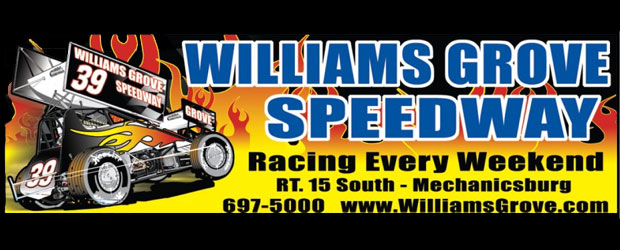 From Williams Grove Speedway
Mechanicsburg, PA — (August 5, 2011) — Justin Henderson of Sioux Falls, South Dakota, won the second 410 sprint car feature of his Williams Grove Speedway career on Friday night after a spirited mid-race battle with Adam Wilt of York.
In the URC 360 Sprint Nationals it was Lance Dewease picking up his 78th career sprint victory at the historic oval after taking the lead from Aaron Ott.
Henderson started fourth in the 25-lap 410 sprint main and drove into the lead on the first circuit, around the front row of Nicole Bower and Derek Sell.
Third starter Wilt was by the pair and up to second on the second loop.
From there it was up to Henderson to hold Wilt off for the lead but he failed in his efforts with 11 down as a slip off of the second corner allowed Wilt to motor by for control on the 12th circuit.
But Henderson never gave up and was staying with the leader when the races first caution flag unfurled with 17 laps down for Steve Buckwalter on the frontstretch who lost a front wheel.
Brent Marks lined up third for the restart followed by Aaron Ott and 12th starter Greg Hodnett.
Henderson blasted his No. 35 racer back into the lead on the restart, taking control for good as he raced off of the fourth turn to score lap 18 while Hodnett drove from fifth to third.
With four laps to go Thomasville's Hodnett had disposed of second runner Wilt and was ready to track down the leader when he too lost a front wheel, bringing out a final caution flag with three laps to go.
Henderson drove to the win easily when action resumed followed by Marks, 14th starter Doug Esh, Ott and Danny Dietrich.
Sixth through 10th went to Wilt, Fred Rahmer, Brian Montieth, Cory Haas and Lance Dewease.
Heats for the 30-car field went to Wilt, Henderson and Marks with Mark Smith taking the consolation.
"We had a fantastic night of racing," Henderson said of his debut in what was a new car.
"I refer to it as a happy car," he said.
Dewease jumped in his URC mount after the 410 sprint main and started fourth in the field behind Kramer Williamson, Ott and polesitter Curt Michael.
Ott tried to hold Dewease off after he moved into second on the first lap but after nearly six circuits of defense, he succumbed to a searching Dewease who finally found the way around.
Once in front, the Fayetteville drive withstood two restarts to pick up the lucrative victory worth $5,000, his third overall of the season at the oval counting two 410 victories as well.
"This thing was a rocket all night," Dewease said of his Scott McClaren-owned No. 21 mount.
"Maybe next week we'll get our other car this fast!"
Ott settled for second followed by Mark Smith, Chad Layton and Michael.
Sixth through 10th went to 21st starter Pat Cannon, Williamson, Kevin Nouse, Blane Heimbach and Justin Barger.
Heats for the 38-car URC field went to Dewease, Nouse, Jason Clause and JJ Grasso. Cannon took the B Main. Dewease set fast time with a lap of 18.112 seconds.
Feature Finishes
August 5, 2011
Sprint cars, 25 laps: 1. Justin Henderson, 2. Brent Marks, 3. Doug Esh, 4. Aaron Ott, 5. Danny Dietrich, 6. Adam Wilt, 7. Fred Rahmer, 8. Brian Montieth, 9. Cory Haas, 10. Lance Dewease, 11. Derek Sell, 12. Mark Smith, 13. Alan Krimes, 14. Don Kreitz Jr., 15. Chad Layton, 16. Gerard McIntyre Jr., 17. Nicole Bower, 18. Rick Lafferty, 19. Kyle Pruitt, 20. Frank Cozze, 21. Greg Hodnett, 22. Steve Buckwalter, 23. Dylan Cisney, 24. Ryan Bohlke.
URC sprints, 25 laps: 1. Lance Dewease, 2. Aaron Ott, 3. Mark Smtih, 4. Chad Layton, 5. Curt Michael, 6. Pat Cannon. 7. Kramer Williamson, 8. Kevin Nouse, 9. Blane Heimbach, 10. Justin Barger, 11. Colby Womer, 12. Josh Weller, 13. Eric Tomecek, 14. Nicole Bower, 15. JJ Grasso, 16. Robbie Stillwaggon, 17. Ed Aiken, 18. Tim Berkheimer, 19. Randy West, 20. Art Leidl, 21. Dave Ely, 22. Kyle Purks, 23. Jason Clause, 24. Rory Janney, 25. Bryn Gohn