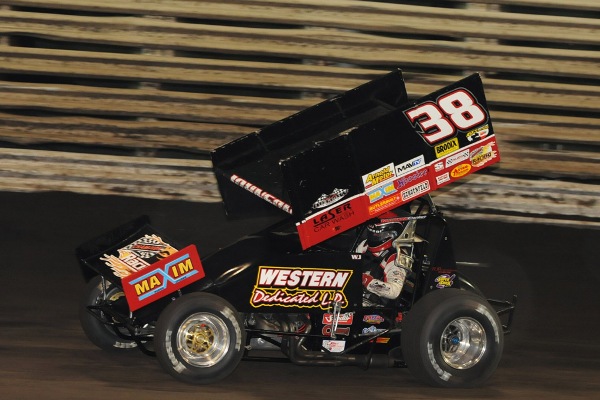 From Bill W, Rob Kocak Photo
August 10, 2011 – For most drivers, an eighth place finish in the 360 Nationals would be more than satisfying, but with the roll Wayne Johnson and the BDS Motorsports #38 team came in with, it was a disappointment. Still, the Knoxville, Iowa driver scored his seventh top ten finish in the race, equaled only by three other drivers. This week, his focus turns to getting the Cooper #01 ready for the 410 Nationals.
The 360 Nationals demands perfection every time you hit the track. Things didn't start well with a fifteenth quick qualifying effort on Friday night. "We were just a little off with the motor or something, I don't know," says Wayne. We didn't qualify well. We were disappointed, because that put us behind the 8-ball a little bit."
The setup was back in the heat race where Wayne drove from fourth to second. "The car felt really good in the heat," he says. "The track was a fast one, but we were able to move up a couple of spots, so that gave us confidence going into the feature."
The lack of qualifying did put Wayne on the pole for the main event, and he was cruising out front early on. "I thought we really had something starting on the front row like that," he says. "Once we got rolling, after the first five or six laps, I didn't think anyone had anything for us."
Sammy Swindell had other plans, and as Wayne was running well on the cushion, he found speed on the bottom of the track. "I didn't hear anything or see anything," says Wayne. "All of a sudden, I saw Sammy, and by the time I saw him it was too late. There wasn't anything I could do, I was just beat."
Wayne explains his hesitation to leave his groove. "I wasn't going to move off of the top, because there had been no one in the first eleven laps," he says. "I wasn't going to change what I was doing at that point. It was one of those situations where you are luckier to be in second than in the lead."
The two-time 360 Nationals champ tucked in behind Sammy and finished second. "He never got away from us, once we started running his line," says Wayne. "It was a solid finish, but we definitely wanted to get the win."
Enough points were tallied for a starting spot inside row six for Saturday's championship event. "We were trying to see what was going to happen with the racetrack," says Wayne. "We were thinking about what it might do."
The track proved tough to tame, and Wayne would end up eighth. "Saturday, it was tough to pass," he says. "Our finish was more a product of the racetrack. You had to be perfect, and we weren't. It was one of those deals where we rode around there and just followed the guy in front of us."
A trip to the Front Row Challenge in Oskaloosa, Iowa on Monday night saw a decent time trial lap derailed by a heat race accident after contact with Jason Solwold. "It was just racing," says Wayne. "The guy in front of us was kind of all over the place. I thought he was going to run the top, and he ended up coming down. That got us backed into the wall."
After Monday night's event, Wayne Parted with the BDS Motorsports team. He'll be driving Donnie Cooper's #01 at the Nationals "We've teamed with Donnie before and had success," he says of this week's Nationals. "We're busy getting things together for Thursday."
T-shirts Available at Mr. C's!
Wayne Johnson t-shirts, including his 25th Anniversary edition will be available in Mr. C's Parking Lot all week long!
Buy Your Outlaw Wings from Wayne
Wayne is an Outlaw Wings dealer located in the Knoxville, Iowa area. Wayne credits the new Outlaw top wing for his 2009 wins at Little Rock and Cowtown. Contact Wayne for your Outlaw Wing, as he has some special Holiday deals going! Outlaw Wings – "When Downforce Matters"!
Wayne's Website
To learn more about Wayne and the team, log on to www.WayneJohnsonRacing.com!
Got a question for Wayne? Each week, Wayne will answer your questions about "Tech Tips", or anything that's on your mind. If you ever wondered what a part on a sprint car is all about, send an e-mail to us at sprntcar@iowatelecom.net, and we may answer it in this section! Put "? for Wayne" in your subject line. He'll try to keep it clean if you do!
Wayne's Fast Facts
Wayne qualified for six straight Knoxville Nationals championship events from 2003 to 2008. His best finish was eighth in 2006 in the FattFro #14AJ.
"Wednesday's with Wayne"
"Wednesday's With Wayne" is an up close look at the past, present and future of colorful and talented sprint car driver Wayne Johnson. You'll never know what to expect next with Wayne, so don't miss us on Wednesdays!
Wayne would like to thank the following for making this possible: BDS Motorsports, Parker Machine, Champion Oil, BMRS Brown and Miller Racing
Solutions, Max Muscle, Butlerbuilt, Hinchman, Schoenfeld Headers, Super Shox, Hoosier Racing Midwest, Rod End Supply, Fuel Safe,
Simpson, Conroy Pneu Controls, KSE, Maxim Chassis, RJR Components, Kinsler Fuel Injection, Astro Titanium, ITI Lubricants, DMI,
Laser Carwash and Speedway Motors.