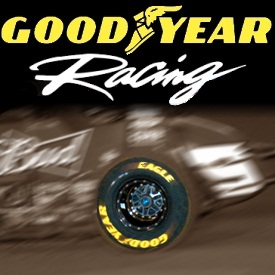 By Lee Elder
KNOXVILLE, Iowa (Aug. 15, 2011) – Donny Schatz made a dynamic leap to the front in the early going and then stayed in front to win the Goodyear Knoxville Nationals at Knoxville Raceway.
The classic winged sprint car race, sanctioned by the World of Outlaws Sprint Car Series, culminated four nights of qualifying and eliminations for more than 100 entrants in the 51st running of the event.
"I wish I could pinpoint what it is we do to get the consistency here for the 1-2 finishes (he has in the Nationals)," Schatz said. "I'd bottle it and sell it."
The victory was Schatz' fifth in the Nationals. Shane Stewart finished second, followed by Sammy Swindell, Tim Shaffer (who started 19th) and Daryn Pittman.
"Our Goodyear Eagle Dirt Track Specials performed well all week," said Justin Fantozzi, Goodyear's marketing manager for sprint car racing. "The second half of the feature race went off without a caution and the drivers got great performance from their Goodyears."
Fantozzi pointed out that Schatz started 13th in the feature race, while Stewart started 17th.
Goodyear is the Official Tiremaker for both the track and the WoO.
Schatz' big move came after a lap-14 restart when he dove under both Swindell, the leader at the time, and Brad Sweet, who was also challenging for the lead.
"I just went where they weren't," Schatz said.
Schatz then pulled away and built a comfortable advantage before a pre-planned caution period allowed the teams to refuel and make adjustments to the cars. The teams also put fresh Goodyear tires on their cars during the timeout.
On the restart, Schatz took advantage of his position as the leader and bolted in front of the field. Stewart grabbed second place with just a few laps to go.
"It was just flat out for 50 laps," Stewart said.
More information about Goodyear Racing is available at www.racegoodyear.com.