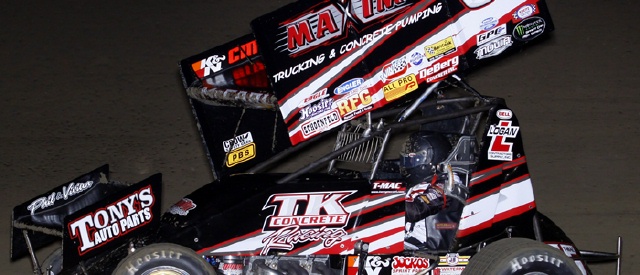 By Bill W
August 23, 2011 – Terry McCarl has spent the last week on the road, racing with the All Stars and World of Outlaws in the Upper Midwest. It's been the first opportunity he's had to really hit the road and race multiple times for about a year and a half. The results have been good in the five races run in the past week, and tonight he will race with the Outlaws again at the Black Hills Speedway in Rapid City, South Dakota.
The last week saw two shows with the All Stars, two with the WoO and one night at Huset's Speedway in weekly competition. It has also been a week of learning more about the VerMeer Motorsports #55 and getting laps in to keep sharp. "We're having a lot of fun out here," says TMAC. "It's just Brad Goebel and me out here this week. I'm doing all the driving. I think I've done more this week than I've done the last couple years. I really haven't raced this kind of schedule since I broke the biceps tendon last year. I've learned so much being out here and talking to people. It's just going to make us better. To beat the best, you have to be out here racing and we're able to do that right now."
After a rainout in Superior, Wisconsin on Tuesday, things started Wednesday night at the Red River Valley Speedway in Fargo, North Dakota with the All Stars. "I hadn't been there since they shortened it, but it's a fun racetrack," says TMAC. "It was a stout field of cars. I think six out of the top seven from the Nationals were there. We qualified well (6th), and got through the heat (5th)."
After running fourth in the dash, things were going well in the feature until a meeting with an infield tire. "We ran third most of the way," says TMAC. "I was a little loose. Sammy (Swindell) got by us, but with about ten laps left, we really got going. I was ready to pass him back, and I clipped one of the tractor tires trying to miss a rut. It was pretty disappointing. We had a top five and a shot at the top three."
The make-up in Superior with the All Stars was next, preceded by a five hour drive. "The funny thing was, I felt bad qualifying at Fargo and we were sixth quick, and I felt decent at Superior and we were tenth quick," says TMAC. "That was pretty much the end of it. We won our heat by a wide margin, but we started back in the feature, and really couldn't pass (finishing 11th). There wasn't rubber; it was just tough to pass."
It was back across Minnesota to race with the WoO at the River Cities Speedway on Friday. "Grand Forks (North Dakota) is a really fun racetrack," says TMAC. "Things happen quickly, and we were able to qualify in the right spot (13th). We were able to win the heat, and got a good spot in the dash. We were a little loose in the dash and ended up fourth."
Starting fourth, TMAC battled to a ninth place finish. "I was really tight at the beginning," he says. "The track is tricky. We rolled around and did our best. The race was really exciting and a good one for the fans. It was good to get a top ten."
It was on to Huset's Speedway in Brandon, South Dakota on Saturday to take on the WoO again. "We came out almost last (in qualifying) and came through with seventh quick," says TMAC. "We had a super-tough heat, and we were able to win that. We were fast all night really."
After running third in the dash, TMAC settled into the feature. "Early in the race, we were a little loose," he says. "I could see rubber being laid on the top, and everyone was smoking their tires. I just kind of saved the tires the best I could and hoped for a late yellow."
The strategy paid off and TMAC came back to finish fourth at the checkers after a late restart. "You never know if you are going to be on the good side or the bad side of those," he says of the double-file restarts. "I had a little more tire than most of the guys and we were able to get back to fourth and almost got Brad Sweet for third at the line. It was good to get a top five."
The weekly show on Sunday at Huset's saw some surprises. "The track was totally different Sunday," says TMAC. "It was a funky racetrack. We just kind of did our best, but we got a solid finish (3rd) out of it and we're headed for Rapid City. To win races you need to be consistently up front, and we've done that."
The Black Hills Speedway hosts the WoO tonight, and TMAC will return to run at Knoxville and Huset's this weekend.
To check out opportunities to partner with TMAC Motorsports on a nightly basis, visit www.TerryMcCarl.com or call 515 957-0020!
Websites for the McCarl Gang!
Driverwebsites.com develops the websites for the McCarl boys. Check out www.TerryMcCarl.com, as well as www.AustinMcCarl.com and www.CarsonMcCarl.com!
In"Terry"gation
Toby Quinn asks: Austin making the Nationals field was exciting. What do you remember about making the show for the first time back in 1987?
TMAC Answers: They ran the qualifier on Saturday afternoon, and we ran second. That put us in the A main. We started twelfth, the exact place that Austin did. I remember how excited I was. Lori and I drove back to Des Moines so I could shower up and wash my uniform to get ready for that night. I couldn't believe I made it. We were driving around, and I was thinking, 'I made the A main at the Knoxville Nationals'. I was in the Merrill Contractor #5m owned by my dad. It was a great feeling, and I know Austin felt the same way. I never even started a car until I was nineteen and he made it as an eighteen year old. He's done an incredible job.
Got a question for TMAC? Send it to us at sprntcar@iowatelecom.net, and we may answer it in this section! Put "? for TMAC" in your subject line.
This Month in TMAC History!
TMAC won the Pella Corporation Classic at Knoxville on August 2, 2003. His win was worth $15,000 and came over 90 sprinters representing the All Stars, IRA, NMRA, NCRA, Golden State Challenge series and Knoxville Raceway. Wayne Johnson drew the two-pill for McCarl, who went to win. Tim Shaffer was second, ahead of Shane Stewart, Jason Meyers and Jeff Shepard.
"Tuesdays with TMAC"!
"Tuesdays with TMAC" is an up close and personal look at colorful sprint car veteran Terry McCarl. To receive "Tuesdays with TMAC", send an e-mail to sprntcar@iowatelecom.net with "TMAC" in the subject line.
VerMeer Motorsports would like to thank TK Concrete, Maxim Trucking & Concrete Pumping, Tulip City Agency, Logan Contractors Supply, Van Maanen Electric, Tony's Auto Parts, Monarch's Restaurant & Lounge, Skyline Ready Mix, QTC (Quality Traffic Control), DPLM (Dennis Parking Lot Maintenance), Van Gorp Construction, Don Ott Racing Engines and Ulrich Motor.
TMAC Motorsports would like to thank sponsors Deanfield Farms, Eagle Chassis, DeBerg Concrete, AmeriCashAdvance.com, RFG, Phil and Vivian, Mark Burch Motorsports, Ryan Yager Trucking, 212 The Boiling Point Bar & Grill, Vortex Racing, Hoosier Tire, Chris Spaulding – Attorney at Law, Schoenfeld Headers, K&N Filters, Don Ott Engines, HRP, All Pro Cylinder Heads, Bob and Beulah Elder, Country Builders Construction, Engler Injection, Superflow Technologies, Phillips' Floors, T&P Brothers, Winters, DriverWebsites.com, CM Rock, Jocko's Sprint Parts, Sander, Brown and Miller, Morris Automotive, Chase Graphics, Pro Shocks, Mac Tools, Ben Cook, Bell Helmets, Burnettt's Rock and Landscaping, Morgan Strawberry Farms, Bulldog Pest Control, Aurora Rod Ends, Crow Safety, Justice Brothers, KSE Steering, CIP Racing Hoods, Strange Performance, Saldana Racing Products, Scribner Plastics, Waterman Fuel Pumps, Weiland Racing, Butlerbuilt, PBS Bushings.