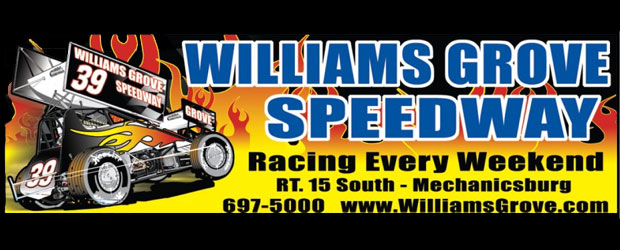 From Williams Grove Speedway
Mechanicsburg, PA — (September 2, 2011) — Brian Montieth, Lance Dewease and Fred Rahmer split up the Jack Gunn Memorial Triple 20s for sprints Friday night at Williams Grove Speedway.
Montieth and Dewease each took home $2,500 for their wins while Rahmer pocketed $5,000 and the Gunn Memorial trophy for his work.
Montieth started sixth in his 20-lapper, the first on the program, and got by Lance Dewease for second on the second circuit as polesitter Steve Buckwalter led.
The event went nonstop with Montieth chasing Buckwalter through lapped traffic for the second half.
Montieth was around Buckwalter for the lead twice, on laps 10 and 13, only to see the Royersford driver slingshot back into control and thwart his advances.
But with two laps to go, Buckwalter succumbed to the pressure and gave way to the Phoenixville pilot for the victory, his first of the season at the track.
Brian Leppo was third followed by Aaron Ott and Dewease.
Dewease's run to the win started out of the fourth hole on the lineup grid with Todd Shaffer and Alan Krimes holding sway early.
The first seven laps saw Krimes relentlessly hound Shaffer for the lead all the while the pair had Dewease breathing down their necks.
Dewease finally got by Krimes for second with eight away and then he powered to Shaffer's inside to take the lead at the halfway point.
His pace as the leader was slowed with six laps to go when Greg Hodnett blew a right rear tire and Brian Leppo bounced to a spinning stop on the frontchute.
Shaffer finished second followed by Montieth, Buckwalter and Fred Rahmer.
Rahmer led all 20 laps of the finale feature with Aaron Ott in tow the entire distance.
On two different occasions Ott was ready to stick his nose to Rahmer's outside as the pair raced high off of the second corner only to see Rahmer edge just high enough to force him to back out of the throttle.
Dewease came on strong during the last five laps, moving from fifth to third to catch the leaders by the finish but run out of time.
Ott ended up second followed by Dewease, Greg Hodnett and Montieth.
"It's finally good to get a win and get one out of the way," Rahmer said.
"I got hurt there and the guys have been putting up with me. One win doesn't make a year but it's a good start."
Twin qualifiers went to Doug Esh and Justin Henderson.
Ott set quick time with a lap of 16.901 seconds.
Twin features for the sidewinder sprints went to Alex Schanz and Ben Murphy.
Feature Finishes
September 2, 2011
Sprint cars, feature 1, 20 laps: 1. Brian Montieth, 2. Steve Buckwalter, 3. Brian Leppo, 4. Aaron Ott, 5. Lance Dewease, 6. Fred Rahmer, 7. Todd Shaffer, 8. Alan Krimes, 9. Doug Esh, 10. Greg Hodnett, 11. Cory Haas, 12. Don Kreitz Jr., 13. Justin Henderson, 14. Chad Layton, 15. Brent Marks, 16. Derek Sell, 17. Frank Cozze, 18. Troy Fraker, 19. Daryn Pittman, 20. Rick Lafferty, 21. Danny Dietrich, 22. Jay Reichard, 23. Nicole Bower.
Sprint cars, feature 2, 20 laps: 1. Dewease, 2. Shaffer, 3. Montieth, 4. Buckwalter, 5. Rahmer, 6. Krimes, 7. Henderson, 8. Ott, 9. Pittman, 10. Esh, 11. Layton, 12. Haas, 13. Dietrich, 14. Kreitz, 15. Hodnett, 16. Sell, 17. Fraker, 18. Lafferty, 19. Leppo, 20. Reichard, 21. Marks, 22. Cozze, 23. Bower.
Sprint cars, feature 3, 20 laps: 1. Rahmer, 2. Ott, 3. Dewease, 4. Hodnett, 5. Montieth, 6. Buckwalter, 7. Dietrich, 8. Shaffer, 9. Henderson, 10. Pittman, 11. Esh, 12. Haas, 13. Layton, 14. Marks, 15. Krimes, 16. Kreitz, 17. Sell, 18. Reichard, 19. Fraker, 20. Lafferty, 21. Cozze
Sidewinder sprints, feature 1, 12 laps: 1. Alex Schanz, 2. Chris Crull, 3. Mike Kiser, 4. Joe Robertson, 5. Jason Stahl, 6. Ben Murphy, 7. Brandon Yarlett, 8. Zack Overmiller, 9. Keith Ford, 10. Donnie Hendershott, 11. Rohan Beasley, 12. Mike Zielonis, 13. Jared Esh, 14. Christian Wright, 15. Reed Salony, 16. Rich Halter, 17. Mike Deimler, 18. Adam Meier, 19. Tanner Hunsicker, 20. Seth Kearchner
Sidewinder sprints, feature 2, 12 laps: 1. Murphy, 2. Kiser, 3. Kearchner, 4. Salony, 5. Robertson, 6. Esh, 7. Stahl, 8. Zielonis, 9. Schanz, 10. Hendershott, 11. Hunsicker, 12. Jerry Strausbaugh, 13. Ford, 14. Beasley, 15. Overmiller, 16. Crull, 17. Yarlett, 18. Halter, 19. Deimler