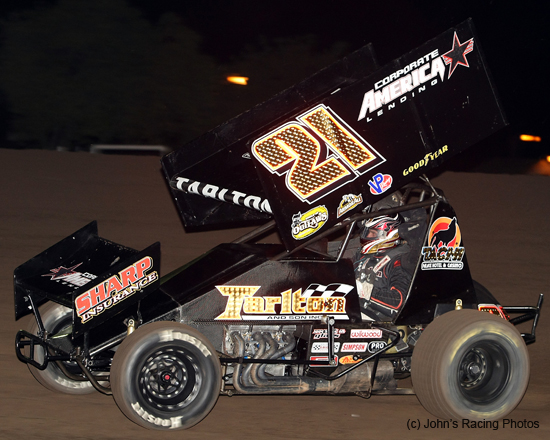 Inside Line Promotions
– TULARE, Calif. (Oct. 24) – Tommy Tarlton was behind before he even started.
"We drew a 71, so we were like the 60th car out for qualifying," he said. "So the track wasn't nearly as good as it was early."
It was all uphill from that point for the Easton, Calif., veteran at last weekend's 18th annual Trophy Cup at Thunderbowl Raceway in Tulare, Calif. In the prestigious event where every position determines points for the 70 competitors, Tarlton opened the weekend by qualifying 32nd on Friday.
"Getting behind the eight-ball right out of the gate makes it tough," he said.
The woes continued in the heat race when something in the valve train in the engine broke and pumped fuel all over Tarlton, who maintained second place to lock himself into the feature. The team changed engines before the main event, but a loose race car resulted in a 16th-place finish.
Tarlton was 19th in overall points after the first night.
"That was a rough way to start it," he said. "We had high expectations going into the weekend."
Saturday's finale went better with Tarlton finishing fifth in his heat race. That lined him up sixth for the 50-lap feature.
"I was up to third at one point," he said. "The car was good and you had to race up on the fence. We were pretty tight, so on a red flag I had the crew put a little air in the tire so I could run harder up there. That made us better for about 10 laps, but then we got loose."
Tarlton finished fifth and was the last car on the lead lap. It was his 30th top-five finish in 40 features this season. It also placed Tarlton 10th in overall Trophy Cup points.
More importantly, his performance throughout the weekend netted $3,000 in winnings, which he is donating to the G.L. Bruno Family Foundation and Children's Hospital Central California.
"We just kept overcoming circumstances and kept persevering to try to get something decent to donate for the weekend," he said. "I wasn't happy that we didn't win, but I'm happy we came up with something decent."
That was Tarlton's final scheduled racing weekend of the season. Stay tuned for some exciting news and the latest information in the next couple of weeks and throughout the offseason.
QUICK RESULTS –
Oct. 21 – Thunderbowl Raceway in Tulare, Calif. – Qualifying: 32; Heat race: 2 (1); Feature: 16 (18).
Oct. 22 – Thunderbowl Raceway in Tulare, Calif. – Heat race: 5 (5); Feature: 5 (6).
SEASON STATS –
41 races, 40 features, 9 wins, 30 top fives, 32 top 10s, 34 top 15s, 38 top 20s
FAVORITE NUMBER –
10: Overall finish in the Trophy Cup standings last weekend at Thunderbowl Raceway in Tulare, Calif.
SOCIAL MEDIA LINKS –
Website: www.tommytarlton.com
Twitter: https://twitter.com/#!/tommytarlton21
Facebook: http://www.facebook.com/#!/profile.php?id=100001286852863
APPAREL –
Tarlton has black t-shirts, sweatshirts and hats, and white women's shirts available for purchase at every race he attends. For information on where you can get them, visit http://www.tarltonandson.com/tarlton-racing-schedule.
ON THE AIR –
Tarlton was a guest on the Lucas Oil ASCS Show by Racinboys on May 3. Click on the link below to listen. Tarlton's interview begins around the 32-minute mark.
http://www.meridix.com/mbp/general/index.php?liveid=Racinboys&recordid=18831
He was also a featured guest on the Dirt Cast podcast on June 29. The link is below:
http://dirtcast.com/2011/06/29/tommy-tarlton-ascs-sprint-cars-ocean-sprints-6-29-11/
Check out the link below to see highlights of Tarlton's King of the West Sprint Car Series' win at Thunderbowl Raceway in Tulare, Calif., on May 14.
Here are a couple of videos from Tarlton's victory and runner-up performance with the King of the West Sprint Car Series at the Howard Kaeding Classic at Ocean Speedway in Watsonville, Calif., on July 1-2:
http://vimeo.com/25952465 and http://vimeo.com/25950506
Here is a link to Tarlton spinning around on the back of his car during a heat race at Ocean Speedway on July 8:
Check out this link to an in-car video of Tarlton winning the B Main at the Cottage Grove Speedway in Cottage Grove, Ore., on July 13:
SPONSOR SPOTLIGHT – Bandy & Associates
Located in Fresno, Calif., Bandy & Associates is a CPA firm run by Dan Bandy. This is the first year Bandy & Associates have been a sponsor, but its relationship with the team dates back 20 years.
"We've been working together since 1991 as a business relationship," Tarlton said. "We are more than thrilled that Dan and Bandy & Associates are partnering with our race team."
Tarlton would like to thank his sponsors, including Tarlton and Son, Inc., Corporate America Lending, Tachi Palace Hotel and Casino, Sharp Insurance & Bonding, Simpson and BG Products for their continued support.