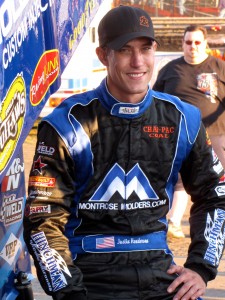 From Linda Mansfield
MINERSVILLE, Pa., Feb. 19 — Popular sprint car driver Justin Henderson and his team owners, Dawn and Charlie Sorokach of Sorokach Motorsports, are pleased to announce that Mark Millwright & Rigging of Emigsville, Pa. will be the team's primary sponsor for the 2012 season.
Henderson, of Speedway, Ind. and Minersville, Pa., also said the team's primary sponsor last year, Montrose Molders, will be an associate sponsor this season.
Mark Millwright & Rigging serves the Eastern Seaboard from Florida to Maine with quality industrial contracting, steel fabrications, welding, equipment maintenance, rigging, process piping, industrial electrical installation and custom machining.
Additional marketing partners for the Minersville, Pa.-based team in 2012 will be Char-Pac Coal and Henderson's personal sponsors: ButlerBuilt seats, Hinchman uniforms and Bell helmets. The team uses Ti22 Performance chassis and HP-prepared 410-c.i. Chevy engines.
"We were concerned when Montrose Molders told us they couldn't do as much with us in 2012 as they did in 2011," Henderson said. "Luckily Mark Painter of Mark Millwright and Rigging was able to step up and become the primary sponsor this year. He's a big race fan and like Montrose Molders, he sees the value of advertising in motorsports."
Henderson said the team plans to enter more than 60 races this year. Most will be in Pennsylvania. His schedule also includes at least 10 World of Outlaws races in Iowa; his home state of South Dakota; North Dakota and Minnesota.
"The Knoxville Nationals is our biggest event of the year," he added. "We gear up for that in early July, right after Speedweek."
The 2012 Pennsylvania Speedweek Sprint Series will be held June 30 through July 8. It consists of events at Lincoln Speedway in Abbottstown, Pa.; Big Diamond Speedway in Pottsville, Pa.; Grandview Speedway in Bechtelsville, Pa.; Hagerstown Speedway in Hagerstown, Md.; Williams Grove Speedway in Mechanicsburg, Pa.; Port Royal Speedway in Port Royal, Pa. and Selinsgrove Speedway in Selinsgrove, Pa.
The 52nd annual Goodyear Knoxville Nationals will be held at Knoxville Raceway in Knoxville, Iowa Aug. 8-11.
Henderson had four victories on the tough Central Pennsylvania sprint car circuit last year: two at Port Royal Speedway and two at Williams Grove Speedway. The team posted 20 top-five feature finishes and 40 top-10s.
"Jim Shriner returns as our crew chief," Henderson added. "In addition to Charlie and Dawn, Frank Muscara and Robby Walker will be the primary crew members, with some other part-time helpers joining us as their schedules permit.
"We're really excited to announce this partnership with Mark Millwright & Rigging," he emphasized. "We hope to be even stronger this year than we were last year.
"My personal goal is to make this team the best I can make it," Henderson added. "Every year we can get better with the equipment that we have. We'll have three cars throughout the season and five engines, but we're one of the low-budget teams. We don't have what the big guys have. We have a budget and we have to stick to do, whereas some other teams don't. But we can still compete against them and do well."
Sorokach Motorsports does not focus on winning an individual track championship, but it still finished seventh overall in the Central Pennsylvania sprint car point standings in 2011. It had the sixth-most feature victories in Pennsylvania.
"We had a good year last year," Henderson added. "I should have made the A main at the Knoxville Nationals; when that tire started going down right away in the B main it was a heart-breaker, but we did finish fourth in the National Open at Williams Grove. I feel we're getting stronger all the time, and I'm really looking forward to this season."
The team does not plan on competing at Lincoln Speedway's opener on Feb. 25 but has chosen to start its season March 17 at Port Royal instead. Williams Grove Speedway's season opener is the following weekend, March 23.
For more information see JustinHenderson.com or the Justin Henderson Fan Page on Facebook.