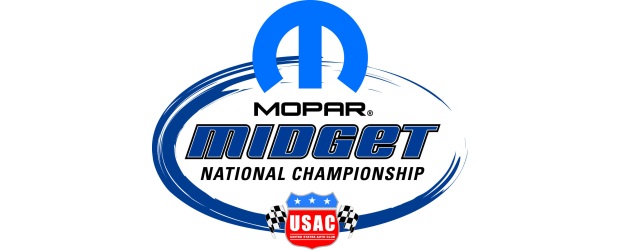 By Dick Jordan
The inaugural "Real Deal" at Ace Speedway in Altamahaw, N.C. March 30-31 will salute USAC veteran Shane Hmiel, of Pleasant Garden, N.C. The two consecutive nights of racing on the 4/10-mile paved oval feature the USAC Mopar National Midgets and USAC Midwest/Eastern Ford Focuses.
Hmiel set a new World's Sprint Car qualifying record of 146.444 mph at Iowa Speedway in 2010 before suffering injuries in a Silver Crown crash later that year. He has five career USAC Sprint wins, but also has a Silver Crown and a Midget win. The Midget win as a driver came in March of 2010 at Hickory. N.C., USAC's last National appearance in the Tarheel State, and he returned to victory lane as a car owner last October with Levi Jones winning at Pontoon Beach, Ill. In 2010 Shane was one of only four drivers to win races in all three USAC National racing series.
"This is a real honor for me," says Shane. "USAC and its people have been great to me. I'm excited that they are coming back to my home state and I think Ace is a perfect track for the Midgets. The racing should be great."
Two racing sons have accounted for all six feature victories in USAC's previous appearances at Ace Speedway. Jarett Andretti, John's son, won four Focus features there last year, while Ernie Irvan's son Jared won a pair of Focus races last October.
Bryan Clauson will be aiming at a third consecutive USAC Mopar National Midget driving title. He'll compete for the Columbus, Ind. Keith Kunz Motorsports team with Toyota power in a year which hopefully will include his Indianapolis 500 debut.
USAC Traxxas Silver Crown and AMSOIL National Sprint Champ Levi Jones will pilot Hmiel's Three Wide Life Midget as he seeks the final leg of USAC's Triple Crown Championship.
Darren Hagen, who earned a USAC Sprint win February 11 at Ocala, Fla., has been USAC's Pavement Midget Champ the past two years and is also a major threat in 2012.
Pavement specialists Bobby Santos III and Mario Clouser will also be ones to watch as they team for RW Motorsports and Levi Roberts will compete full-time for Bryan Clauson/Corey Tucker Racing, the 2010 and 2011 National Car Owners Champion.
The 2012 USAC Midwest and Eastern Ford Focuses complement the Midgets in the back-to-back "doubleheaders." A practice session is slated for both series at Ace Speedway on Thursday, March 29, from 3-7 pm.
2011 MOPAR USAC NATIONAL MIDGET POINT STANDINGS
1-Bryan Clauson-1,164; 2-Darren Hagen-1,148; 3-Kyle Larson-,082; 4-Tracy Hines-954; 5-Bobby East-867; 6-Brad Kuhn-811; 7-Zach Daum-787; 8-Caleb Armstrong-737; 9-Jerry Coons Jr.-701; 10-Tanner Swanson-630.
2011 USAC MIDWEST FORD FOCUS POINT STANDINGS
1-Ross Rankine-771; 2-James Robertson-694; 3-Nick Drake-624; 4-Jarett Andretti-612; 5-Toby Alfrey-609; 6-Nick Hamilton-573; 7-Jessica Bean-528; 8-Tyler Shullick-515; 9-Joey Greening-476; 10-Patrick Bruns-434.
2011 USAC EASTERN FORD FOCUS POINT STANDINGS
1-Nick Drake-787; 2-Jarett Andretti-750; 3-Scott Hunter-747; 4-Chris Lamb-719; 5-Nic Davidson-627; 6-Tyler Corriher-586; 7-Austin Prock-502; 8-Ross Rankine-445; 9-Steven Intravaia-416; 10-Cole Custer-339;