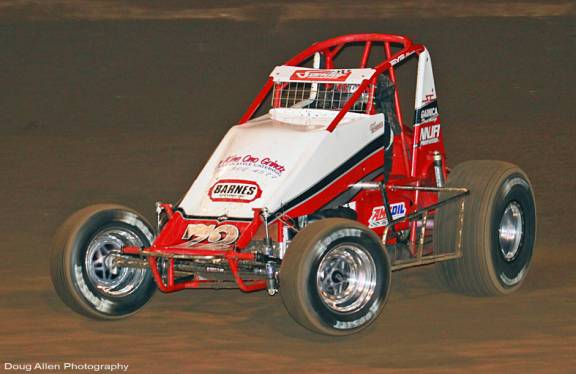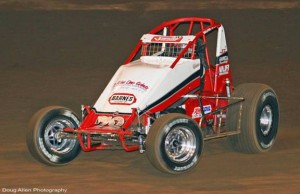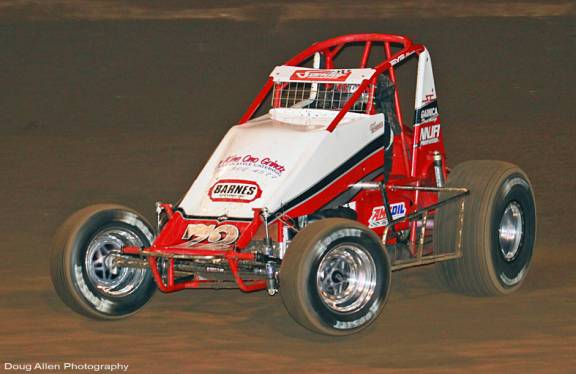 From Greg Alexander Racing
Gardena, CA — (March 1, 2011) — Mechanical problems knocked Gardena, California's Greg Alexander out of the 30-lap main event last Saturday at the season opening Sokola Shootout at Perris Auto Speedway.
A large, festive crowd gathered for the kickoff to the 2012 campaign on the chilly night. Greeting them in the pits were 68 brightly painted racecars. The Amsoil USAC/CRA Series comprised the largest group in the pits with 37 cars on hand. One of those cars was the bright red and white Chuck Tyler Motorsports #72 entry with Greg Alexander behind the wheel.
The 22-year-old qualified 15th in the talent laden USAC/CRA field. He then won his heat race and looked good to go in the main event. He started 15th in the 30-lapper and was poised to make a run towards the front. However, he ended up seeing a lot less than the full 30 laps when problems set in.
"The rear end started chattering," the frustrated driver said on Monday. "It was chattering bad as the lower shaft was going away so we ended up pulling in."
For the record, he ended up a disappointing 21st in the main event.
"We chased the motor from hot laps on," he said with a frustrated grin. "It was running really, really rich and we changed jets several times. We struggled in qualifying, but it ran all right in the heat race. We were hoping for a good showing in the main event, but it was not to be. We will be getting ready for the next race on March 31st."
The following companies and individuals have jumped on board to become partners with the Chuck Tyler Motorsports/Greg Alexander tandem for 2012. Barnes Systems, Sander Engineering, Oil Twins Amsoil, King Racing Products, CSI Shocks, Da Kine Ono Grindz, NNJFI Properties, Garnica Trucking, Bondio Fabrication, Scott Daloisio Sports. If you would like to be a part of this potential main event winning team in 2012 please call Greg Alexander at: (714) 610-4566.
Media, please feel free to publish the photo at the top of this press release. If published please give photo credit to Doug Allen.
This piece was produced by Scott Daloisio Sports. If you would like help promoting your series or team in 2012, please call or write: (909) 226-7768, sdaloisiosports@aol.com or http://twitter.com/ – !/search/sprintcarpr. Be sure to keep an eye out for news on our other racing clients: Perris Auto Speedway, David Cardey Racing, Oil Twins Amsoil Racing, California Lightning Sprint Car Series and Justin Marvel – RB Motorsports #1B.
2012 Results
2-25-12 Perris Auto Speedway USAC/CRA 21st