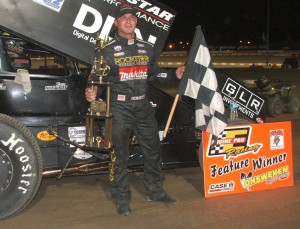 From SpeedSport Media
Bunbury, AU — (March 4, 2012) — American Shane Stewart drove an outstanding race to win the 2012 Krikke Boys Shootout, Stewart drove a very calculated race and towards the latter part drove to the low line and continued to pull away at every re-start.
Kerry Madsen drove a hard race but came up short in the end but he was still happy with his performance knowing he had driven his hardest. Third place was another top drive from Dylan Jenkin who had fought off all comers to keep the final podium position.
Kaley Gharst put in a superb run and fought his way up to fourth by race end a fitting reward for a galant effort.
A-Main KRIKKE BOYS SHOOTOUT – 35LAPS
GRID
1. W3 Ryan Farrell
2. W17 Shane Stewart
3. A1 Brooke Tatnell
4. S51 Dylan Jenkin
5. W92 Kerry Madsen
6. W21 Mark Wells
7. W44 Ben Ellement
8. W8 David Priolo
9. W22 Lee Nash
10. V5 Max Dumesny
11. W57 Shaun Bradford
12. T77 Shaun Dobson
13. W89 Kye Scroop
14. W11 Jason Kendrick
15. NQ25 James McFadden
16. W26 Kaley Gharst
17. Q7 Robbie Farr
18. W99 Jamie Maiolo
19. W41 Jamie Cobby
20. W77 Brad Maiolo
FINISH
1. W17 Shane Stewart
2. W92 Kerry Madsen
3. S51 Dylan Jenkin
4. W26 Kaley Gharst
5. A1 Brooke Tatnell
6. W41 Jamie Cobby
7. W21 Mark Wells
8. W99 Jamie Maiolo
9. Q7 Robbie Farr