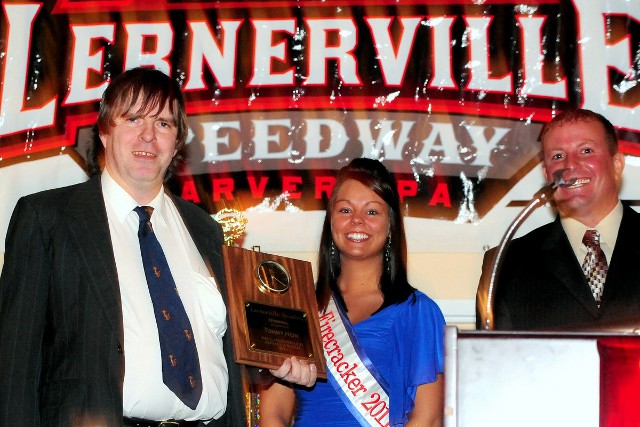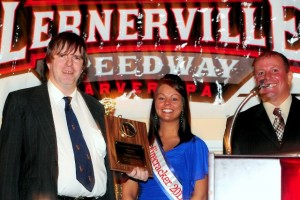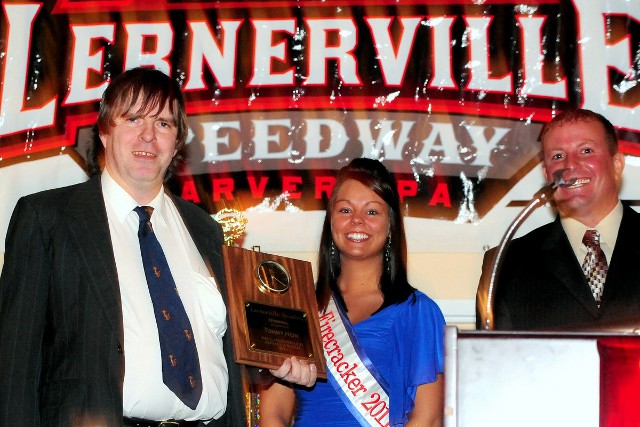 From Lernerville Speedway
Sarver, PA (March 4, 2012) Always a Gala Event at the Butler Days Inn, the Lernerville Speedway Annual Awards Banquet officially brought the 2011 season to a close and simultaneously ushered in what promises to be another action packed season in 2012!
Emceed by Track Announcer Dow Carnahan, the banquet commenced with a variety of awards celebrating the achievements of the 2011 season. Seated at the head table along with General Manager Gary Risch Jr. and Emcee Dow Carnahan were 2011 Track Champions Carl Bowser and fiancé Kristin, Dave Hess Jr. and fiancé Becca, Jeremiah Shingledecker and wife Lex, and Mike Miller and wife Jennifer; drivers representing the Ti22 Performance DIRTcar Sprints, Precise Racing Products DIRTcar Late Models, Diehl Auto Group DIRTcar Northeast Big Block Modifieds and Millertsown Pic-A-Part DIRTcar Sportsman respectively.
The awards ceremony began with Most Improved Driver Awards going to Corey McPherson in the Pic-A-Part Sportsman, Mike Turner in the Diehl Mods, Garrett Krummert in the Precise Lates and Brandon Matus in the Ti22 Sprints. Sprint car driver Lindsay Enscoe received the least desirable honor of the night, taking home the Hard Luck Award. Ti22 Sprint Champ Carl Bowser also took from the Sportsmanship Award, while Sportsman driver Brian Lockhart won the 2011 Rookie of the Year.
Tyler Bachman, whose titles and responsibilities are too lengthy to be mentioned here, won the newly renamed Keith Burke Lernerville Appreciation Award. Previously named in memory of Dan Fleming, the award has been renamed in memory of Keith after his untimely death last year. Keith, like Tyler, did a little bit of everything on race night and throughout the week to ensure that the Lernerville Speedway continues to put on the best weekly racing program in the country. Tyler will be spreading his wings this summer and hitting the road with the World of Outlaws Late Model Series, but will always have a home at the Action Track! Congratulations on the award and the new gig Tyler!
Jack Crowell of #1 Cochran came to the stage to award Rich Grossman and Rob Kepple of Diehl Auto Group with prestigious Bob Cochran Sponsorship Award. The Bill Steinbach Media Award was given to Tommy Hein of Hein Bros. Action Photos. Tommy follows sprint car racing all over the country but makes Lernerville Speedway his Friday Night home more often than not!
Assistant Office Manager Helen Bauman won the Grover Clasper Award for overcoming a brain aneurism at the end of the 2011 season. After a lengthy hospital stay and grueling physical therapy, Helen is back in the office getting ready for the 2012 season. Lynn Geisler received the Milestone in Racing Award, recognizing his 30th Anniversary of sponsorship with #1 Cochran Automotive. D&D Auto Salvage and Millerstown Pic-A-Part were recognized with the Golden Award for their ongoing support and sponsorship of the Lernerville Speedway.
2011 first time feature winners Brett McDonald, Corey McPherson, John Garvin Jr. and Brandon Matus were all recognized for their achievement by receiving a VP Racing Fuel Checkered Flag.
Following these awards, The Racer's Pastor Bill Beck of MRO gave the invocation and the crowd of 300+ was nourished with another bountiful buffet served by the fine wait staff of the Days Inn Banquet Hall.
After dinner, the ceremony resumed with the induction of the Lernerville Speedway Hall of Fame Class of 2012, hosted by Hall of Fame Committee Chairman Don Gamble. Carl Bowser accepted on behalf of Sprint Car legend Johnny Beaber whom could not attend. Johnny is second on the All Time Sprint wins list with 55 Lernerville feature wins to his credit, along with three Action Track Championships (1982, 1985, 1987). Jack Crowell of #1 Cochran was inducted by Rob Cochran for his years of sponsorship and support of the Lernerville Speedway. Crowell was a great friend of Don Martin and has provided Lernerville Speedway annually with a Pace Truck and has long sponsored Holiday Races/Fan Appreciation Night with Fireworks. He and future Hall of Fame driver Lynn Geisler are the benchmark of sponsorship and support of local racing.
Jimmie Pitkavish accepted Hall of Fame induction on behalf of his late grandfather and best friend Joe Pitkavish. Joe is best known for being the car owner of Blackie Watt with dozens of feature wins to their credit at Lernerville Speedway. Blackie, of course, was inducted into the Inaugural Hall of Fame Class in 2009.
The final inductee of the Class of 2012 was late Media Mogul Bill Steinbach. Somehow, Bill found the time to not only be the pre-eminent voice of KDKA Radio in Pittsburgh, but he also announced weekly racing at five different tracks. That combination brought unprecedented media coverage to local racing, an impression that remains in place even today and the reason the Media Award is named in his memory. Bill's wife Pat and daughter Nancy accepted his induction as a large gathering of his family watched on.
After the Hall of Fame Induction ceremony, Dow Carnahan recognized the 2011 Budweiser Track Champions and the Top Ten in Budweiser Points from each of the Fab Four Racing divisions.
Since they go last just about every Friday Night of Fab Four Racing, we flipped the script and recognized our bread & butter division first as the Millerstown Pic-A-Part DIRTcar Sportsman were represented by eighth place Jim Fosnaught, seventh place Brett McDonald, fourth place AJ Flick, third place Corey McPherson, second place Joe Kelley and 2011 Track Champion Mike Miller. An emotional Miller expressed a heartfelt and special thanks to car owner Ron Thompson, "It means a lot to give him this championship after everything he's been through these past five years!"
The Diehl Auto Group DIRTcar Northeast Big Block Modifieds were represented by eighth place Steve Feder, fifth place Mike Turner, second place Dave Murdick and 2011 and now Two-Time Track Champion Jeremiah Shingledecker. Jeremiah stressed the tremendous role that his entire family plays in his race team, from his crew members including his wife Lex, to his mom that stays home on race nights to watch their kids and even the grandparents that drive to Lernerville Speedway the whole way from Polk, PA near Franklin. Kevin Bolland was absent due to the wedding of his son and crew member Deric.
Dave Hess Jr. joined his father as a two-time Precise Racing Products DIRTcar Late Model Track Champion. He added that from the time he started racing go karts at age seven, he doesn't recall a single race that his father has missed! Hess was joined on stage by 10th place Lynn Geisler, eight place Doug Eck, seventh place Dave Murdick, fifth place Gregg Satterlee (accepted by his girlfriend Kelsey George), third place John Garvin Jr. and second place Jared Miley. Dave Murdick expressed his appreciation to car owner Jimmie Pitkavish for the opportunity to pilot the #1 Late Model the past few years. As has been previously announced, Tommy Beck will take over the Pitkavish Late Model in 2012.
The Ti22 Performance DIRTcar Sprints were the final division to be recognized and were represented by 10th place Gary Rankin, sixth place Brent Matus, fifth place Brandon Matus, third place Kevin Schaeffer accompanied by his son Elliott, second place Rod George and 2011 Track Champion Carl Bowser. Carl credited his dedicated crew for sticking with him and inspiring him to win a Lernerville Track Championship; something he's dreamed of doing since sitting in the stands on a weekly basis as a young boy.
Brent and son Brandon Matus exchanged an entertaining set of quips, including Brandon enjoying the fact that he both won a race and beat his dad in points stating that it, "Gets easier all the time!" Brent then returned to the stage and informed the crowd that his wife put him up to letting Brandon pass him and confirmed that he now had her approval to, "Start passing him again!" 2010 Track Champion Danny Holtgraver was absent due to representing Western PA at Lincoln Speedway in Central PA.
Walt Wimer then took the stage to honor a few of the winners of his #1 Cochran Cavalcade Awards, including Sprint Car Champion Tim Shaffer and Late Model Champion Dave Hess Jr. Hess has won Cavalcade Awards for Limited Modifieds before, but this is his first in the Super Late Model division. Walt also announced that the prestigious 2011 Western PA Rookie of the Year Award will be received by 15 year old FASTRAK Late Model driver Ryan Montgomery at a later place and time.
General Manager Gary Risch Jr. brought the banquet to a close by once again expressing the importance of the Lernerville family; starting with the strong core of track officials and employees, to the dedicated group of media members on hand, an amazing group of track sponsors, car owners, drivers (a.k.a. the Heroes of Fab Four Racing) and of course the "Finest Race Fans in the World!" He paid special attention to the thoughts and prayers that helped Helen Bauman persevere through her recent medical issues and stressed that those same thoughts and prayers will help Linda Fennell through her current medical issues. Both ladies play a major role in the day-to-day and race night operations of Lernerville Speedway and Gary stressed that he could not do it without them!
He stated how great it was for him to stand at Volusia Raceway Park during the recently contested DIRTcar Nationals and see people walking by wearing Firecracker 100 T-Shirts and Don Martin's Lernerville Speedway jackets. He also announced the impending launch of a brand new website which will allow www.Lernerville.com to be a lot more Social Media friendly and incorporating video and audio.
After mentioning the ongoing success and continued growth of our Special Events (Firecracker 100, Silver Cup and DIRTcar Round Up Steel City Stampede), Gary expressed his excitement for the previously announced expansion of the DIRTcar Northeast Big Block Modified division with the Sharon Speedway signing on and that officials are continuing to work on a mini-series between the two speedways that will benefit area drivers in the struggling, but always exciting Modified division.
He closed by ceremoniously "re-opening" the bar, a trademark established by legendary track founder and promoter Don Martin, even though the bar remained open during the entire banquet; sometimes tradition trumps reality!
With the 2012 Lernerville Speedway preseason now officially underway, we'll roll back up Routes 356 and 8 this weekend for the Annual Lernerville Speedway Car Show at the Clearview Mall in Butler on Thursday-Friday-Saturday, March 8-9-10. The travelling road show continues next week for our southern contingent as we head down Routes 356 and 28 to the sprawling Galleria at Pittsburgh Mills in Frazer Twp. on Thursday-Friday-Saturday, March 15-16-17.
If you'd like to register to display your car this weekend or next, please call the speedway office at (724) 353-1511. Both your sponsors and your fans will greatly appreciate your time and effort, as will we!
After the car shows we'll take a few weeks off and bring the Action to the Track on Saturday, April 14 for the Test & Tune Practice session before throwing the green flag on the 2012 season of Fab Four Racing on Opening Night, Friday, April 20. To view the entire 2012 schedule, log on to www.Lernerville.com.
As always, we'd love to have you follow on Twitter @Lernerville and like our Facebook Fan Page @LernervilleSpeedway. To celebrate clearing the 2000 mark of both Twitter followers and Facebook likes, one lucky fan, Emilly Aaron, has won a pair of tickets to Fab Four Racing Opening Night 2012!!