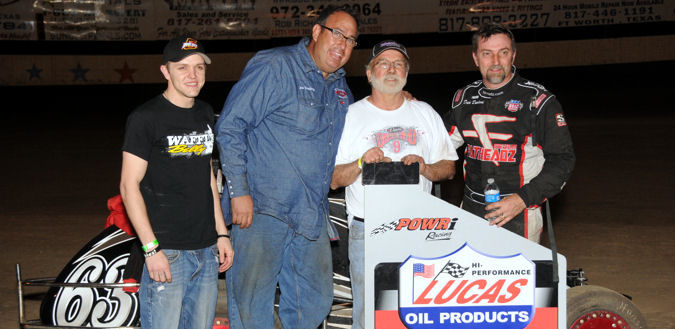 By Tim Tuttle
KENNEDALE, Texas (March 17, 2012)—Dave Darland passed Rico Abreu for the lead on the opening lap and never relinquished it Saturday, earning $5,000 for his victory in the POWRi Lucas Oil National Midget Series' Midget Stampede at quarter-mile Cowtown Speedway.
It was the third POWRi victory of Darland's illustrious career, which includes multiple national championships and wins in prestigious open-wheel, short-track events.
Darland started on the outside of the front row next to Abreu. The 45-year-old from Lincoln, Ind., overtook Abreu on the inside exiting Turn 4 with a classic crossover maneuver.
"That kid (Abreu) did a good job on the start," Darland said. "We had a lot of restarts (three to begin the 30-lap feature) and we finally got a lap completed. He slid (in front) of me in Turn 2 and I was able to cross over underneath him in Turn 4."
The race's fourth caution came out on the second lap, leaving the veteran Darland in front for the nine remaining single-file restarts. The 20-year-old Abeu, driving in the third Midget event of his career, ran second until attempting to slide past Darland's Spike-Esslinger in Turns 1 and 2 on the final lap. The driver of Keith Kunz Motorsports' Bullet-Toyota didn't make it and fell back, finishing 14th after contact left him in Turn 4.
Tyler Thomas, a 16-year-old from Colllinsville, Okla., finished second. He started on the inside of the second row in his XXX-Esslinger and ran strongly throughout the race.
"I feel ecstatic about it," Thomas said. "Our goal was to get a top-five. I couldn't have asked for a better car."
Brad Kuhn of Avon, Ind., finished third. He started from the outside of the second row, but was involved in a four-car crash on the second double-file restart to begin the race and fell to the back of the 25-car field.
"Darland hit the holes in the track and started bouncing around and I had to slow down," Kuhn said. "Somebody hit me in the back and spun me out. I lost a good starting position. It's third place."
It was POWRi's first visit to Texas. There were 66 cars competing in Friday's opening event won by Brady Bacon of Broken Arrow, Okla., and 64 on Saturday. The Rocky Mountain Midget Racing Association co-sanctioned the event and it was also the initial two events for the POWRi Lucas Oil West Midget Series.
POWRi Lucas Oil National Midget Series feature results (30 laps): 1. Dave Darland, 2. Tyler Thomas, 3. Brad Kuhn, 4. Darren Hagen, 5. Zach Daum, 6. Andrew Felker, 7. Caleb Armstrong, 8. Levi Roberts, 9. Jonathan Beason, 10. Jerry Coons Jr., 11. Jake Blackhurst, 12. Garrett Aitken, 13. George White, 14. Rico Abreu, 15. Casey Shuman, 16. Chett Gehrke, 17. Don Droud Jr., 18. Austin Brown, 19. Billy Lawhead, 20. Kevin Ramey, 21. Brady Bacon, 22. Chris Bell, 23. Daniel Robinson, 24. Danny Stratton, 25. Cole Carter.
Photo Gallery