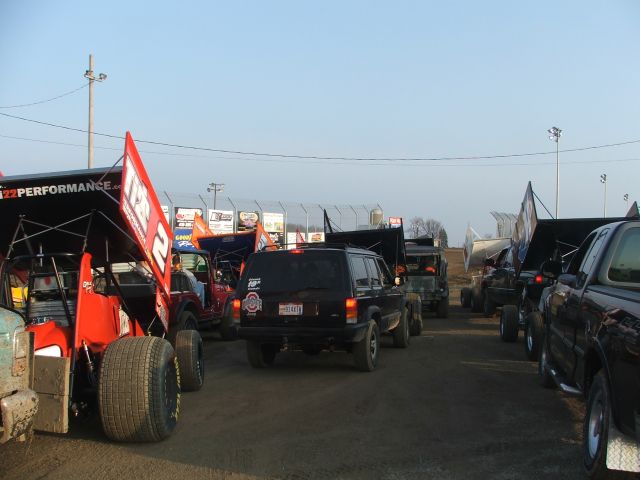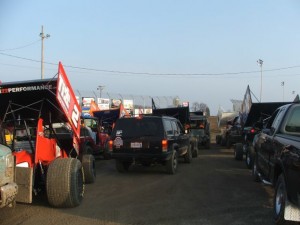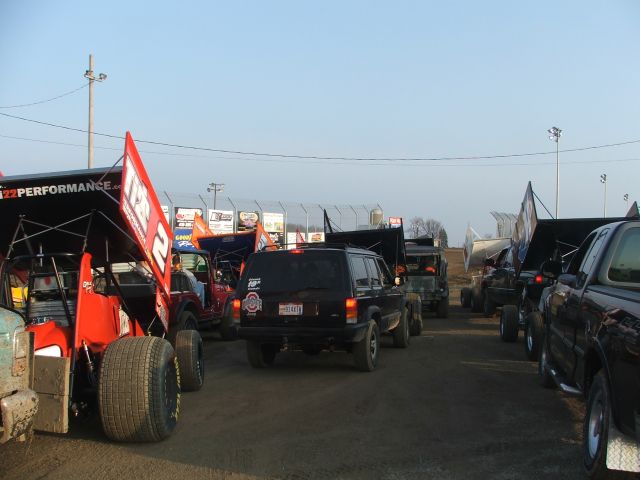 From Brian Liskai
Attica, OH – Attica Raceway Park will kick off its 25th season of racing on Friday, March 30, 2012, featuring the O'Reilly Auto Parts 410 Sprints, Summit Racing Equipment UMP Late Models and Fremont Fence 305 Sprints.
The excitement has been growing all winter, as new race teams have been working hard to come out swinging against the veteran teams. Who will challenge Dean Jacobs for the 410 sprint title? Will it be six time champion and 2010 FAST (Fremont Attica Sprint Title) champion Byron Reed or 2009 ARP champion Chris Andrews with his new team, the Burmeister #16? Or could it be 2009 FAST champion Craig Mintz or 2011 FAST champion Bryan Sebetto and his new Hammer Racing #24h team? Could it be a Brad Haudenschild in his new Pete Grove Racing team or 2011 ARP Rookie Brad Bowman? It could be a new team or some of the young chargers who have stepped up their program for 2012 like Phil Gressman.
In the late models, can anyone stop Ryan Missler's three straight track championships? Will Jon Henry dominate in victories like he did in 2011? Can some of the other hard chargers like Justin Chance, or five time street stock/limited late model champion Larry Kingseed, or Matt Irey or Mike Bores or former champion Ken Hahn knock Missler off the top?
Nate Dussel will have his hands full trying to repeat as the 305 sprint champion. Will Stuart Brubaker, who purchased a 410 sprint engine during the off season, contend or will former champions D.J. Foos or Paul Weaver show their strength? Could young chargers like Jimmy Colvin, Jason Keckler, Junior Felver or Dustin Dinan contend? Will Paige Polyak get enough support to field a team?
In the Bob's Machine Shop/BMS Engines Dirt Trucks, can Bob Dible defend his track title over the likes of former champions Art Ball and Brian Arnold or challengers Dwight Waltermeier, Dan Hennig, Brian Sorg, Cory Ward and a host of others?
Gates will open on Columbus Equipment Night, March 30, at 5 p.m. with racing at 7:45 p.m. If needed a rain date has been set for Saturday, March 31 with gates opening at 4 p.m. and racing at 7 p.m.
"The mild weather lately has all of excited about the 2012 season. We've been able to get a lot of work done around the track, including adding stone to the pit area. When the gates open on March 30, we will be ready," said Rex LeJeune, ARP Director of Operations.
Following the season-opener, the University of Northwestern Ohio All Star Circuit of Champions will come to "Ohio's Finest Racing" speedplant for what has grown to be one of the "must see" events in Northwestern Ohio – the HD Supply Spring Nationals, Friday and Saturday, April 6-7.
Since it's inception in 1992, the Spring Nationals have seen some of the best sprint drivers in the world compete at Attica. The Low Rider Dale Blaney, a three-time All Star champion, four Spring National victories to his credit, including three of the last six events. Reed has two Spring National victories, including his most recent in 2010. Look for the likes of 2005 Spring Nationals winner Stevie Smith in his new CL Motorsports team Black Bandit #19 and two-time All Star Champion and three-time Spring Nationals winner Greg Wilson with five-time All Star mechanic of the year Brian Kemenah turning the wrenches on the #W20. There could also be some surprise competitors coming from Pennsylvania and around the Northwest states to challenge other All Star drivers like three-time champion Tim Shaffer, David Gravel, Danny Holtgraver, Cap Henry, Pete Miller and the local tough competitors.
For ticket prices and more information go to www.atticaracewaypark.com