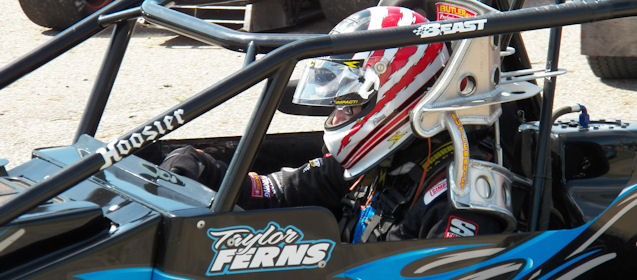 By Ferns Racing PR
Shelby Township, Mich.—March 22, 2012 — In racing, versatility is priceless. Being able to drive on both asphalt and dirt teaches car control and countless other nuances that can only be learned behind the wheel and on the track. The ability to wheel a midget or sprint car as well as a stock car has proven to be priceless for drivers rising through the racing ranks. For Taylor Ferns, versatility will be the name of the game this season, as she will compete in four different types of cars, including the three aforementioned vehicles in addition to a Silver Crown car, as she continues to climb the racing ladder.
On tap for the defending USAC Mopar D1 Midget Series champion, is a full season in an asphalt late model with the JEGS/CRA All-Stars Tour driving for Lorz Motorsports. She will also be competing in a handful of asphalt races with the Traxxas USAC Silver Crown Series for Team 6R. The 16-year old will make a number of midget starts with the USAC Mopar National Midget Series, D1 Midget Series, Badger Midget Auto Racing Association and POWRi Midget Series in the family-owned car. On top of all of that, Ferns will also compete in a sprint car on the pavement in her home state of Michigan when time allows.
Ferns tentative schedule has over 40 dates at tracks ranging from quarter-mile bullrings to the sprawling seven-eighths-mile Iowa Speedway. She'll visit over 30 tracks in eight states, in a campaign that will stretch from the end of March until November.
"I can't wait for the season to get started," said Ferns. "I've been counting the days down since my last race, which was the Chili Bowl back in January. I have a lot of races with the late model, Silver Crown, midget and sprint car, and it's going to be a lot of fun."
Ferns will make her first outdoor start of 2012 on March 30-31 at Ace Speedway in Altamahaw, N.C. with the USAC Mopar National Midget Series. She made her debut with the tour last season during the Third Annual Gold Crown Midget Nationals at Tri-City (Ill.) Speedway. The native of Shelby Township, Mich. also competed in the famed Turkey Night Midget Grand Prix at Irwindale (Calif.) Speedway, finishing 16th in a stout field of 35 starters. Ferns will have Marc DeBeaumont turning the wrenches this year on her Mopar-powered Beast on the asphalt and Spike on the dirt.
"This will be my third full year in a midget, so I definitely feel the most comfortable in those cars," noted Ferns. "On the other side of the coin, even though I feel comfortable in it, I still have more to learn, and continue to learn every time I go on the track. I always enjoy competing in the midget, especially against all the USAC national drivers."
The 2012 JEGS/CRA All-Stars Tour will open for Ferns on April 21 at Plymouth Speedway, a three-eighths-mile in Northern Indiana, as she pilots the No. 76 Dodge Charger, with a McGunegill crate engine under the hood. The series consists of 14 races across Indiana, Ohio and her home state of Michigan. Ferns will visit 12 tracks over the course of the season which runs from April through October. Legendary venues such as Anderson Speedway in Indiana, Berlin Raceway in Michigan and Winchester (Ind.) Speedway dot the schedule. Dan Lorz, brother of car owner Mike Lorz, will turn the wrenches for Ferns this season, as she chases the Howie Lettow Rookie of the Year Award and the series championship.
"With the late model, the biggest thing is getting laps in and finishing races," shared Ferns. "The races are all at least 100 laps, and the longest race I have ever competed in was Turkey Night last year, which was 98 laps. Getting consistent finishes and getting better each race is my main goal at the beginning of the year. If we finish in the Top-10, then the Top-Fives and Top-Threes will come. I am really looking forward to running the late model."
The winningest female in USAC history will compete in four Traxxas USAC Silver Crown races this season for car owner Darryl Guiducci and Team 6R in a Toyota-powered Beast beginning on May 19 at Lucas Oil Raceway in Indianapolis. She'll also race at Iowa Speedway on June 22, Toledo Speedway on June 29 and will be back at Lucas Oil Raceway on July 27.
"Having raced a midget and a sprint car prior, will help a lot with the Silver Crown car," stated Ferns. "The Silver Crown car weighs a lot more, but it feels like you are going slower than in a sprint car or midget. The steering is more gradual in a Silver Crown car, than in a sprint car or midget, and I think that will really help me in the late model."
Ferns will compete in a limited number of sprint car races on the pavement in her home state of Michigan as well, in a Mopar-powered Beast. She competed five times in a sprint car last season at Spartan Speedway, finishing in the Top-Five in each and every one of those starts. Ferns was victorious in her first-ever start in a sprint car in 2010 at the age of 14 and has five career sprint car wins at Spartan Speedway.
"I have a great time racing the sprint car," said the high-school sophomore. "We've always had good luck and run really well when we've raced at Spartan Speedway. I don't get to race much around home in Michigan, so it's pretty cool that I get to race some around there and my family can come out and see me, since they don't get to come to too many races."
Ferns opened 2012 by competing in the famed Chili Bowl Midget Nationals in Tulsa, Okla., for the first time in her career back in January. A field of over 250 drivers was in attendance, from a variety of racing disciplines. She showed plenty of speed on the first preliminary night, starting seventh in her heat, and charging all the way up to third, and was about to make a pass for the lead when the second-place car got together with the leader right in front of her, leaving her with nowhere to go. In the B-main, Taylor started eighth and got up to fourth, and wound up finishing fifth, just one spot short of making the preliminary feature. In the finale, she used a solid fourth-place finish to transfer from the E-Main into the D-Main.
"Continuing to learn and progress as a driver are my main goals this year," said Ferns. "If we have consistent finishes that will lead to the Top-10s and the Top-Fives, and if you are running in the Top-Five, wins will come. The competition I am going to face this year is going to be very tough, so that's something I have to get used to, and make sure that I stay strong. I have a competitive spirit, so I think I'll be able to hang in there with all the veterans and experienced drivers I'll be racing against this year. It's going to be an exciting year."
Taylor is associated with Racing 2 Cure this season. The mission of Racing 2 Cure is to raise money for families who have loved ones fighting cancer. For more information on Racing 2 Cure and to make a donation, visit www.racing2cure.org/drivers/Taylor-Ferns.
For the latest news, results and information on Taylor Ferns and Ferns Racing and to view a full 2012 schedule, visit www.TaylorFerns.com. Follow Taylor on Twitter @TaylorFerns.