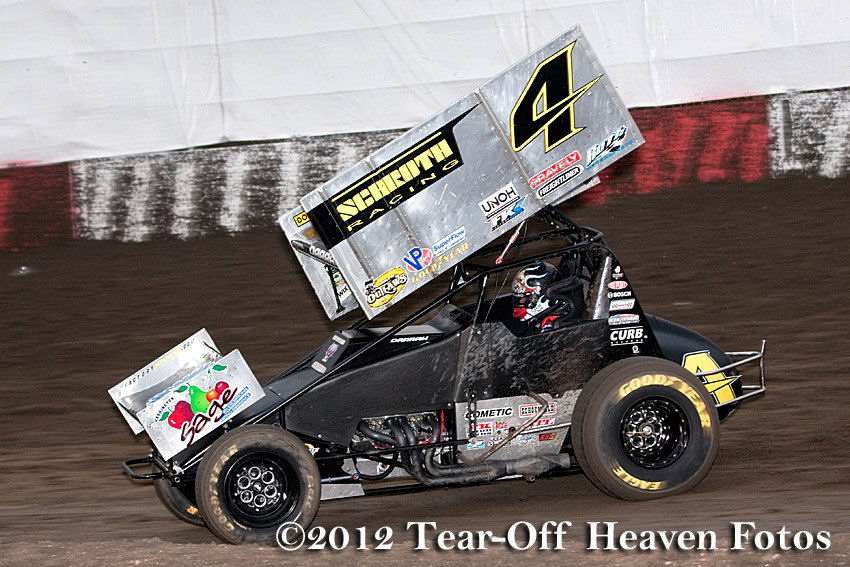 PETERSEN MEDIA

– Battling mother nature in California over the weekend, Cody Darrah and his Kasey Kahne Racing team were only able to squeeze a Friday night race in Chico, CA in over the weekend, and Darrah picked up a 15th place finish.
In heat race, action, Darrah put on quite the show in front of the Silver Dollar Speedway fans, as he charged from eighth to first, where he bested Tim Kaeding on a late restart.
The win put Darrah in the dash, but would start in the 10th spot on an extremely slick, and deteriorating race track.
Finishing in the 10th spot, put Darrah and his Schroth Racing/Team ASE/Sage Fruit No.4 in the fifth row of the 35-lap shootout.
When the green flag dropped on the race, driver did what they could to find their way to the bottom of the track, and get in line.
Starting deep in the field, Darrah got bold over the last handful of laps, and got out of line to see if he could pick up a few positions.
Darrahs gamble didn't work out, as Terry McCarl and Trey Starks were able to get underneath the Red Lion, PA native, and he was shuffled back to 15th.
"Our car was better then where we finished," said Darrah. "Towards the end of the race I got out of line to see if I could make something happen for my guys, and it didn't work out."
ON TAP- Cody Darrah and his Kasey Kahne Racing team will now head to the Merced Speedway on Friday March 30th before heading to the Calistoga Speedway on March 31st to close out their California stint.
STAY CONNECTED- Check in to www.codydarrah.com or visit his facebook page, http://www.facebook.com/pages/Cody-Darrah/164513250262145?ref=ts for the latest news on Cody.
PETERSEN MEDIA- Petersen Media is a promotional agency that can handle your public relations, marketing, and any other promotional needs. Petersen Media utilizes multiple tactics to help you reach your intended audience, to boost awareness.