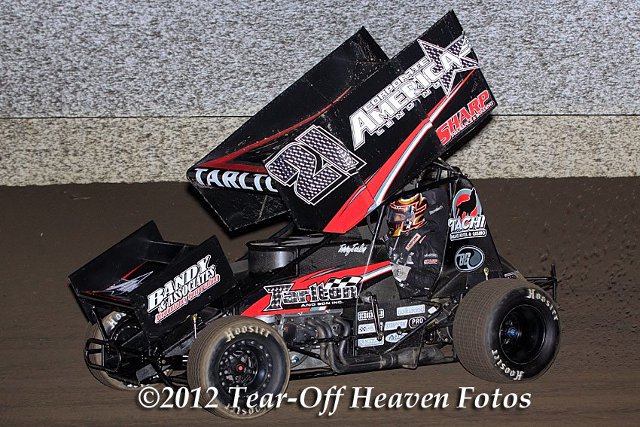 PETERSEN MEDIA
– Over the weekend, Easton, CA driver, Tommy Tarlton, had the type of weekend all drivers hate, and that is bad luck with mechanical gremlins.
Tarlton's weekend double header got started on Friday night as he met up with the World of Outlaws at the Merced Speedway in Merced, CA.
With 29 cars in the pits, Tarlton timed in with a sub par time, that put his Corporate Lending America/Sharp Insurance/Tachi Palace and Casino machine 21st quick and putting him behind the heat race inversion.
Lining up in the seventh spot of his heat, Tarlton would finish in the same position, missing the direct transfer to the feature by one position, and forcing his Tarlton and Son/BG Lubricants/Brandy and Associates entry to run the LCQ.
Pushing off in the four whole of the LCQ, Tarlton was able to maintain his position, and finish in the same spot on the central California bullring, transferring him into the feature event.
As the feature event cars were lining up, Tarlton noticed that his entry had developed a slight brake problem.
Making the most of the bad situation, Tarlton still started the race from his 21st starting spot, and worked the slicked off track as well as he could with brake issues and was able to gain a few positions.
With laps clicking off, the problem had grown worse, and Tarlton elected to end his night early, and pull of, being scored in the 21st position.
"It was one of those nights," explained Tarlton. "A small, slick track like this with brake problems is no fun, and it got to the point that I needed to pull off before I tore my equipment up, or tore someone else's up."
Saturday night saw Tarlton and his team check in at the Giant Chevrolet Kings Speedway in Hanford, CA for the season opening event for the Rebel Cup Series.
With threatening weather, and passing by rain showers, the race was still ran in it's entirety, but again Tarlton found his night ending early with mechanical woes.
The night wasn't all bad for Tarlton, however, as he timed in second quick of the 19 cars checked in at the speedway, and with the zero pill being draw, he shared the front row with Bud Kaeding.
The weather caused a hooked up, locked down speedway, and Tarlton found himself chasing down Kaeding as the race got underway.
As Tarlton continued to hound Kaeding, he noticed an oil line problem developing, and elected to again pull of ending his night.
"Part of racing is being involved in crashes, and being knocked out of races, but when it's mechanical stuff like it's been the last two nights it makes you sick. My guys work their tales off all week on this car, and for little issues like this to happen it kills me," said Tarlton. "On the bright side we were pretty fast all weekend, and I can't wait for this weather to go away so we can get to the track more often."
Tommy would like to thank Corporate Lending America, Tachi Palace and Casino, Sharp Insurance, Bandy and Associates, Pro Signs BG Lubricants, Pro Shocks and Astro Titanium for their continued support.
VIDEO: Check out some behind the scenes action as well as some of the racing action from Tommy's opening night of action at the Marysville Raceway Park at http://vimeo.com/37919846
STAY CONNECTED: Stay connected with Tommy by visiting www.tommytarlton.com or follow @Tarlton_Racing on Twitter.