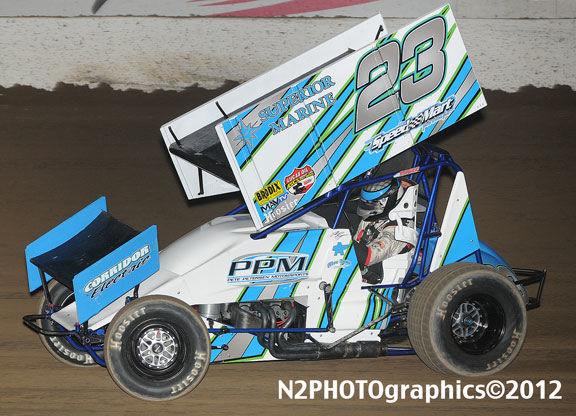 PETERSEN MEDIA
– Seth Bergman and his PPM/Superior Marine/Corridor Electric team put together two solid runs with the ASCS Gulf South Region in Texas, that included an impressive 13th-fifth charge on Saturday night.
Friday night the action got kicked off at the Heart O' Texas Speedway in Waco Texas, and Bergman proceeded to dominate his heat race from the pole.
The win put Bergman in the feature, but also put him in the ever-important top eight redraw.
Pulling the five pill put Bergman and his Speedmart/ButlerBuilt/Eagle Chassis No.23 in the third row of the 30-lap feature event.
Getting off to a slow start, Bergman fell back as far at the seventh spot, before he regained his composure and worked into the top three.
As the race wore down, Bergman and fellow Lucas Oil ASCS National Tour competitor, Tony Bruce, Jr, hooked up in an exciting duel for the third spot.
The duo exchanged the position several times, but in the end, Bruce, Jr got the better end of Bergman, and Bergman earned the final position on the podium.
"We were pretty good tonight," said Bergman. "I'm pleased with the progress of our team. We've been together racing about a month now, and we are communicating well and I think it is showing in our results."
Saturday night again saw Bergman in action with the ASCS Gulf South Region, though the site shifted to Gator Motorplex in Willis, TX.
Starting third in his heat, Bergman wasn't able to make any passes on the slick, narrow speedway, but the finish alone transferred him into the feature where he would start in the 13th spot.
Marred deep in the field, Bergman slowly bided his time as he quietly worked his way though the field.
With five laps to go, Bergman seemed to find something nobody else could, as he drove around Logan Forler, Michael Lang, and Kent Lewis during the final span of laps and grabbed a fifth place finish to cap off his weekend.
"I wasn't really sure how the night would go," explained Bergman. "During heat races the track was pretty slick and narrow, and that makes starting that far back in the field tough. Luckily Ben gave me a strong car, and we really came alive at the end."
Bergman and his Pete Petersen Motorsports team would like to thank Superior Marine, Corridor Electric, Speedmart Inc, Eagle Chassis, ButlerBuilt, and 7 Industries for their support in 2012.
ON TAP: Bergman and the PPM team will now take a week off before rejoining the Lucas Oil ASCS National Series on April 13th and 14th in Beaumont, Texas.