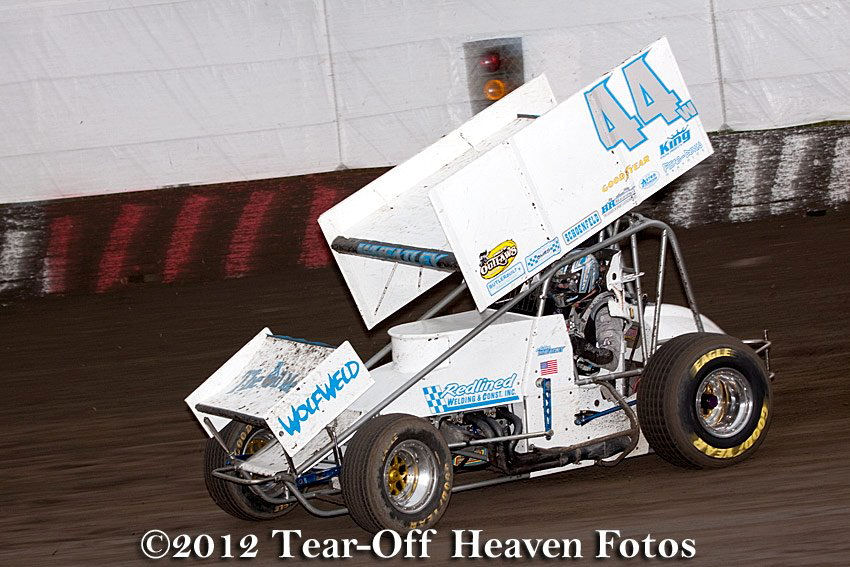 PETERSEN MEDIA

– Even with a disappointing finish, Austen Wheatley is pleased with his night at the Merced Speedway as the Lake Stevens, WA product scored a 20th place finish with the greatest show on dirt.
"The night started off well, but a bad qualifying lap really put us behind the eight ball," said Wheatley.
During the evenings warm ups, Wheatley was the fastest driver on the speed sheet amongst the 29 cars gathered at the speedway.
Qualifying was a huge setback for the Redlined Welding/Wolf Weld/Oil Medics entry as Austen timed in 24th quick, which ultimately equaled out to a long road ahead of him.
An eighth place finish in his heat found Wheatley in the LCQ where he rolled off in the sixth spot, and finished fifth advancing to the feature event.
Lining up for the 40-lap feature in the 23rd position, Wheatley worked from the back of the pack, and quickly had worked his way up into the fifteenth position.
While the top of the track slowly came in, Wheatley began working it, until he got a little too high, and slid off the racing surface, loosing his early progress.
Once he gathered it back up, Wheatley began to battle Donnie Schatz deep in the field, and ultimately ended his night with a 20th place finish.
"I just wish qualifying had gone a little better for us," explained Wheately. "My car was awesome in the feature, and it was nice following Schatz for a handful of laps because I think I learned some things."
Austen and his team would like to thank King Race Products, BR Motorsports, The Oil Medics, Wolfweld, Redlined Welding & Construction, Schoenfeld Headers, Astro Titanium, BMRS, Fire-Down Graphics and ButlerBuilt for their support in 2012.
ON TAP: For now, Wheately tentatively has plans to continue on with the World of Outlaws as they return to action April 13th in Paducah, KY.
STAY CONNECTED: Stay updated with Austen by following him on twitter @MiniWheats44w.