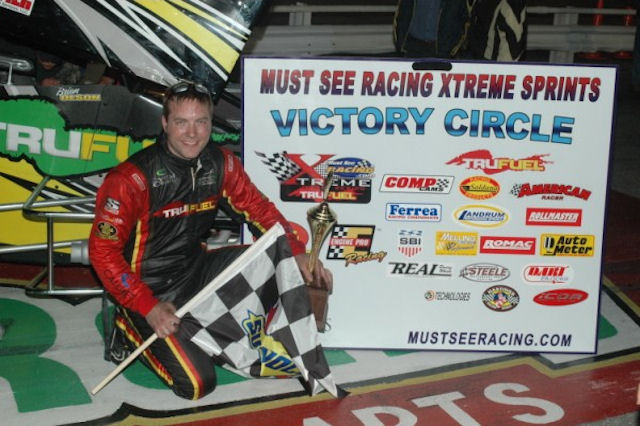 From Must See Racing
Irvington, AL – April 14, 2012 – Brian Olson took advantage of a front row starting position to claim his first career TRUFUEL Must See Racing Xtreme Sprint Series feature victory Saturday night at Mobile International Speedway. Olson piloted the Davey Hamilton Racing TRUFUEL entry into victory lane and collected $3,000 for his efforts.
The evening started off with a bang when six cars went below Kevin Swindell's track record of 14.487 seconds set in 2005. Todd Fayard, from nearby Saucier, MS, collected the $500 bonus when he emerged as the new track record holder with a lap of 13.919 seconds. Fayard was also the only driver to crack the 13 second barrier.
Polesitter, Jacob Wilson, lead the opening lap but surrendered the lead to Olson on lap 2. Once Olson claimed the point, he never looked back. Olson was pressured throughout the entire event first by Wilson and later Jason Cox. Cox passed Olson for the lead on lap 20, but a caution gave Olson his spot back. In victory lane Olson eluded to the fact he received a huge break. " With about ten laps to go I was getting bottled up in lapped traffic and Jason (Cox) got by me there. I caught a lucky break with the caution and got the lead back " explained Olson. " After that I knew he was there and had to step it up. That's what I did and it paid off in the end ". Olson acknowledged this was a huge win on his resume. " Its right up there at the top. This series is getting bigger and bigger and there are some really good driver in it " concluded Olson.
Heat races were won by Tim Cox, Jim Sheets, and Mickey Kempgens.
The event concluded the second and final night of the Royal Oak Southern Shoot Out. Tanner Swanson won the opening night at 5 Flags Speedway. Both of the weekend winners were first-time winners in the series.
Next up for the MSRXSS will be a visit to Winchester Speedway on May 20. The ' Xtreme Speed Challenge ' event will also feature the debut of the new Must See Racing Super Modified Series. For more info log onto www.mustseeracing.com.
OFFICIAL RESULTS – 30 LAPS
1. Brian Olson
2. Jason Cox
3. Mickey Kempgens
4. Jacob Wilson
5. Todd Fayard
6. Tanner Swanson
7. Kody Swanson
8. Dave Baumgartner
9. Jo Jo Helberg
10. Mike Larrison
11. Jerry Caryer
12. Hank Lower
13. Jim Sheets
14. Shane Morgan
15. Kevin Feeney
16. Brian Gingras
17. Troy DeCaire
18. Tim Cox
19. Ed Lee
20. Timmy Thrash