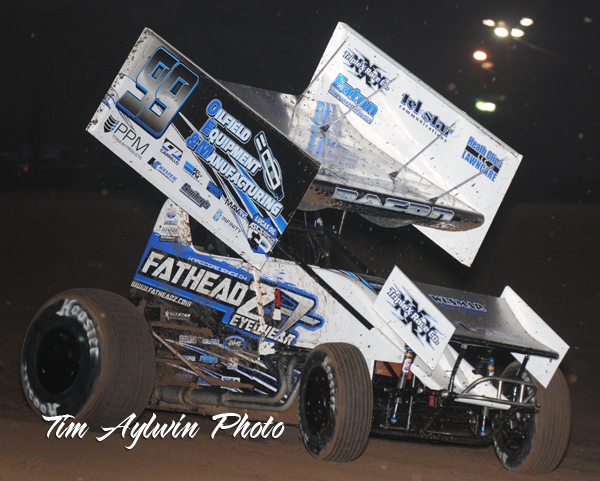 By Bill W
April 16, 2012 – Brady Bacon continues to battle with his fellow contenders in the race for the Lucas Oil ASCS National Series championship. With second place finishes at Golden Triangle Raceway Park near Beaumont, Texas on Friday, and Battleground Speedway in Highlands, Texas on Saturday, the Broken Arrow, Oklahoma driver sits in contention right behind Jason Johnson and Wayne Johnson. The Brady Bacon Racing #99 team plans a busy three-race weekend both with the wing and without.
On Friday in Beaumont, a pole position draw resulted in a heat win. "We drew well, and that helped," says Brady. "The track was really heavy, especially in one and two. Three and four slicked out."
Brady drew a six to start outside row three for the main event. "I thought we had the car just about perfect for the feature," he says. "I think we had the best car on the track when we went green for long stretches. There were just so many cautions and stoppages. We would pass a car or two, and the yellow would come out. We'd pass another car or two and the yellow would come out again. It seemed like we passed about twelve cars, but we kept getting put back."
A possible shot at the lead turned into Wayne Johnson getting by on a restart. "On one of the restarts, Dustin Morgan got bottled up behind the guy in front of him," says Brady. "That slowed me down and let Wayne by us over in one and two. Once he got out front and we were chasing him, he was hard to beat."
Once he cleared into second, Brady tried to chase down Johnson. "I think we may have been a little better, and I wish we would have had eight or ten laps of green flag racing at the end," he says. "I don't know that we would have passed Wayne, but we could have gotten beside him and make it interesting."
Saturday night at Beaumont was much different. Brady started fifth in the heat and failed to get enough passing points to qualify for the feature. "They got a little carried away with the water truck at the start of the night," he says. "We packed and packed, but the track just stayed super-heavy for the heat. We were just way too tight. We didn't have the right gear in. We got bungled in a corner, and got passed by (Johnny ) Herrera and (Jack) Dover, and ran sixth."
Deep in the B main (10th), Brady shot forward to claim the fourth and final transfer to the main event. "The track was definitely getting better," he says. "We were able to move up through there and grab the last transfer. Realistically, going into the A, I thought we may get a top ten, and maybe a top five."
Brady did much better than that from his 20th starting spot. "There were three or four cars that got caught up in the beginning and that helped," he says. "The track really started to widen out for us, and slicked off, especially in turn two. We got going and started picking people off. There were reds, and some fell out. The next thing you knew, we were up to sixth."
From there he advanced to the runner-up position, using some restarts. "We had a couple of short runs in a row…two laps or so, where we were able to get by a car or two each time," says Brady. "From where we started in the B, we were fortunate to have those opportunities to get as high as second. Jason (Johnson) was way out there by the time we got to second, so we weren't going to run him down at that point. I would have liked to have had a restart and a shot at it though."
The Johnson's and Brady look to be locked in a battle for the championship all season long. "It seems that Wayne and Jason and I are all up there every race," says Brady. "If one of us has a problem, the others are always there to take advantage."
Brady has three races planned this weekend. Two will be with the World of Outlaws. He plans on running at the Missouri State Fair Speedway on Friday night in Sedalia, and at the Tri-State Speedway near Haubstadt, Indiana on Saturday. Sunday he will venture up to the Terre Haute Action Track to take the wing off and compete with the MSCS series.
Follow Brady on his Website, Twitter and Facebook!
Follow Brady at his website located at www.BradyBaconRacing.com! Also keep up with him on Facebook and Twitter (which also can be accessed at the website) at the following links…
Twitter Link – http://twitter.com/BradyBacon
Facebook Link – www.facebook.com/pages/Brady-Bacon-Racing/278125555137
Partner of the Week – Keizer Aluminum Wheels
We are the Keizer of Racing wheels!!! Keizer Aluminum Wheels Inc. is proud that in our 35 year history we are still 100% made in the USA. From very long and humble beginnings to our current Keizer state we have continued this practice. In 2009, we completed our onsite heat treat plant which allowed us to be 100% self sufficient. We thank all our customers that appreciate our hard work and sacrifices for speed in the USA. Don't be stuck on a name; be stuck on product, service and the people behind it. Is the wheel of yesterday still slowing you down? Weigh us!!!!!! Don't assume!!! Try us!!! Our wheels are designed for longevity and performance. Take a look at the leader in race wheel market of today! Visit Keizer Wheels online at www.KeizerWheels.com!
Associate Marketing Partner of the Week – Diversified Machine, Inc.
Diversified Machine Inc. (DMI) is a leading vertically-integrated supplier of fully engineered chassis and power train components and modules for the automotive OEMs and Tier 1 suppliers. DMI has the distinctive advantage of being the only company offering fully-integrated design, development, testing, casting, machining, and assembly capabilities, of both aluminum and ductile iron components.
Services We Offer
Full service product design and testing
Aluminum castings – fully machined and assembled
Ductile iron castings – fully machined and assembled
Highly automated machining facilities
Global manufacturing footprint
Global purchasing solutions
Low cost solutions
Light weight design
If you would like to receive Brady's weekly releases, send an e-mail to sprntcar@hotmail.com with the subject "Brady".
Brady Bacon Racing would like the following sponsors for all their help: Fatheadz Eyewear, Oilfield Equipment and Manufacturing, Tel-Star Communications, PPM Titanium Products, Triple X Race Co., Infinity Shocks, Smiley's Racing Products, Heath Clips Lawn Care, Keizer Aluminum Wheels, Eaton Industrial Coatings, Pattison Precision Products, Wesmar Racing Engines, Butlerbuilt Seats, Hoosier Tire Southwest, Diversified Machine Inc., Brown and Miller Racing Solutions, Lightning Wings, Simpson, Pro Pan, CP Pistons, Schoenfeld Headers, Carrillo Rods, KSE Steering, All Star Performance, King Racing, Schroth Racing, FSR Radiators, Three-wide Clothing and Fuel Safe.