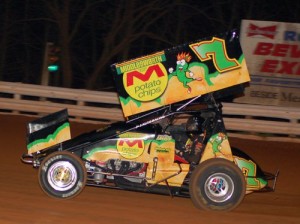 From Williams Grove Speedway
Mechanicsburg, PA — (April 20, 2012) — Chad Layton of Harrisburg wired the field for his second victory in a row in the Tommy Hinnershitz Spring Classic for sprint cars Friday night at Williams Grove Speedway, earning $6,000 for the victory.
In the 305 sprint feature, Tyler Bear scored the win.
Layton started on the pole of the 30-lap Tommy Classic and blew by an attempted slide job by Daryn Pittman in the first corner at the start to take command.
The race was halted with four laps completed when Doug Esh and Fred Rahmer got together while racing for fourth on the frontstretch.
Rahmer clouted the outside wall and nearly saved the car before slowly rolling over.
Pittman took a look on the restart but watched Layton drive away and by lap 10, he was watching as Layton opened up a straightaway of distance with the lead.
The leaders had just gotten to lapped traffic when the caution flag unfurled with 12 away for a stopped Donnie Kreitz.
Sixth starter Greg Hodnett and fifth starter Aaron Ott drove by Pittman on the restart and one lap later, Hodnett drove by Ott for the second spot.
Hodnett had been unable to bite into Layton's lead when Brent Marks came up with a blown left rear tire with eight laps to go, bringing out a red for refueling.
Hodnett tried to make a race of it over the final four miles but Layton opened up a one-turn lead in the final laps to record his eighth career victory at the historic oval.
Second went to Hodnett followed by Pittman, Esh and Ott.
Sixth through 10th went to 19th starter Brian Montieth, Danny Dietrich, Logan Schuchart, Alan Krimes and Sam Hafertepe Jr.
Heats for the 37-car field went to Esh, Dietrich, Pittman and Layton with Jac Haudenschild scoring the consolation race.
Logan Schuchart set fast time with a lap of 17.051 seconds.
Bear lead all 20 laps of the 305 sprint main.
Mike Wagner II., came to second with two away but failed to challenge for the lead.
The race was red flagged with six laps to go for a fourth corner crash by third place runner Logan Wagner.
Wagner II., finished second followed by Mark Watkins, Matt Mountz and Randy Kaylor.
Sixth through 10th went to Tim Dietz, Craig Myers, Jeff Taylor, Nathan Gramley and Ron Aurand.
Twin heats went to Myers and Bear.
Williams Grove Speedway returns to action on April 27 with the first invasion of the season by the All Star Circuit of Champions sprints along with the ARDC Midgets at 7 pm.
April 20, 2012 Feature Finishes:
410 sprint cars, 25 laps: 1. Chad Layton, 2. Greg Hodnett, 3. Daryn Pittman, 4. Doug Esh, 5. Aaron Ott, 6. Brian Montieth, 7. Danny Dietrich, 8. Logan Schuchart, 9. Alan Krimes, 10. Sam Hafertepe Jr., 11. Lance Dewease, 12. Ryan Smith, 13. Justin Henderson, 14. Jac Haudenschild, 15. Frank Cozze, 16. Rick Lafferty, 17. Adam Wilt, 18. Ryan Bohlke, 19. Brent Marks, 20. Nich Schlauch, 21. Steve Buckwalter, 22. Don Kreitz Jr., 23. Fred Rahmer, 24. Mark Smith
305 sprint cars, 20 laps: 1. Tyler Bear, 2. Mike Wagner II., 3. Mark Watkins, 4. Matt Mountz, 5. Randy Kaylor, 6. Tim Dietz, 7. Craig Myers, 8. Jeff Taylor, 9. Nathan Gramley, 10. Ron Aurand, 11. Erin Statler, 12. Ian Detweiler, 13. Joe Smith, 14. Jason Brandt, 15. Dusty Shatzer, 16. Jason Bergstresser, 17. Eric Parker, 18. Jeff Miller, 19. Dalton Dietrich, 20. Andrew Hake, 21. Logan Wagner, 22. Lance Newlin, 23. Tyler Lebo, 24. Kody Lehman