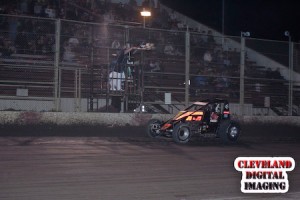 From Steven Blakesley and Dick Jordan
Watsonville, CA — (April 21, 2012) — Former two-time Ocean Speedway Wingless track champion Ryan Bernal of Hollister scored a win for the hometown fans, winning the season opening USAC Western Classic Racing Series feature at Ocean on Friday night worth $2,000. Bernal won the 30 lap feature aboard the #73 A&A Precision / King Racing Products car after a wild duel with Loomis' Kyle Hirst throughout much of the race.
Bernal not only won the feature, but he also took quick-time honors on the evening with a 13.120 second lap around the quarter-mile dirt oval and won his heat race as well. It was a huge night for the 2012 USAC West Coast 360 points leader who also is looking to contend for the USAC/CRA championship this season as well.
20 cars started the feature event on a slick track surface due in large part to unseasonably warm temperatures near 90 degrees throughout the coast. Brent Kaeding led the field to green from the start but the race immediately went caution. Several cars spun in turn three including Fair Oaks' Shauna Hogg and long-tow Danny Faria, Jr. among them.
Faria eventually pitted under caution for a flat left rear and failed to reappear. On the next attempted start, Roseville's Scott Hall spun in turn three collecting Hogg and Modesto's Jimmy Riddell. Only Hall was unable to continue on.
Kaeding took off to lead the first eight laps of the feature with Bernal leaping from sixth up to the second position past Hirst. Hirst took the second position back from Bernal on lap seven in a preview of the battling yet to come.
Hirst made a big move to pass Kaeding on lap nine and Bernal followed him past Kaeding. The duel was on, with Hirst leading through lap 12 before Bernal successfully completed a slider to take the lead on laps 13 and 14.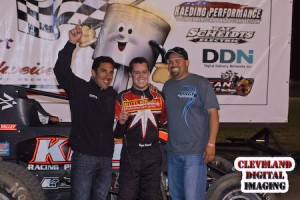 The lead went back to Hirst bringing the large turnout of fans on their feet, with Hirst maintaining the lead despite a series of crossover attempts by Bernal. A brief caution for John Gerber spinning on lap 22 set the stage for a thrilling finish with Hirst, Bernal, Kaeding, and Fremont's Shane Golobic from 12th starting position.
Hirst easily drove away to a comfortable five car length advantage while Golobic made contact with Santa Rosa's Marty Hawkins on the restart and damage forced him to the pits for the night. A red flag on lap 26 for Galt's Matt Streeter flipping in turn two gave fans a four lap shootout between Bernal and Hirst for the win.
Coming back to green, Bernal made a strong charge on the inside of Hirst with Hirst jumping the cushion and climbing the wall. Eventually Hirst came off the wall and went upside down out of turn two to end his night.
On the ensuing restart, Bernal easily pulled away from Kaeding to take a 1.063 second victory. Orland rookie Taylor Simas was third ahead of Markus Niemela and Hawkins. Along with Bernal winning his heat race, Golobic and Hirst were also winners on the evening.
"It feels good to win in front of the home crowd. Me and Kyle had a good race," Bernal said. "I just want to keep racing with four wheels. Of course I dream of going to NASCAR but I just want to keep racing sprint cars right now."
"If the fans are on their feet that means I did my job so I'm happy with that!"
The appearance by USAC was the first of four races at Ocean Speedway Watsonville in 2012 with the next race scheduled for Friday 15 with the USAC/CRA co-sanctioning the event.
The next Sprint Car event at Ocean Speedway Watsonville is the Ocean Sprints presented by Taco Bravo on Friday May 4.
For more information on the Ocean Sprint Cars presented by Taco Bravo log onto http://www.oceansprints.com and for more on the Ocean Speedway visit http://www.oceanspeedway.com
USAC WESTERN CLASSIC SPRINT CAR RACE RESULTS: April 20, 2012 – Watsonville, California – Ocean Speedway
QUALIFICATIONS: 1. Ryan Bernal, 73, Ford-13.120; 2. Zach Tyler, XXX, Tyler-13.464; 3. Danny Faria Jr., 17v, Faria-13.490; 4. Shauna Hogg, 5, Hogg-13.510; 5. Markus Niemela, 81, Watt-13.626; 6. Taylor Simas, 7T, Simas-13.681; 7. Marty Hawkins, 3m, Hawkins-13.734; 8. Kyle Hurst, 14, Pierson/Vertullo-13.765; 9. Brent Kaeding, 69, Kaeding-13.784; 10. Matt Streeter, 14jr, Streeter-13.809; 11. Tony Hunt, 56, Phulps-13.875; 12. Shane Golobic, 46, Golobic-13.903; 13. Matt Mitchell, 18, Watt-13.923; 14. Scott Hall, 56v, Hall-14.084; 15. Tom Baker, 3T, Baker-14.521; 16. Jimmy Riddell, 19, Riddell-14.722; 17. John Gerber, 14s, Gerber-16.290; 18. Geoff Ensign, 3F, Finkenbinder-17.827; 19. Gordon Rodgers, 94, Dusin-NT; 20. Jerry Cisco, 4B, Baisden-NT.
FIRST HEAT: (8 laps) 1. Bernal, 2. Mitchell, 3. Streeter, 4. Hawkins, 5. Hogg, 6. Riddell, 7. Rodgers. NT
SECOND HEAT: (8 laps) 1. Hurst, 2. Hunt, 3. Hall, 4. Niemela, 5. Tyler, 6. Gerber, 7. Cisco. NT
THIRD HEAT: (8 laps) 1. Golobic, 2. Ensign, 3. Kaeding, 4. Simas, 5. Faria, 6. Baker. NT
FEATURE: (30 laps) 1. Ryan Bernal, 2. Brent Kaeding, 3. Taylor Simas, 4. Markus Niemela, 5. Marty Hawkins, 6. Shauna Hogg, 7. Geoff Ensign, 8. Matt Mitchell, 9. Tom Baker, 10. Zach Tyler, 11. Tony Hunt, 12. Jimmy Riddell, 13. John Gerber, 14. Gordon Rodgers, 15. Kyle Hurst, 16. Matt Streeter, 17. Shane Golobic, 18. Jerry Cisco, 19. Scott Hall, 20. Danny Faria Jr. NT
——————————–
FEATURE LAP LEADERS: Laps 1-8 Kaeding, Laps 9-12 Hurst, Laps 13-14 Bernal, Laps 15-26 Hurst, Laps 27-30 Bernal.
NEW USAC WESTERN CLASSIC SPRINT STANDINGS: 1-Bernal-74, 2-Kaeding-63, 3-Simas-60, 4-Niemela-58, 5-Hawkins-53, 6-Hogg-52, 7-Ensign-49, 8-Mitchell-46, 9-Tyler-42, 10-Baker-39.
NEXT USAC WESTERN CLASSIC SPRINT CAR RACE: May 5 – Madera (CA) Speedway
USAC WESTERN/NORTH FOCUS MIDGET RACE RESULTS: April 20, 2012 – Watsonville, California – Ocean Speedway
HEAT RACE: (8 laps) 1. Jet Davison (#59 Davison), 2. Cody Elliott (#11 Elliott), 3. Parker Colston (#64 Colston), 4. Michael Steele (#92 Steele). NT
FEATURE: (30 laps) 1. Jet Davison, 2. Cody Elliott, 3. Parker Colston, 4. Michael Steele. NT
——————————–
FEATURE LAP LEADERS: Laps 1-30 Davison.
NEW USAC WESTERN FOCUS MIDGET POINTS: 1-Davison-136, 2-Wally Pankratz-135, 3-Bryant Dawson-127, 4-Colston-12, 4-Winn Frazin-119, 6-Elliott-116, 7-Steele-114, 8-Christine Breckenridge-112, 9-Michael Fanelli-111, 10-Marina Turner-96.
NEW USAC WESTERN DIRT FOCUS MIDGET POINTS: 1-Davison-136, 2-Colston-123, 3-Elliott-116, 4-Steele-114, 5-Bradley Morris-56, 6-Katlyn Leer-51, 7-Austin Blair-47, 8-Cole Custer-47, 9-Wally Pankratz-43, 10-Andrew Mulhearn-40.
NEW USAC NORTHERN CALIFORNIA MIDGET POINTS: 1-Davison-68, 2-Elliott-64, 3-Colston-60, 4-Steele-56.
NEXT USAC WESTERN FOCUS MIDGET RACE: April 21 – Stockton (CA) 99 Speedway