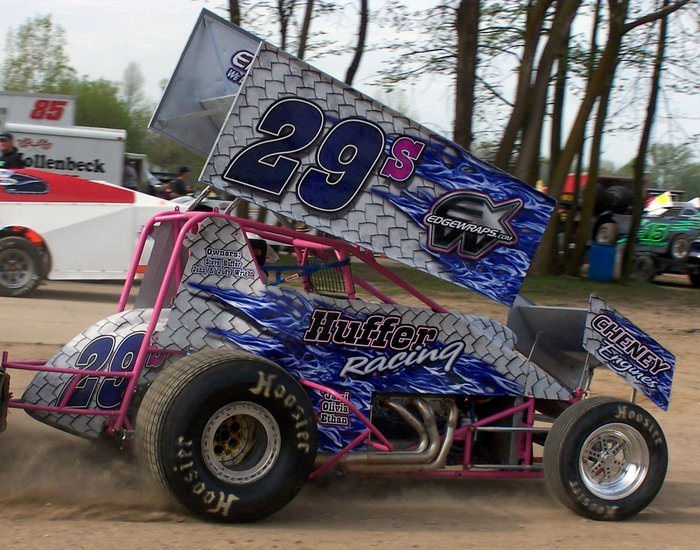 By Matt Prieur
Eagle, Michigan (Wednesday, April 25th, 2012): The 2012 racing season has started for Eagle, Michigan Sprint Car pilot, Marques Huffer, well sort of. The season was to begin on April 20th at the fast ¼ (0.250) mile high-banked dirt oval of Limaland Motorsports Park in Lima, Ohio for the NRA Sprint Invaders Series Opener. 33 teams made the trip, however, just after the B Mains, Mother Nature intervened forcing track and series officials to postpone the event to May 11th.
"I was running late on Friday and missed Hot Laps. When we took the green flag for our Heat Race, we started and finished seventh out of eight cars, which was the first time that I had sat in the car since September of 2011," Explained the 34-year-old. "The set-up was a little off and the car was a challenge to drive, but for the B Main, we started and finished sixth out of nine cars."
The next day on Saturday, April 21st, the Huffer Racing Team stopped out at the 3/8s (0.375) mile high-banked dirt oval of Butler Motor Speedway, located northeast of Coldwater in Quincy, Michigan for the tracks' test and tune day to shake everything down and correct any issues that came up the previous night in Lima, Ohio. "The car felt and ran incredible. We were able to run many lines and we had no problem keeping up with the Butler regulars most of whom were running their 410's." He continued.
"In addition to my father Steve and my stepfather John, we owe a huge special thank you to Ben and Craig Rutan who helped us get the motor and car dialed in both Friday and Saturday. Without them we would have been sunk!" Huffer Racing will make its first appearance at Butler on Saturday, May 5th in the weekly 410 Sprints division.
Now Huffer and the team will shift gears and refocus on the quest for the 2012 ASCS Sprints On Dirt Championship, which will begin on Saturday, April 28th at the 3/8s (0.375) mile semi-banked dirt oval of Crystal Motor Speedway, located 45 minutes northwest of Lansing in Crystal, Michigan. The day before on Friday, April 27th, a return trip to Limaland is in the cards for the next race on the NRA Sprint Invaders Series Schedule.
For the 2012 racing season, Huffer Racing will make a run at the ASCS Sprints On Dirt Series Championship as well as the NRA Sprint Invaders title. They'll also make appearances at Butler Motor Speedway as well as Limaland Motorsports Park. An aggressive 44-race schedule is on the calendar for Huffer Racing and they couldn't be more excited for the season to begin.
Throughout the 2012 campaign, Huffer's popular #29s Winged Sprint Car will carry sponsorship decals from Huffer Racing as well as Rutan Racing Engines, AFCO Racing Shocks, Lane Automotive, Smart Innovations, Imagine Design Now, M.P.H. Promotions, TS Lettering & Graphics and Premier Custom Trailers.
To learn more about Marques Huffer and the entire Huffer Racing Team and to inquire about sponsorship opportunities available for the 2012 racing season, go to the teams new website at: www.hufferracing.com You can also stop by and check out the Huffer Racing Facebook Fan Page at: www.facebook.com and search "Huffer Racing"