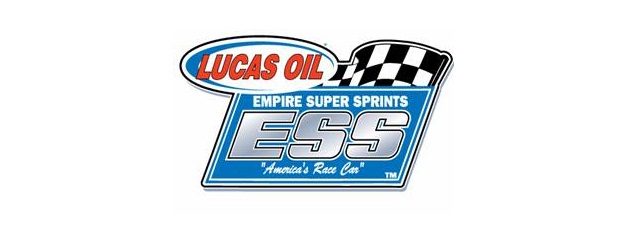 By Dean Reynolds
SYRACUSE, NY – In a major sponsorship agreement, Universal American based out of Rye Brook, NY will present the Stars and Stripes Tour for the Lucas Oil Empire Super Sprints (ESS). To join the Le Groupe Ultra Tour of Canada, all the full point events held in the United States will now carry a separate point fund.
"We are very proud to have Universal American aboard for the 2012 season and we hope that we can get the word out on the benefits that they offer. To have them back our US tour will benefit many teams for this year." noted ESS President Chuck Miller. "The overall tour backed by Lucas Oil is of course the biggest prize but we have had a very successful Canadian Tour point fund for many years and now we were able to put together one for the States."
Miller continued, "The overall point fund rewards the teams that follow the tour but we have been doing the mini point funds for years and has proved very successful in getting as many cars to each event. We know not every team can do the entire tour so there might be a certain mini point fund that fits into their plans. Not only does ESS have the highest nightly cash payout but the drivers will also race for the largest point fund total as well."
Universal American (NYSE: UAM), through our family of healthcare companies, provides health benefits to people with Medicare We are dedicated to a Healthy Collaboration, working together with healthcare professionals in order to improve the health and well-being of our members.
Our family of companies offers affordable healthcare products and programs, including Medicare Advantage plans and traditional health insurance. The prescription drug benefits for our Medicare Advantage plans with prescription drug coverage are administered by CVS Caremark Part D Services. For more information please log on to www.uafc.com
The Stars and Stripes Tour will kick off in just two days (Saturday) at the Lucas Oil ESS opener which will take place at the Can-Am Motorsports Park. Points will now be awarded for the overall point fund and the SUNY Canton Series making this a vital stop for 2012.
For the latest up to date information, please log on to www.empiresupersprints.com and also visit our Facebook and Twitter pages as well. The 2012 season for the Lucas Oil Empire Super Sprints is ready to throw some dirt at you and for over 30 years it's the tradition continued of excitement guaranteed!!
The Lucas Oil Empire Super Sprints are brought to you by: Lucas Oil, Le Groupe Ultra, SUNY Canton, Universal American, Hoosier Racing Tires, Fondations 4 Saisons, Cobra Coaches, Westward Painting Company, Mach 1 Chassis, Lee's Repair Auto and Truck, Fondations 55, Eric Varin Roofing, North Eastern Pool and Spa, Car Mate Trailers, Brodix Cylinder Heads, Ohsweken Speedway, Northwood 2 Construction/Lasalle Motorsports, AKS Firearms, Jasmin Peloquin Sport, 730 Truck Stop, Riverside Bar and Grill, FX Chevy and many, many associate sponsors.