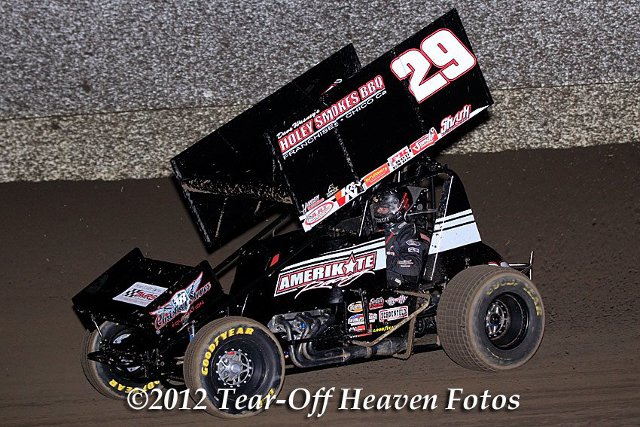 PETERSEN MEDIA
– Two races in two nights, and Sacramento, CA driver, Willie Croft, posted solid second and third place finishes while in action at the Silver Dollar Speedway and with the Cancen Oil King of the West Series present by Goodyear and the Placerville Speedway.
Croft kicked his weekend off by dropping a 360ci Shark engine into Holey Smokes BBQ/Christian Stover Foundation/FK Rod Ends backed entry, and scored a second place finish at the Silver Dollar Speedway.
The driver known as Double Down, shared the front row with future brother-in-law, Kyle Hirst, and quickly rocketed out to the lead.
Croft and his A.R.T./Sanders Engineering/ButlerBuilt were simply dominating the non-stop race until he began dealing with thick lapped traffic.
"The car was awesome, and we were checked out, but unfortunately made some bad guesses in traffic," explained Croft.
Just two laps away from victory, Croft elected to try and go around a lapper, but as the lapper drifted up the track, Rico Abreu was able to sneak underneath and score the victory with Croft in the second spot.
"It is never fun to lose a race like that, but if were going to lose one, it's cool to see the guy who wins pick up his first career win, and I definitely congratulate Rico, I remember winning my first one."
Saturday night saw Willie and his Willie Croft Racing team check into the Placerville Speedway for the third round of the Cancen Oil King of the West Series presented by Goodyear.
Timing in fifth, Croft scored a second place finish in his heat, and put his pristine No.29 machine in the dash, where he ended up with the six pill, and started in the third row.
Finishing seventh, Croft and his team went to work before the feature, and put a stout machine on the track for the 30-lap dog-fight.
With the first three laps being marred by cautions, lap four-15 were entertaining, as Croft worked his way up to the second spot while battling with Jonathan Allard, Abreu and Golobic.
While four drivers sliced and diced, Croft saw him drift back to fifth before working back up to fourth, as the red flag waved on lap 15 for second running Abreu.
On the ensuing restart, Allard looped it, and Croft found himself in the third spot behind Tim Kaeding and Shane Golobic.
After dealing with a pair of stoppages, Croft found himself in the second spot, but felt pressure from a hard charging, Brent Kaeding.
Kaeding took the second spot, and Croft continuously applied heavy pressure to the hall of famer.
After an open red with just five laps remaining, Croft's stout night nearly came to an end as he made contact with B. Kaeding, and spun his machine out, only to be bailed out by Andy Gregg who made contact with him and brought out the yellow as Croft kept his machine fired.
"I feel terrible for Andy, because I hit Brent and spun out, I was just trying to keep my car fired, and unfortunately he hit me, and I'm sorry that happened."
Back underway, Croft held his third spot while the lead duo fought it out, and at the stripe he chased the Kaeding family across in the third spot.
"What a great weekend," said Croft. "I couldn't be more pleased with a pair of podiums after the last couple of weeks. I have to thank the guys that help me at the track, and all my sponsors who make this possible."
Willie Croft would like to thank Holey Smokes BBQ, The Christian Stover Foundation, ButlerBuilt , Brown and Miller, Sander Engineering, FK Rod Ends, Hinchman Indy, Schoenfeld, K&N, Smith Precision Products, All Pro Cylinder Heads, Shark Racing Engines, A.R.T., M.R.O. Industrial Supply, Redline Oil, Kaeding Performance, PaPa's Beef Jerky, Dan Olson Products, Vortex Wings, AIC Powdercoating, Les Schwab, and GUTS for their support in 2012.
ON TAP: Willie and his Willie Croft Racing team will now head to Chico, CA for the 22nd Annual Dave Bradway, Jr Memorial this Saturday night. Last year, Croft looked to pick up the prestigious win until a mechanical woe knocked him out of the feature with only a few laps to go.
STAY CONNECTED: Stay connected with Willie by visiting www.williecroftracing.com or following @WCroft29 on Twitter.