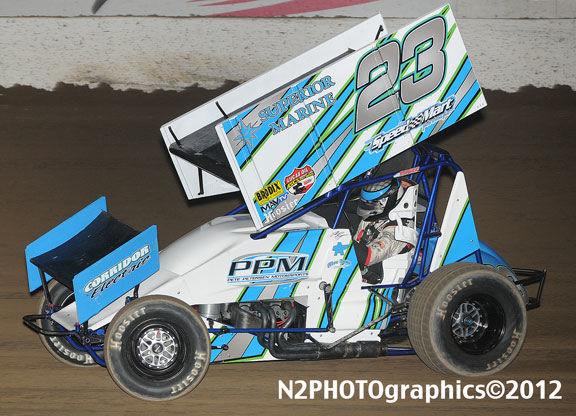 Cody Morris
Sapulpa, Oklahoma (5-4-2012) – Approximately six days and several toll booths after the 2012 season opener in Lawton, Oklahoma; the American Bank of Oklahoma ASCS Sooner Region pivoted back to the Tulsa area; slashing a few turnpikes en route to a sophmore outing of the season at Sapulpa, Oklahoma's Creek County Speedway.
Several past ASCS Sooner Region champions were joined by a few ASCS National Tour invaders and an impressive crop of rookie talents for the first of four American Bank of Oklahoma ASCS Sooner Region outings at Creek County Speedway this season.
Few Sooner State race fans expected an Evergreen State showdown at the landmark 20th running of the Sooner region at Creek County Speedway, but the vast majority of race fans in attendance left relishing the showdown between a pair of Snohomish, Washington natives.
A first time ASCS Sooner Region winner at Creek County Speedway in 2011, Evergreen State extraordinaire Seth Bergman turned in a wire to wire effort to take his second ASCS victory in as many weeks aboard the Wesmar powered Superior Marine no. 23 Eagle.
One week after snaring his first Lucas Oil ASCS National Tour presented by MavTV victory at West Memphis, Arkansas' Riverside Speedway, Bergman powered the Peterson Motorsports ride in streak fashion; with back to back ASCS wins also translating into consecutive American Bank of Oklahoma ASCS Sooner Region honors at Creek County Speedway.
Bergman was chased to the stripe, indeed shadowed throughout most of the race by fellow Snohomish, Washington native Gary Taylor. While Bergman turned an outside front row starting spot into an immediate lead, Taylor battled from the sixth spot to become Bergman's top challenger by the fifth circuit.
Just after the lead pair of Evergreen State natives encountered lapped traffic on the 8th turn, a slight mistake by Taylor was immediately exploited by Mustang, Oklahoma upstart Shane Sellers.
Such was the state of the 25 lap main event when the only stoppage occurred at the lap 12 halfway point, with Car & Fleet Rookie of the Year competitor Brandon Hahn bicycling into a turn 3 tumble; sidelining the young Tulsa talent for the remainder of the main event. Hahn emerged safely from the wreckage, but with Saturday plans for Speedway Motors ASCS Warrior Region action at Wheatland, Missouri's Lucas Oil Speedway in jeopardy.
Taylor immediately found his groove exiting the lap 12 restart, battling back by Sellers one lap later. A lapped car remained between the Washington state natives, but far be it from a typical lapped machine; this obstruction was an early season ASCS National Tour feature winner from Broken Arrow – Dustin Morgan.
While the ARK Wrecking machine was quick, unfortunately for Morgan a promoter's provisional meant a last place start; a very tough task at the Creek County's ¼ mile battleground.
Taylor needed nearly five laps to dispose of Morgan, but as he did the leader reached the rear pack of the field, allowing Taylor to improve the time in closing to Bergman's rear bumper and set up a five lap showdown for a few thousand onlookers.
The Evergreen state duo maneuvered smartly in lapped traffic, with Taylor's repetitive high side charges exiting each turn brilliantly thwarted by Bergman's smooth approach into the low side of the next. Taylor's best shot came on lap 23, as the lead duo switched roles for a pair of corner's in response to lapped traffic obstructions, but Bergman escaped the tense period with the lead.
Taylor kept up the pace, but Bergman ultimately took a car length advantage to the finish line to earn his third career ASCS Regional victory, second career Sooner Region score, and first ASCS Regional nod of the young 2012 season. Gary Taylor's impressive run ended in a runner up effort as Taylor prepares for Saturday night Oil Medics ASCS Lone Star Region action at Kennedale, Texas' Cowtown Speedway.
Mustang, Oklahoma's Shane Sellers turned in his second show position performance in as many nights of ASCS Sooner Region action. Seemingly bursting into the ASCS Regional spotlight, the former Lawton Speedway champ sprint titlist is right in the early thick of the 2012 American Bank of Oklahoma ASCS Sooner Region Championship chase.
Broken Arrow, Oklahoma's Jonathon Beason fell one spot from his starting position to claim fourth at the finish line. A winner in season opening ASCS Sooner Region action just six days prior at Lawton Speedway and former two time American Bank of Oklahoma ASCS Sooner Region champion, Tulsa's Sean McClelland completed the top five finishing order of the 25 lap main event.
Jesse Frazier, Shane Sellers, Gary Taylor, and Jonathon Beason took heat race scores over the 29 car field, with Mike Goodman taking the winning style transfer in the night's only 12 lap ASCS Sooner Region B Feature event. A Tulsa native, Goodman also earned the Bishop's Racing Components Hard Charger Award, advancing 8 spots to finish ninth in the final rundown after advancing into the main event via the B Feature victory.
Brandon Hahn's main event misfortune was accompanied by a Koby Barksdale rollover early in the B Feature. Both drivers emerged safely from their flipped mounts.
In only his third event at the helm of Creek County Speedway, David Chappell's first hosting of ASCS action was an overwhelming success, with fan and driver area's both filled and an extremely racy surface greeting three premier classes. With 29 headlining American Bank of Oklahoma ASCS Sooner Region teams in action, 27 champ sprints and 22 modifieds joined in the action as well; delivering a sensational night of dirt track racing to race fans in attendance.
With two of 16 events in the books, Sean McClelland is off to an early five point advantage in the 2012 American Bank of Oklahoma ASCS Sooner Region title chase over Shane Sellers with Andy Shouse another 18 markers behind Sellers.
Jesse Frazier has turned in strong heat race performances in both Sooner Region runnings and his feature finishes have netted the young Tulsa talent an early lead in the 2012 Car & Fleet Rookie of the Year fight.
Featured Photo: Marcia York-Sanderson / Sprintcarsis Photos
American Bank of Oklahoma ASCS Sooner Region
May 4th, 2012 / Event 2 of 16
Creek County Speedway / Sapulpa, Oklahoma
A Feature (25 Laps): 1. 23-Seth Bergman[2]; 2. 1x-Gary Taylor[6]; 3. 7s-Shane Sellers[4]; 4. 36x-Jonathan Beason[3]; 5. 1-Sean McClelland[1]; 6. 27-Andy Shouse[10]; 7. 14k-Kyle Bellm[8]; 8. 11c-Matt Covington[9]; 9. 11g-Mike Goodman[17]; 10. 5h-Logan Forler[7]; 11. 03-Joe Wood Jr[18]; 12. 36-Robert Sellers[19]; 13. 5-Joe Bob Lee[11]; 14. 57-Kyle Chady[13]; 15. 45-J.P. Bailey[15]; 16. 2-Dustin Morgan[21]; 17. 27x-Jesse Frazier[5]; 18. 87-Brian McClelland[20]; 19. 010-Brian Roberts[14]; 20. 29-Brandon Hahn[12]; 21. 7-Michelle Decker[16]
Lap Leaders: Seth Bergman 1-25
Bishop's Racing Components Hard Charger Award: Mike Goodman
Lightning Wings 10th place: Logan Forler
*Promoter's provisional: Dustin Morgan
B Feature (12 Laps): 1. 11g-Mike Goodman[2]; 2. 03-Joe Wood Jr[1]; 3. 36-Robert Sellers[6]; 4. 87-Brian McClelland[3]; 5. 4J-John James[8]; 6. 00-Kacee Frazier[10]; 7. 4x-Shawn Petersen[7]; 8. 65L-Nicholas Lucito[5]; 9. W94-Waylon Weaver[9]; 10. 35-Barry Gifford[11]; 11. 22K-Kevin Barksdale[12]; 12. 22-Koby Barksdale[4]
Top 4 advance to A Feature
Heat 1 (8 laps): 1. 27x-Jesse Frazier[1]; 2. 14k-Kyle Bellm[3]; 3. 5h-Logan Forler[5]; 4. 45-J.P. Bailey[4]; 5. 11g-Mike Goodman[6]; 6. 4x-Shawn Petersen[2]; DNS 35-Barry Gifford; DNS 22K-Kevin Barksdale
Heat 2 (8 Laps): 1. 7s-Shane Sellers[1]; 2. 27-Andy Shouse[2]; 3. 11c-Matt Covington[7]; 4. 7-Michelle Decker[4]; 5. 87-Brian McClelland[6]; 6. 65L-Nicholas Lucito[3]; 7. 00-Kacee Frazier[5]
Heat 3 (8 Laps): 1. 1x-Gary Taylor[2]; 2. 23-Seth Bergman[4]; 3. 1-Sean McClelland[6]; 4. 03-Joe Wood Jr[3]; 5. 22-Koby Barksdale[5]; 6. W94-Waylon Weaver[1]; 7. 4J-John James[7]
Heat 4 (8 Laps): 1. 36x-Jonathan Beason[5]; 2. 5-Joe Bob Lee[2]; 3. 57-Kyle Chady[1]; 4. 29-Brandon Hahn[6]; 5. 010-Brian Roberts[7]; 6. 36-Robert Sellers[4]; 7. 2-Dustin Morgan[3]
American Bank of Oklahoma ASCS Sooner Region point standings:
1. Sean McClelland 275; 2. Shane Sellers 270; 3. Andy Shouse 252; 4. Matt Covington 235; 5. Joe Wood Jr. 233; 6. Brian McClelland 204; 7. Jesse Frazier 200; 8. Joe Bob Lee 196; 8. Robert Sellers 196; 10. Michelle Decker 191
2012 Car & Fleet Rookie of the Year point standings:
1. Jesse Frazier 200; 2. Joe Bob Lee 196; 3. Brandon Hahn 184; 4. Kyle Chady 167; 5. Nick Lucito 161; 6. Kacee Frazier 130; 6. John James 130