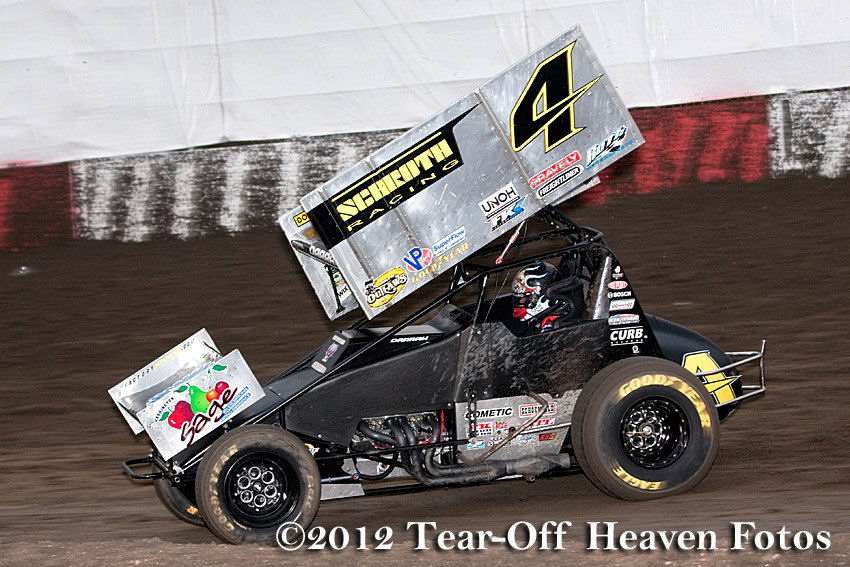 PETERSEN MEDIA
– Cody Darrah spent this past weekend in Rossburg, OH as he competed against the World of Outlaws at the Eldora Speedway, and highlighted his weekend with a fourth place finish on Friday night.
Friday night at the Eldora Speedway, Darrah simply kept his nose clean as sparks flew during the final 10-laps, and he came away with a strong fourth place finish.
"We had a great car Friday night," said Darrah. "The Schroth Racing/Team ASE/Maxim was awesome, and fortunately we stayed out of trouble, and ended up with a fourth."
Darrah's night got off to a great start as he timed in 7th quickest out of the 33 cars in the pit area, and lined up in the second row of the third heat, where he would ultimately finish in the fourth spot, transferring to the feature, but lined up in the 13th spot.
During the 30-lap feature on the legendary ½ mile, Darrah simply bid his time and saved his tires, as tire wear was on all drivers minds heading into the feature event.
"My team just told me to stay smart and keep my tires under me until the end," said Darrah.
The advice seemed to helped, as several off the top five drivers dropped out late in the race with flat tires.
Darrah who had worked himself into the top-eight with just ten laps remaining, took advantage of a pair of spins, and flat tires, and ended his night in the fourth spot.
"Sometimes it's better to look at the big picture, and see how the night goes in front of you, especially that deep in the field, and that's what we did, and we came away with a great finish."
Saturday however, wasn't the night that the KKR team had hoped for.
"We just flat missed it all night," explained Darrah.
The night started off nicely for Darrah and his team as they again timed in inside the top-10 ash he timed in with the sixth fastest lap of the night.
A fourth place effort in his heat, put him in the 13th spot once again, but on this night, Darrah fought his car, and tried to hold on.
"We weren't very good, and I simply made a lot of mistakes," Darrah confessed. "The good thing was I definitely learned from my mistakes, and it makes us eager to get back at it."
As the race ended Darrah ended up fading to a 17th place finish.
ON TAP- With three races on the schedule this upcoming week, Darrah is excited to get back to his home state of Pennsylvania as he returns to action on Wednesday at the Lincoln Speedway before a Friday/Saturday double header at the Williams Grove Speedway.
STAY CONNECTED- Check in to www.codydarrah.com or visit his facebook page, http://www.facebook.com/pages/Cody-Darrah/164513250262145?ref=ts for the latest news on Cody.