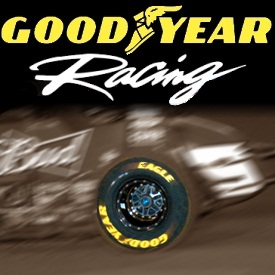 By Lee Elder
HUMBOLT, Kan. (May 5, 2012) – Jamie Passmore's perfect start is the story of the early going of the 2012 Oil Capital Racing Series. Passmore's victory at Humbolt Speedway was impressive by itself but, seen in the context of both of the series' first two races, the latest victory is tremendous.
Passmore hasn't lost yet.
Goodyear is the exclusive tire provider for the OCRS. The tiremaker supplies a right rear tire designed specifically for the competitors of the OCRS. The other tires Goodyear supplies for the OCRS come from the same bias-ply tire line the company manufactures for the top touring winged sprint car series in the sport. In addition, many of the most prestigious weekly sprint car programs also use tires from the same line of Goodyear tires.
In two OCRS events this year, Passmore has won both of his heat races, both dashes and both features. He has a large early-season lead in the Goodyear Tire & Rubber Championship.
Passmore started 11th in the feature at Humbolt. Whit Gastineau finished second and Rafe Essary was third, followed by Shayla Waddell and Casey Wills.
More information about Goodyear Racing is available at www.racegoodyear.com. More information about the OCRS is available at www.ocrsracing.com.
Goodyear employs about 73,000 people at manufacturing plants and facilities in 22 nations. Based in Akron, Ohio, Goodyear is among the largest tiremakers in the world and is the world-wide leader in race tire innovation.