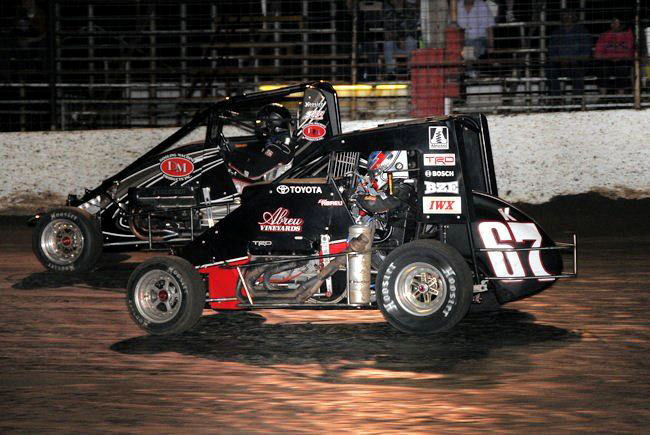 PETERSEN MEDIA
Rico Abreu spent his weekend competing with the USAC National Midget Series, and the rookie midget driver scored an eighth place finish during the non-stop 30-lap feature after recording a DNF on Friday night.
"I'm loving racing the midget," said Rico. "If I can stop making some rookie mistakes, I think we will be pretty good this year."
During the opening round of 'The Duel in Dodge City', Abreu timed his Toyota Racing Development/Abreu Vineyards/Keith Kunz prepared machine in with the fifth fastest lap against the 25 other midgets in the pit area.
Scoring a fifth place finish in his heat, Abreu would line his entry up in the seventh row of the 30-lap feature.
With the waving of the Green, Abreu immediately went to the top where he had his right rear tired glued to the cushion.
Abreu's night would come to an abrupt end on the third lap when he hopped the cushion, spinning and collecting other cars, causing damage to his car.
"I just made a rookie mistake tonight," said Abreu. "Keith and all the guys gave all three of us great cars, and I think we would have been right up there with Kyle Larson (first) and Bryan Clauson (third), if I wouldn't of messed up."
Saturday night, Abreu and his KKM team returned to Dodge City Raceway Park for the finale of the USAC National Midget Series event.
Losing one car from Friday night, Abreu was the eleventh fastest qualifier in the field of 25, which put him in the second heat, where he would score a third place finish.
Lining up eleventh in the 30-lap feature, Abreu would get a strong start and move up to the eight spot as he banged off of the cushion for the duration of the 30-laps.
With no stoppages, Abreu would hang on to the eight spot as the checkered flag flew.
"It was nice to grab a solid finish tonight," said Abreu. "I think we would of grabbed a few more spots if we would have had a caution, but overall I'm getting more comfortable in these cars, and they continue to be fast."
ON TAP: Rico will now head home to California, and meet up with the King of the West Series for a double header in Tulare, CA on May 11-12th aboard his Abreu Vineyards/Kaeding Performance No.89 410 sprint car.
STAY CONNECTED: Stay updated with Rico by visiting his website at www.ricoabreuracing.com, 'liking' him on facebook at www.facebook.com/ricoabreuracing or following him on twitter @RicoAbreu24.
VIDEO: Be sure to check out http://www.youtube.com/ricoabreuracing for video of Rico, as content is constantly being uploaded!