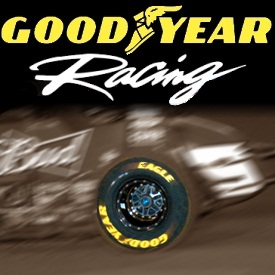 By Lee Elder
WILMOT, Wisc. (May 14, 2012) – Bill Balog took advantage of Jordan Goldesberry's mechanical issues and won the Bumper-to-Bumper Interstate Racing Association Outlaw Series sprint car race at Wilmot Speedway.
The Bumper-to-Bumper IRA Outlaw Series features winged sprint cars. The series schedule includes races in Wisconsin, Illinois and Minnesota.
The IRA cars race exclusively on Goodyear tires. Goodyear supplies tires that are manufactured in the famed Innovation Center on the corporate campus in Akron, Ohio. The tires Goodyear sends the IRA competitors come from the same line as those the tiremaker supplies other leading touring programs, such as the World of Outlaws Sprint Car Series.
Goodyear's involvement with the IRA series allows teams on the circuit to compete on a level playing field with other touring series around the country. It also means IRA teams can enter the major winged sprint car events around the country, such as the Goodyear Knoxville Nationals, secure in the knowledge that the same tires they use in IRA events will serve them well elsewhere.
Goldesberry seemed to be on his way to winning the race when his machine began smoking. Balog, the defending series champion, pounced and won the race by eight car lengths.
Mike Kertscher finished second, followed by Goldesberry and his ailing mount, 21st-place started Scott Uttech and Phillip Mock.
The event attracted 32 entrants and 20 of the 22 cars in the starting field were around for the finish.
More information about Goodyear Racing is available at www.racegoodyear.com. More information about the IRA is available at www.irasprints.com.
Goodyear employs about 73,000 people at manufacturing plants and facilities in 22 nations. Based in Akron, Ohio, Goodyear is among the largest tiremakers in the world and is the world-wide leader in race tire innovation.