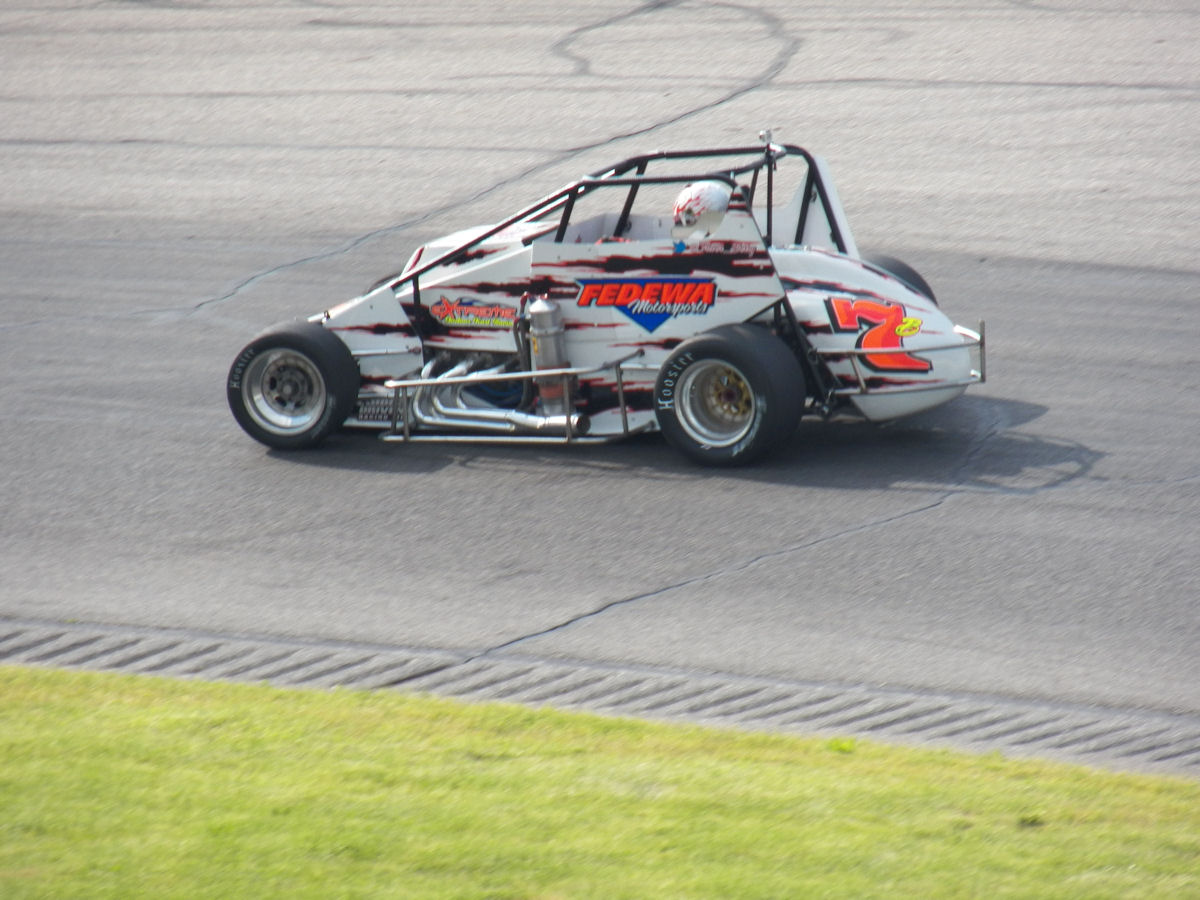 Matt Pruier
Clio, Michigan (Tuesday, May 15th, 2012): 19-year-old Trevor Berry has a full slate of events on his 2012 schedule which includes races in both his Non-Winged Sprint Car for Fedewa Motorsports as well as his own Berry Racing Incorporated open-wheeled Modified. After winning in his first ever start in the Non-Winged Sprint car, it was time to have a little fun in the Modified.
Berry, along-with his Father and Car Owner, legendary retired Super Late Models competitor, Dennis Berry made the short trip to the fast 4/10s (0.400) mile progressively banked paved oval of Dixie Motor Speedway in Birch Run, Michigan on May 11th for the tracks twice rescheduled Opening Night. After setting Fast Time in Qualifying and finishing second in his heat after starting at the rear of the field, the Clio, Michigan driver was ready for the Feature.
However in the 30-lap main, the handling in his #7 machine started to go away and he would fight his way to a fourth place finish. "We struggled with a loose racecar all night. I just couldn't get the tires to hook up enough to make a run at the leaders." Berry explained. "We've got the car back in the shop and are going through it. Back to the drawing board before the next one." He added.
The next race on the 2012 calendar for Berry is on Saturday, May 19th in the 2012 Season Opener at the immaculate Lucas Oil Raceway located west of Indianapolis in Clermont, Indiana. The USAC Silver Crown Series highlights the night and they're joined by the Widow Wax Modifieds division. "We have a good group of guys behind me so I know we will have it figured out before the race in Indy." He ended.
For the remainder of the 2012 racing season, Berry will make a run at the 2012 Non-Winged Sprint Cars Track Championship at Spartan for Fedewa Motorsports as well as make limited appearances in the Non-Winged Sprinter at near-by Springport Motor Speedway in Springport, Michigan. When not running the Sprint car, Berry will pull his open-wheeled Modified out of the Clio, Michigan race shop and race a limited schedule with the Full Throttle Modifieds Series as well as make limited appearances in weekly competition close to home.
For the 2012 racing season, Berry's #7 Non-Winged Sprint Car from the Fedewa Motorsports stable as well as his #7 open-wheeled Modified with a Port City Racecars chassis has sponsor decals on each machine from; Extreme Indoor Kart Racing, Rat-Tech Engine Service, Davis Racing Equipment, Joe Gibbs Driven Racing Oil, Go Pro Cameras, Monogramming by Martha, Andrea's Place Styling Salon, and M.P.H. Promotions.
For more information about Trevor Berry and the Berry Racing Team and to inquire about additional sponsorship opportunities for the remainder of the 2012 campaign, log onto the teams' website at: www.berryracing.com. You can also follow Berry by becoming a fan on his Facebook Fan Page. Just go to: www.facebook.com search "Berry Racing Incorporated and click on "Like". Finally you can also follow the team on Twitter by going to: www.twitter.com/trevor_berry and click on the "Follow" button.